The cloud infrastructure provider DigitalOcean has announced Marketplace, a platform where third-party providers can deliver their software stacks as "One-Click Apps". Initially, Marketplace offers a variety of partner offerings, including databases, visualization, and monitoring tools and developer frameworks.
First introduced in 2012, One-Click applications allow vendors to package their software, including their complete configuration and dependencies. Moreover, before being offered in the Marketplace, they are tested and verified. Once wrapped, this allows for rapid and straightforward deployment according to Mark Templeton, CEO of DigitalOcean.
Our goal is to help next generation developers and small- and mid-sized businesses spend less time thinking about infrastructure, and more time creating modern apps - partners are critical to realizing this vision. As our 3.5-million-strong community looks for new ways to simplify app creation from start to finish, our Marketplace will serve as a hub to connect them with partners that deliver fully-integrated, ready-made apps and tools that can be launched in less than 60 seconds. Our initial offerings focus on the types of apps most used by our community of developers, businesses and teams.
At launch, there are already several partners on Marketplace, such as GitLab, InfluxData, Grafana, Plesk, cPanel, OpenFaaS, Hasura GraphQL, Fathom Analytics and more.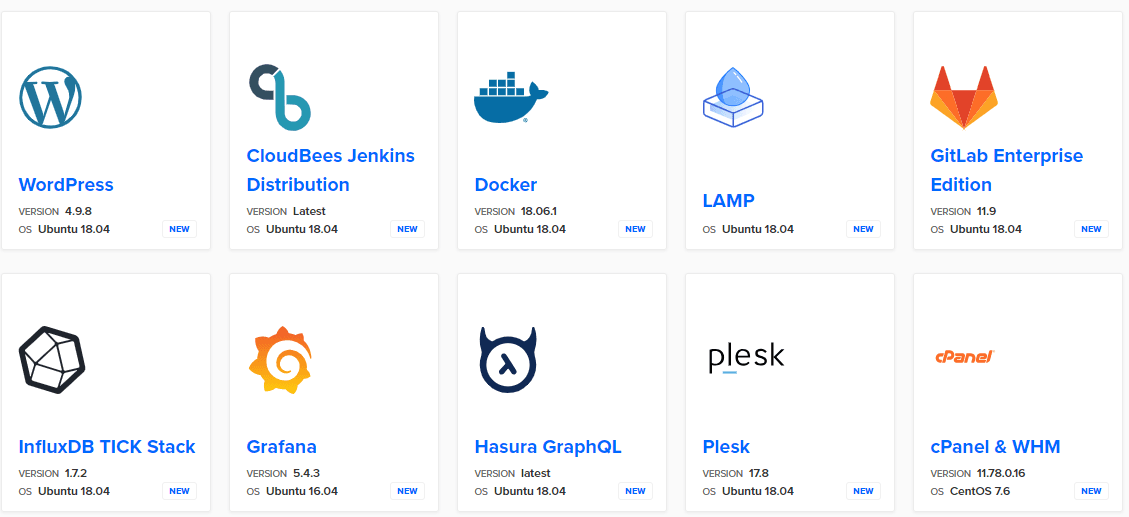 Source: https://marketplace.digitalocean.com/
Several of these partners are seeing Marketplace as a strategic offering for their customers, for example, said Eric Ellis, vice president of Customer Experience at cPanel, who sees this as a way for users to be more efficient:
DigitalOcean's highly-performant Developer Cloud, coupled with the power of cPanel & WHM's automation, will help administrators and developers host the applications their customers want more efficiently than ever before. This historic partnership is also a huge step forward for the thousands of developers who work with cPanel & WHM and already use DigitalOcean. We've enjoyed using DigitalOcean over the years to benchmark our installers, and can't wait for our customers to take advantage of it. DigitalOcean's commitment to the developer community and open source software make them an excellent choice for any cPanel customer.
Being a cloud infrastructure provider, DigitalOcean offers a wide variety of services, including compute, storage, networking, databases and more. Consequently, they compete with several major cloud platforms such as Amazon AWS and Microsoft Azure. However, they are particularly significant in the public apps and websites space being the second largest and fastest-growing cloud computing platform of all public apps and websites, according to Joerg Strotmann, CMO / VP Marketing at Plesk.