At the recent Google Cloud Next Conference, Google announced a new beta machine learning service, called Document Understanding AI. The service targets Enterprise Content Management (ECM) workloads by allowing customers to organize, classify and extract key value pairs from unstructured content, in the enterprise, using Artificial Intelligence (AI) and Machine Learning (ML).
Gartner and Forbes estimate that 80% of enterprise data is unstructured and 70% of enterprise data is free-form text like emails, written documents and comments. With the amount of data in enterprise organizations, Google perceives an opportunity to use AI and ML to address enterprise content challenges. Levent Besik, group product manager at Google, explains:
Many enterprises see the value in applying AI and machine learning to their business challenges, but not all have the necessary resources to do it. From the beginning, our goal has been to make AI accessible to as many businesses as possible. We are excited to announce a number of new solutions that provide an easy way to use AI to address common business challenges.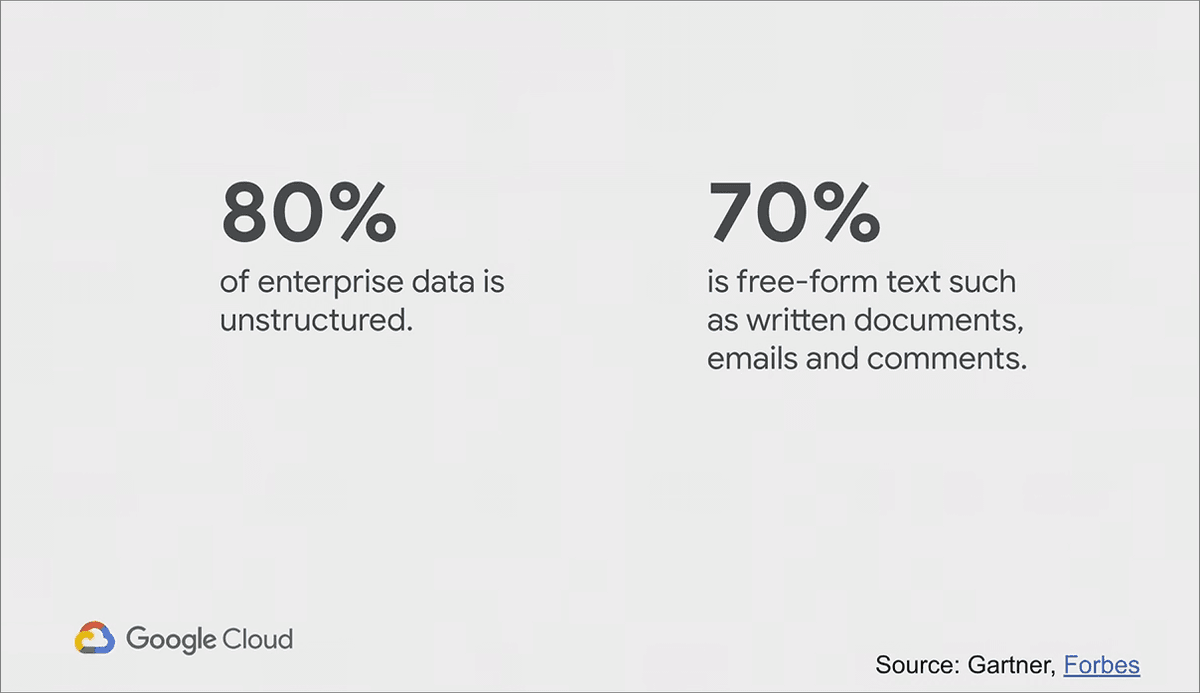 Image source: (screenshot) https://www.youtube.com/watch?v=7dtl650D0y0
Many enterprises, including energy, finance and healthcare organizations, are bound by regulation to control their documentation. Often times the process of classifying and organizing requires a lot of manual intervention. Sudherra Vanguri, product manager at Google Cloud, explains how Document Understanding AI can improve efficiencies in managing enterprise content:
Document Understanding AI is a solution that enables you to automate key document processing workflows and extract valuable knowledge from within those documents. How do we do that? Document Understanding AI is powered by our powerful natural language capabilities, knowledge capabilities and vision OCR capabilities.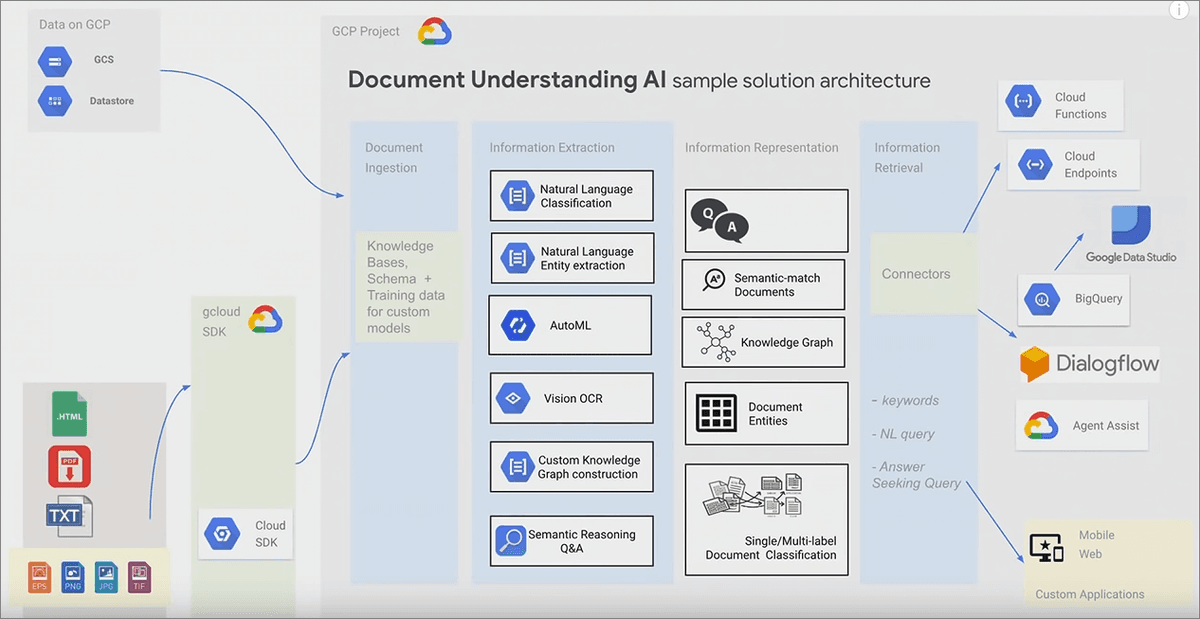 Image source: (screenshot) https://www.youtube.com/watch?v=7dtl650D0y0
Document Understanding AI allows organizations to injest data like forms, documents and contracts. Key value pairs and entities can subsequently be extracted from documents. In addition, businesses can add their own schema where Google provides knowledge capabilities through a new alpha capability called knowledge service.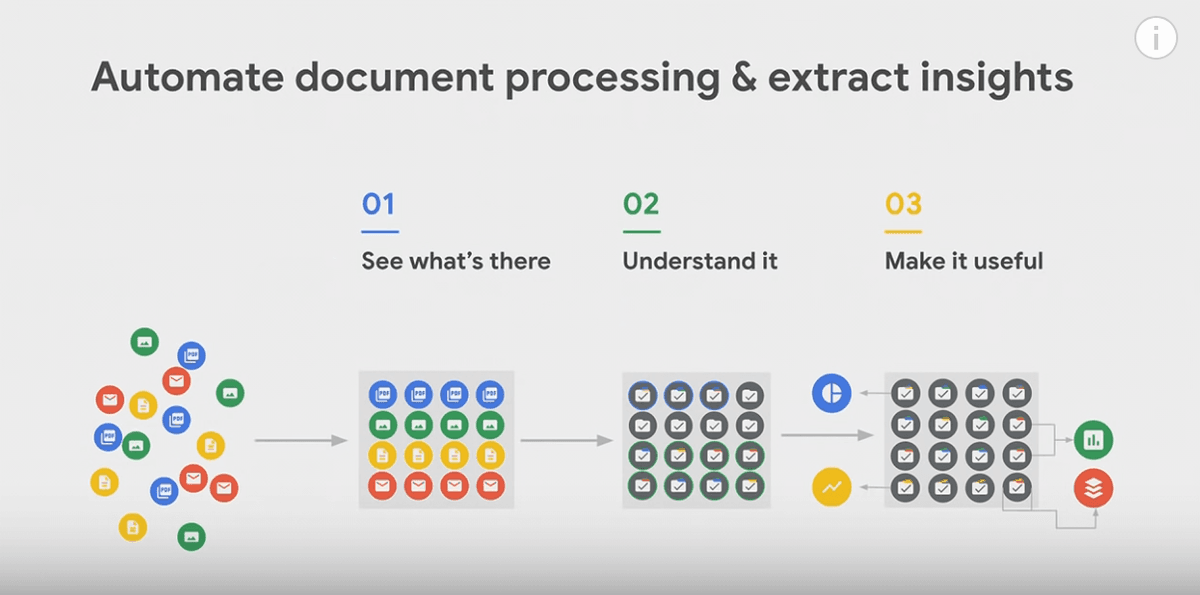 Image source: (screenshot) https://www.youtube.com/watch?v=7dtl650D0y0
Google has established several partnerships with organizations like Iron Mountain, Box, Egnyte, UiPath, Accenture and Taulia to broaden their eco-system. In the case of Taulia, they are using Google's Document Understanding AI to read and interpret unstructured supplier invoice data in their global invoicing platform.
Cognitive Invoicing takes advantage of optical character recognition (OCR) and Taulia feels they can reduce the cost of processing an invoice from "dollars to cents". Brady Cale, CTO of Taulia, describes the opportunity of cognitive invoicing as:
Using AI we have finally cracked the intractable invoice processing issues that many businesses face. We are now able to fully realize our vision of enabling buyers and suppliers to freely exchange information. The faster an invoice can be processed, the sooner it can be leveraged within the company's working capital strategy, thereby bringing more opportunities for companies to free up cash. It's a complete game changer for Finance teams.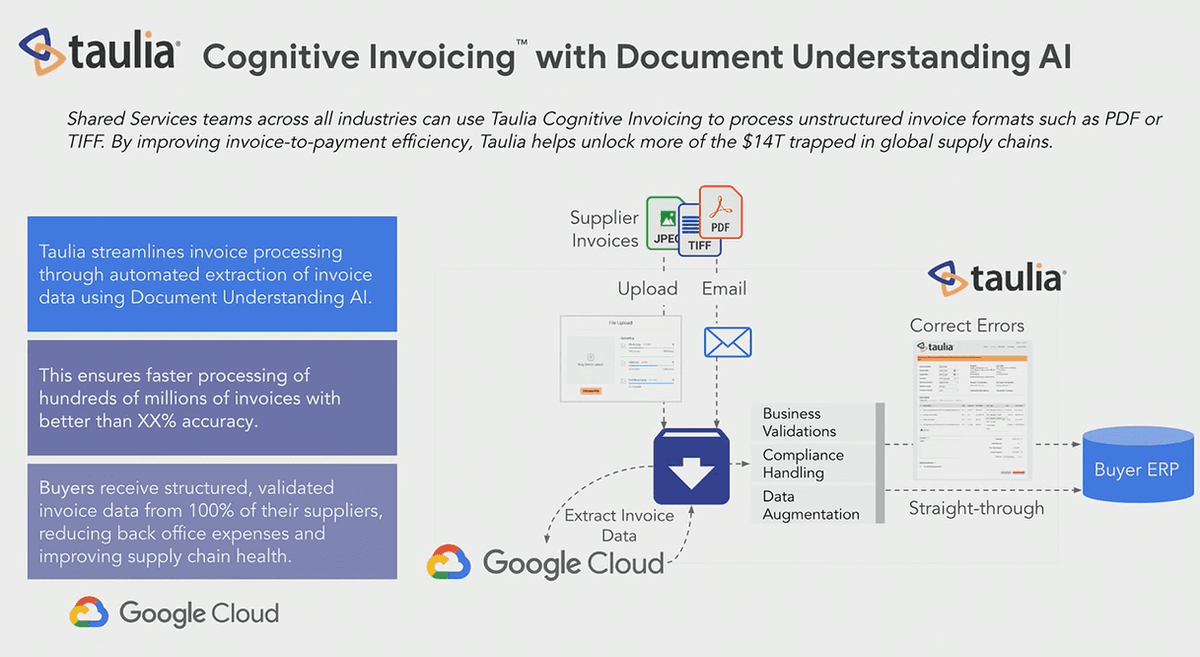 Image source: (screenshot) https://www.youtube.com/watch?v=7dtl650D0y0
For more information on Document Understanding AI and to sign up for the beta, please visit the Google product page.