At the recent Dell Technologies World conference, Microsoft and VMware announced a partnership that enables certified VMware cloud infrastructure to run in Microsoft Azure. The Microsoft first party capability is made possible through a solution provided by CloudSimple, a VMware certified partner, and officially goes by the name of Azure VMware Solution by CloudSimple.
This announcement comes after the VMware and AWS partnership that was formed in 2016 and identified VMware Cloud on AWS as the primary public cloud solution delivered, sold and supported by VMware. The driver for this partnership was to allow existing customers to preserve existing VMware investments while taking advantage of AWS' global capabilities in the public cloud.
The partnership with Microsoft shares some of the same objectives as the agreement with AWS. In a joint press release, the two companies provided the following:
Azure VMware Solutions give customers the power to seamlessly migrate, extend and run existing VMware workloads from on-premises environments to Azure without the need to re-architect applications or retool operations. Customers will be able to build, run, manage, and secure new and existing applications across VMware environments and Microsoft Azure, while extending a single model for operations based on established tools, skills and processes as part of a hybrid cloud strategy.
Since the announcement in April, more information about VMware support in Azure has been revealed at the Microsoft Build conference and in Azure documentation that includes a solution overview. The supported solution has been built in partnership with CloudSimple, a maker of VMware-as-a-Service in public clouds.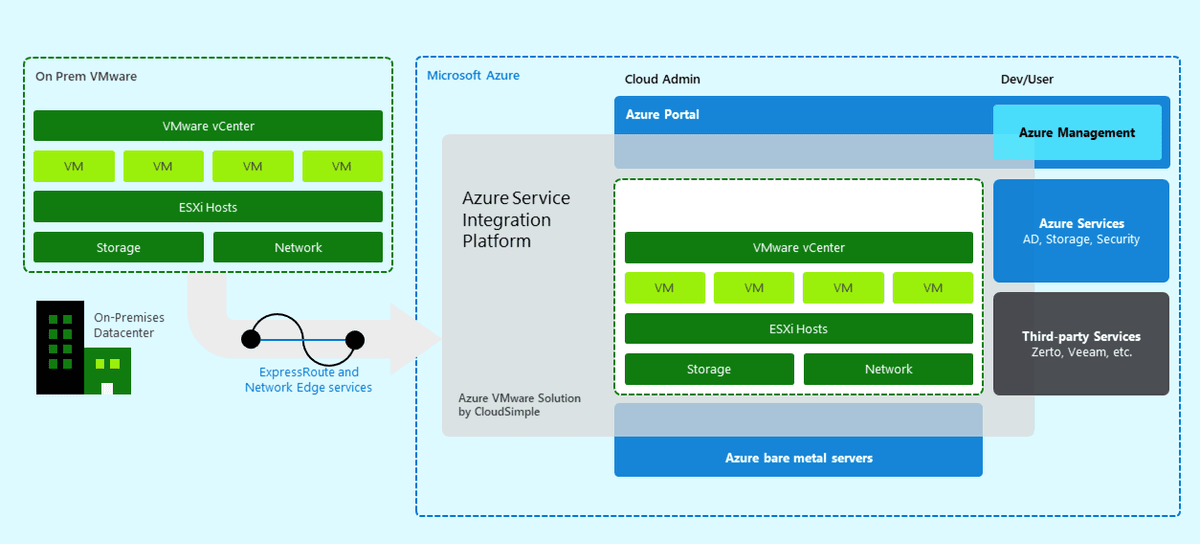 Image source: https://docs.microsoft.com/en-us/azure/vmware-cloudsimple/cloudsimple-vmware-solutions-overview
The VMware on Azure Solution by CloudSimple is only available through Microsoft. Markus Hain senior program manager on the Azure Dedicated team at Microsoft, explains:
VMware on Azure by CloudSimple is a first party solution that is sold and supported by Microsoft that allows customers to safely move their VMware infrastructure that they have on-premises into Azure and then use the richness of the entire Azure ecosystem.
The driver of hosting VMware in Azure is not just about lifting and shifting infrastructure. Manoj Sharma, VP of products at CloudSimple, explains:
If you look at what enterprises want to do with this solution, it is not just to get VMware infrastructure from point A to point B, they want to do cloud transformation and embrace the cloud. So what we have done is built a cloud integrated solution that is not just VMware running on bare metal, it is providing infrastructure agility through automation and integration with Azure services.
Managing VMware capacity has traditionally been a big challenge for enterprises and is something that is addressed in this new solution, Sharma explains:
One of the biggest challenges for VMware customers is capacity management where they have a pool of infrastructure that allows VMs to be created anytime which leads to VM sprawl. So meeting the demand of the applications and consumption in a dynamic fashion was unsolved until now. So in essence, you are not bringing VMware to the cloud, but rather you are bringing the cloud, and Azure, to VMware.
Another opportunity for joint customers is that they can continue to use existing tools in areas such as networking, security, backup, disaster recovery, audit and compliance without needing to retrain staff.