At the recent Business Applications Summit in Atlanta, Microsoft announced a new Artificial Intelligence (AI) service for the Power Platform called AI Builder. The new service brings AI capabilities to low code application and workflow services, such as Microsoft PowerApps and Microsoft Flow, which run on top of the Common Data Service (CDS), an enterprise-grade datastore. Using the AI Builder service, Microsoft claim that "citizen developers" can include intelligent insights and automation in their solutions.
The AI Builder experience is available from both the PowerApps and Microsoft Flow maker experiences. A wizard-like experience allows citizen developers to create AI data models by ingesting content which can subsequently tested and published. The capabilities available in AI Builder include Binary Classification, Text Classification, Object Detection, Business Card Reader and Form Processing.
Binary Classification uses historical data to predict future business outcomes. Charles Lamanna, general manager at Microsoft explains:
AI Builder binary classification is an AI model that predicts yes/no business outcomes by learning to associate historical data patterns with historical outcomes. Based on those results, the binary classification model detects learned patterns in new data to predict future outcomes. Use the binary classification AI model to explore any business question that is answered as one of two available options, such as yes/no, true/false, pass/fail, and go/no go.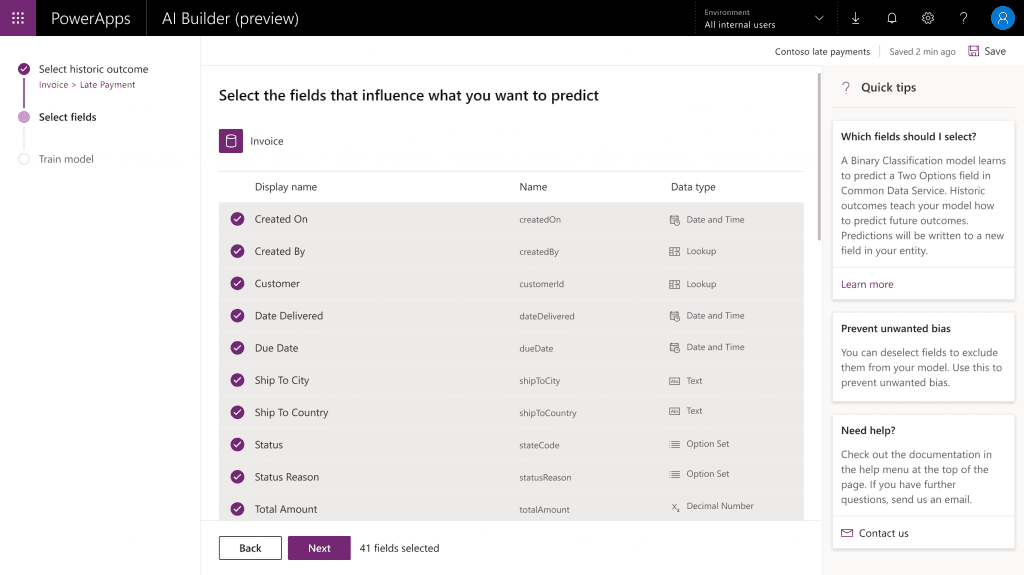 Image source: https://powerapps.microsoft.com/en-us/blog/introducing-ai-builder-for-powerplatform/
Object Detection allows app makers to count, locate and identify selected objects within an image. One use case where this technology can be used is in the area of inventory management. G&J Pepsi, a Pepsi bottler and distributor in Cincinnati, Ohio is using this technology to automatically identify and track their products. Eric McKinney, enterprise business systems manager at G&J Pepsi describes some of the benefits of using this technology:
With AI Builder, we were able to easily build an AI model to help automatically identify and track our products using the object detection model. For our field worker, it's now as simple as taking a photo and let AI builder do the rest.
Another capability found in AI Builder is Form Processing. Using this feature organizations are able to extract text from sample forms or invoices. A maker will be required to provide at least 5 sample documents to train the model. Subsequently documents can be loaded into the service, at runtime, from PowerApps or Microsoft Flow and a key-value pair result set will be returned.
Image source: https://powerapps.microsoft.com/en-us/blog/introducing-ai-builder-for-powerplatform/
The AI Builder capabilities are built upon existing cognitive and AI services found in Microsoft offerings such as Azure Cognitive Services. One of Microsoft's goals is to lower the barrier of entry for users to leverage AI in business applications. InfoQ reached out to Shane Young, founder of PowerApps911, a Microsoft Power Platform consultancy and Microsoft MVP, who has been an early adopter of the technology. Here is what he had to say about it:
AI Builder allows any citizen developer to train an AI model and start leveraging it. I don't think a lot of people appreciate how amazing that is. The lowered barrier to entry extends its reach deep into the enterprise.
Young, who drives much of his revenue from business units, as opposed to IT organizations is already seeing a lot of interest in this technology:
I have customers who already have plans to roll out these features: A construction company who wants to augment their purchase order application with invoice processing capabilities and a security company who is looking to update their tradeshow application to automate the business card scanning. It truly is transformational.
AI Builder is available in preview within the United States and European regions.