Payara recently completed a one-week tour of Japan in which they visited prominent Java Users Groups. Featured speakers were Kenji Hasunuma, service engineer at Payara, Ondrej Mihályi, senior service engineer at Payara, and Yusuke Yamamoto, Java Champion, creator of Twitter4J, and president of Samuraism, a Japanese company providing development tools and training.
Samuraism was recently introduced as a solution partner in Payara Radiate, a partnership program that provides services closer to Payara's customers around the world. Samuraism joins existing solution partners located in Japan, South Korea, India, Colombia and China with more to come.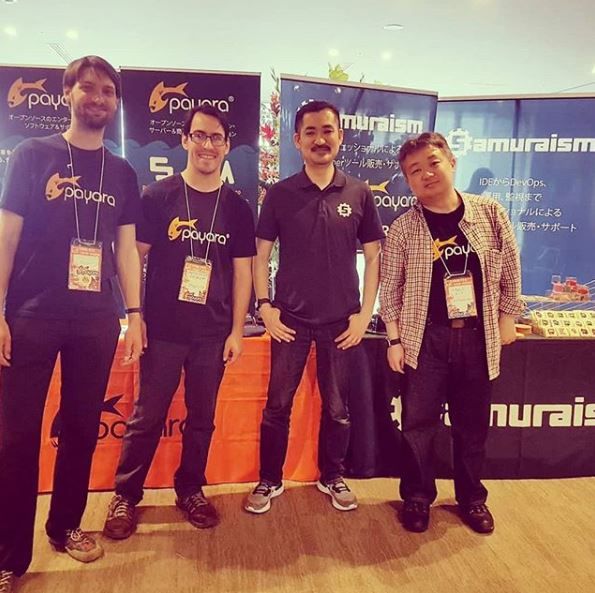 Pictured above, from left to right, are Mihályi, Jadon Ortlepp, marketing and sales assistant at Payara, Yamamoto and Hasunuma.
The Payara team started their tour in Okayama and made their way north towards Sapporo:
The Payara team presented a number of topics including Effective cloud-ready apps with MicroProfile presented by Mihályi, What's new in Jakarta EE and Eclipse GlassFish and Previewing Payara Platform 5.192 presented by Hasunuma, and demos about rapid development using Payara, IntelliJ, and other tools presented by Yamamoto.
Mihályi recently shared his Japan experience, writing:
The best part of the Payara tour were the people. I'm so glad I could meet what has to be the most welcoming, amiable and passionate community of Java developers in the world. Everyone was so nice. And, despite the language barrier, they were very enthusiastic about learning more about Java, Jakarta EE, and MicroProfile.

I was a bit surprised to find out that very few developers in Japan knew about MicroProfile. However, my talks seemed to spark a lot of interest in it. Those who came to the JJUG conference in Tokyo could learn about MicroProfile even more because it was covered by several sessions and by great international speakers. All in all, Java developers in Japan had a lot of great opportunities to learn a lot about MicroProfile and see it in action.
Payara Tools, first introduced in April 2018, was based on GlassFish Tools to address a Payara Platform 5 plugin issue with the Eclipse IDE. New features in the recent release of Payara Tools 1.0 include conveniences such as: the ability to specify the main Payara installation folder that will automatically include the embedded GlassFish folder; a new STOP button in the Eclipse IDE Progress View that addresses a non-response issue; support for various JDK ranges in the domain.xml file that previously caused a failure in server startup; enhancements to the hot deploy feature that eliminates the need to manually restart the server after applying changes in source code; and support for Payara 5.191 (JDK 8) and Eclipse 4.9 (JDK 11) that eliminates the exception when running JDK 11.
Payara Platform 5.192, released on May 29, 2019, features support for: JDK 11 as a technical preview to be used for testing; support for MicroProfile 2.2 with Payara-specific enhancements to the Fault Tolerance API; Docker Nodes, a concept that allows communication with "a host running a Docker daemon and create containerised instances of Payara Server from a named Docker image;" extending the MicroProfile OpenTracing API to JAX-WS; and improvements to the EJB remote over HTTP feature that was introduced in Payara Platform 5.191.
Ortlepp spoke to InfoQ about the tour.
InfoQ: What was the inspiration for the Payara team to tour Japan?
Jadon Ortlepp: We've been involved in Japan Java EE, GlassFish and of course, the Payara community for a few years now. We visited the Tokyo user groups a couple of times before and experienced a lot of interest from the local community, so it was quite a natural progression to expand our involvement and work with other user groups, beyond the capital city. The Japanese Java community is extremely welcoming and very helpful, so it was a pleasure to organise and run the Payara Tour with their help and involvement. May was also the perfect month to visit and travel across this beautiful country!
InfoQ: What was the goal of your visit to Japan?
Ortlepp: Our main goal was to reach out and interact with the wider Japanese Java community so that we can understand their needs and expectations in regard to the Payara Platform and Payara Services. This will enable us to deliver the best products and services to the users in Japan.

Payara Services has a growing presence in Japan, we have a couple of Japanese customers and many open source users, so we found it very useful to interact with them, showcase some new functionalities of the Payara Platform and listen to feedback and comments from the local communities.
InfoQ: What was the response from the Java community in Japan?
Ortlepp: We had a very warm reception in Japan, we made an effort to visit all the major Java User Groups across Japan so we could meet with and get to know the community in their backyard, as well as speaking and exhibiting at their largest Java-focused conference. We had a lot of feedback that this was very appreciated and were able to create some strong connections for the future. I received the impression that some companies will try and make a quick splash and hope they take off in the Japanese market. But because we are hiring Japanese engineers, building partnerships with Japanese companies and getting ourselves involved in the community regularly and earnestly ‐ it's creating a strong and positive reputation for us.
InfoQ: Why did Payara choose to partner with Samuraism?
Ortlepp: With a growing number of Payara users, including some well-known Payara Support customers in Japan, it was important for Payara to reinforce its local presence through a partnership with a Japanese company like Samuraism.

Having previously met Samuraism at an event in Japan, the synergy between the two companies was evident. Samuraism has built a customer base that is very compatible with Payara's through the resale of software solutions such as JetBrains, GitHub and Atlassian combined with consultancy services.

In addition, Mr. Yusuke Yamamoto, the founder of Samuraism, is a charismatic and talented speaker with a broad knowledge of Java and the Payara Platform as he demonstrated during the May 2019 Payara Tour of Japan.

Mr. Yamamoto is an outstanding addition as a Payara Evangelist for local Java User Group Events which will be important in fueling the growth of Payara in Japan.
InfoQ: What's on the horizon for the Payara Platform?
Ortlepp: Driven by customer demand: We are going to deliver leading support for running Payara Server and Payara Micro in Kubernetes. We are also expanding our Docker support.

We aim to make the Payara Platform the best open source platform for production applications on the cloud.

During 2019, we will be building deep integration with public cloud provider APIs, enabling Jakarta EE developers to build applications that work well in Microsoft Azure, Google Cloud Platform, AWS and others. We aim to deliver support for key enterprise services like Security, Messaging, Integration, Monitoring and Persistence across the main cloud platforms integrated to the Payara Platform.

We will certify the Payara Platform as a Jakarta EE 8 compliant implementation when the programme is released, and we will lead a number of Jakarta EE API projects to evolve the Jakarta EE platform in the directions the Payara Platform community and our customers need.

We are also aiming to deliver a full monitoring console for the Payara Platform, which will deliver deeper diagnostics and intelligence about your applications and how they are performing.
InfoQ: What are your current responsibilities, that is, what do you do on a day-to-day basis?
Ortlepp: I am part of the marketing team at Payara where I like to focus on engagement through our social media channels. So I often spend a lot of my time curating or helping to create content which I hope the community will find useful. But you will also find me at various conferences exhibiting and getting myself out there and face-to-face with the community. I'm always keeping my ear to the ground as everything moves so fast! I really believe in building connections with other organisations and community leaders where there is often a mutually beneficial opportunity just waiting to be realised.
Resources