Recently, Amazon announced the opening of an AWS region in the Middle East. This new region is the first for AWS in the Middle East and located in Bahrain.
With the opening of the Middle East (Bahrain) AWS now has 22 regions with 69 Availability Zones. By expanding to the Middle East, Amazon will reach out to organizations of all sizes to help them with the digital transformation using their cloud services. In an Amazon press release, Andy Jassy, CEO, Amazon Web Services, said:
The cloud has the chance to unlock digital transformation in the Middle East. Today, we are launching advanced and secure technology infrastructure that matches the scale of our other AWS Regions around the world and are already seeing strong demand in the Middle East for AWS technologies like artificial intelligence and machine learning, data analytics, IoT, and much more. We are excited to see how our cloud technology will provide new ways for governments to better engage with citizens, for enterprises to innovate for their next phase of growth, and for entrepreneurs to build businesses and compete on a global scale.
The Middle East AWS region consists of three Availability Zones (AZ's) to ensure business continuity and disaster recovery requirements, and its API name is me-south-1.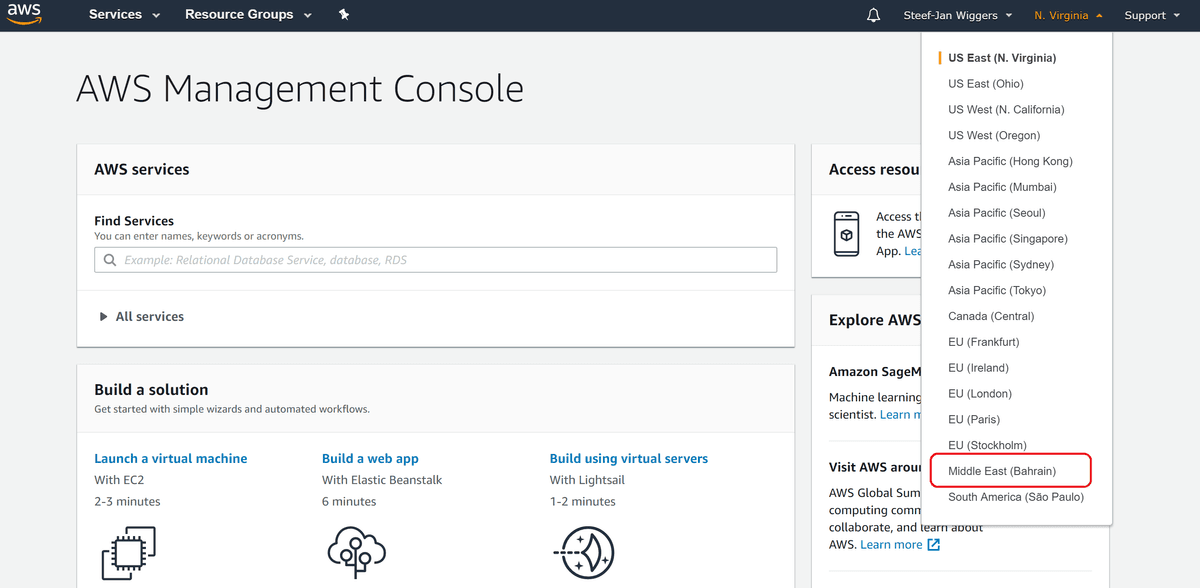 On a Reddit thread about the opening of the AWS Middle East region, a respondent stated:
Bahrain is perfectly situated to be in the middle of the gulf allowing for lower latency across multiple countries and having multiple redundant pipes (cables land and underwater).
Furthermore, the new region adds to the already existing investment of infrastructure from Amazon in the Middle East with the already operational Amazon CloudFront edge locations in the cities Dubai, and Fujairah, in the United Arab Emirates. Both cities also host AWS Direct Connect locations - Equinix DX1 (Bahrein) and Etisalat Smart Hub datacenter (Fujairah). Besides, Amazon also opens a new AWS Direct Connect location called AWS Bahrain DC53, in Manama – the first to be operated by AWS and featuring 1 Gbps and 10 Gbps connections.
Next, to further enable the growth of cloud adoption in the Middle East, Amazon also invests in education (AWS Educate), training (AWS Academy), and certification programs. These investments are meant to help those interested in the latest cloud computing technologies, best practices, and architectures, to advance their technical skills. Furthermore, through AWS Activate, Amazon will support startups with credits, training, and support so that they can build their businesses on AWS.
With the investments, Amazon is looking to establish itself in the Middle East, an emerging market for cloud providers. According to IDC:
the total spending on public cloud services in the wider Middle East region crossed $1.5 billion in 2018
73 per cent of organisations in the region are undergoing formal digital transformations, with total spending on public cloud services expected to grow at a compound annual growth rate (CAGR) of 27.2 per cent to reach $5.2 billion in 2023
Besides Amazon, Microsoft also invests in the Middle East and announced the availability of data centers in Abu Dhabi and Dubai two months ago. Thus, both tech giants continuing expanding region around the world. In a tweet from Liberty:
Satya subtweeting AWS: "We are building Azure as the world's computer, addressing customers' real-world operational sovereignty and regulatory needs. We have 54 data center regions, more than any other cloud provider, and we were the first in Middle East and in Africa."
However, according to the blog post about the opening of the Middle East region, Amazon is planning to have nine more Availability Zones and three more AWS Regions in Cape Town, Jakarta, and Milan in the coming years.
Lastly, a complete list of services in the AWS Middle East is available on the Amazon region table page. Furthermore, pricing in this region is available on the detail page for each respective AWS service.