Amazon has introduced a new flexible pricing model for customers called Savings Plans, which can provide up to 72% of cost savings on Amazon EC2 and AWS Fargate in exchange for committing to a consistent amount of compute usage for a one to three-year term.
Before Savings Plans, Amazon offered a Reserved Instance (RI) model, which the cloud vendor has evolved from its inception a decade ago to its current form today with discounts up 72%. With this RI model, customers are required to coordinate their RI purchases and exchanges to ensure that they have an optimal mix covering usage, which might change over time. However, with the introduction of Savings Plans, Amazon will offer customers a new, flexible discount model that provides them with the same discounts as Reserved Instances.
With Savings Plans, Amazon will charge a customer at the discounted Savings Plan rates for their commitment. For any usage beyond the commitment, Amazon will charge at regular On-Demand rates. Erik Carlin, co-founder and chief product officer of ProsperOps, said the following in a recent blog post about Savings Plans:
Savings Plans are basically a simplified Reserved Instance (RI) commit discount structure. RIs have been around for over 10 years now. While they've evolved over time, they are still complex to plan for and require a lot of on-going management to get right (the vast majority of AWS users have sub-optimized RI portfolios). With this release, AWS is effectively removing that management burden (and reducing the friction of making monetary commitments to AWS).
Jeff Barr stated in a recent AWS blog post on Savings Plans that the model comes in two flavours:
Compute Savings Plans provide the most flexibility and help to reduce your costs by up to 66% (just like Convertible RIs). The plans automatically apply to any EC2 instance, regardless of region, instance family, operating system, or tenancy, including those that are part of EMR, ECS, or EKS clusters, or launched by Fargate.

EC2 Instance Savings Plans apply to a specific instance family within a region and provide the largest discount (up to 72%, just like Standard RIs). Just like with RIs, your savings plan covers usage of different sizes of the same instance type (such as a c5.4xlarge or c5.large) throughout a region.
Customers can use the AWS Cost Explorer, a User Interface to visualize, understand, and manage AWS costs and usage over time, to choose a Savings Plan. This service will guide the customer through the purchase process via Recommendations within Savings Plans.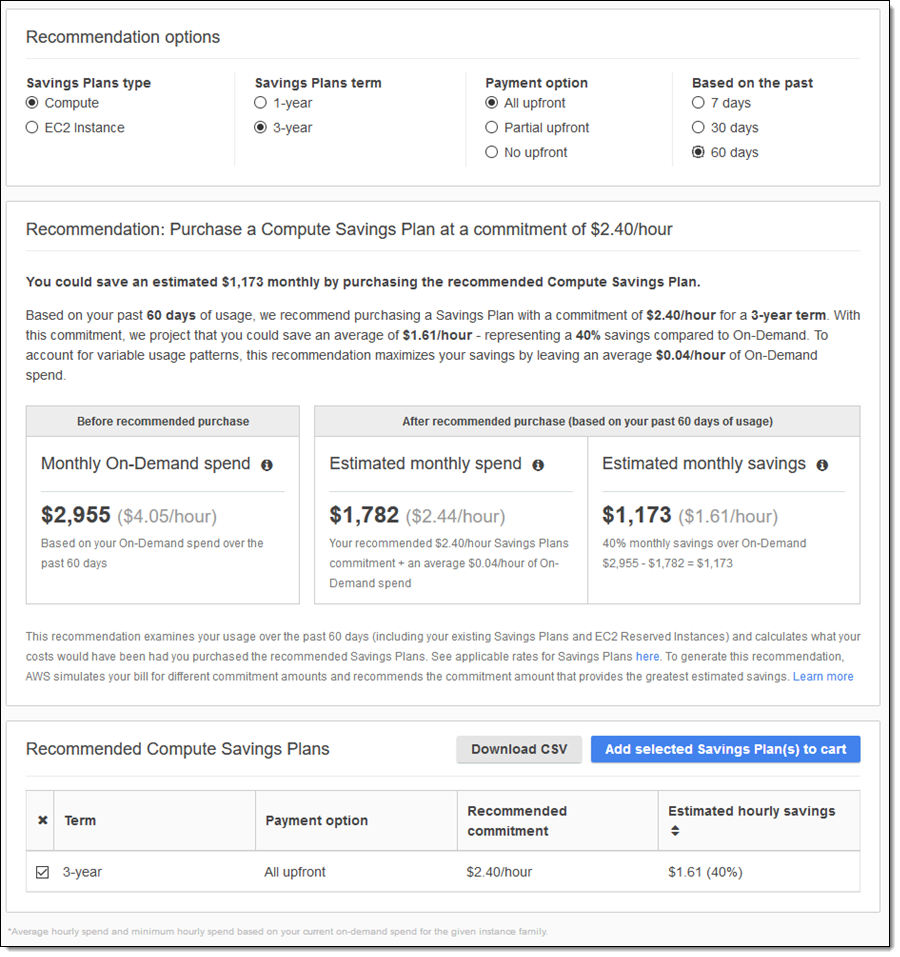 Source: https://aws.amazon.com/blogs/aws/new-savings-plans-for-aws-compute-services/
This new model benefits all parties. Enterprises will need cloud resources over a particular period, and can save costs by buying them upfront. From the other perspective, Amazon can count on certain level of usage of its services. Amazon is not alone in offering this model, and other public cloud vendors like Microsoft offer similar cost savings. Meanwhile, Amazon's long-time RI is not going away any time soon, although the tech giant is trying to steer customers to Savings Plans. Barr wrote in the same blog post:
We will continue to sell RIs, but Savings Plans are more flexible, and I think many of you will prefer them!
Or as Corey Quinn, Cloud economist at the Duckbill Group, put it in his Savings Plans blog post:
The new AWS Savings Plans are a long-overdue and welcomed change.
However, while Cloud computing is becoming cheaper over time, there is a risk in committing to cost savings through RIs or now Savings Plans, as one of the respondents in a Hacker News thread on Savings Plans states:
This was always the drawback of RIs. You had to risk that your instance type would get cheaper over the term of the reservation. Now your "risk" is that your business will shrink or that your spend will get so much cheaper over three years that you lose money. Getting a discount from a vendor if you commit to spend more over a period of years and signing long term contracts is standard practice.

And despite all of the cries of "lock-in" at a certain scale, you're always for all practical purposes, "locked-in" to your infrastructure. Very few decision-makers want to take on a migration that's not part of a merger. The rewards are too slim, and the risk of regressions are too high.
Lastly, Savings Plans are currently available in all AWS regions except China.