AWS Snowball is a part of the AWS Snow Family of edge computing and data transfer devices. Recently Amazon announced several updates for the Snowball Edge device option. It now has a graphical user interface with AWS OpsHub, 25% faster data transfer performance, and support for local Identity and Access Management (IAM), and AWS System Manager.
Amazon launched the first AWS Snowball device back in 2015 to enable enterprises to migrate large amounts of data from their local servers to AWS. A company could request a Snowball device, load the data up to a maximum of 50 TB, and then ship it to the nearest AWS facility. A Snowball Edge has a similar capability, and this device can also act as an edge computing platform for running applications in environments such as ships and factories.
One of the updates for AWS Snowball Edge includes AWS OpsHub, a new graphical user interface allowing customers to manage their Snowball devices. By downloading and installing on Windows or Mac, users can unlock devices and configure devices, use drag-and-drop operations to copy data, launch applications (EC2 AMIs), monitor device metrics, and automate routine operations. Details of these operations are available on the documentation page.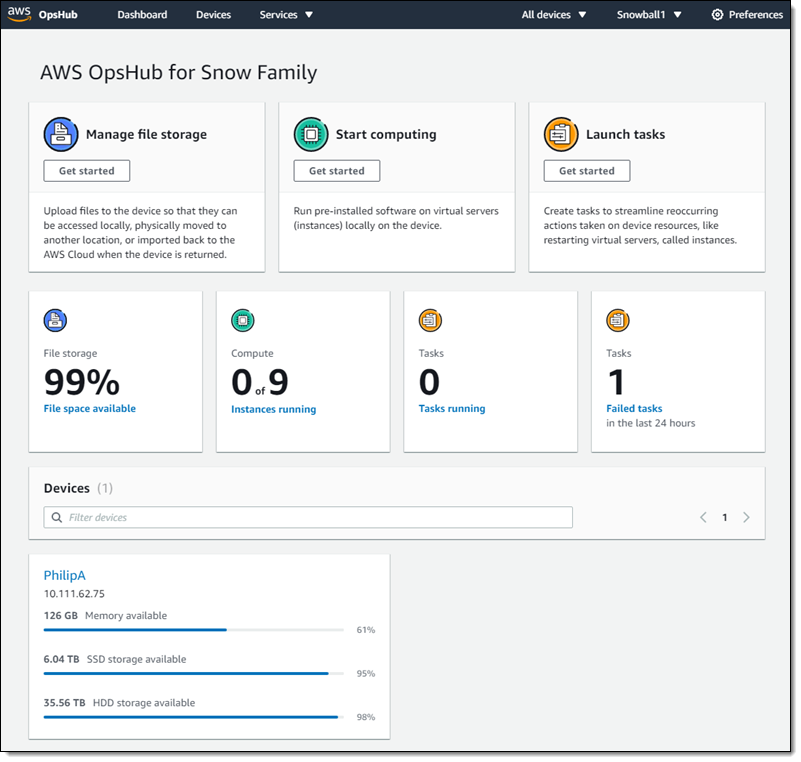 Source: https://aws.amazon.com/blogs/aws/aws-snowball-edge-update/
In addition to manageability improvements provided by the GUI, the public cloud vendor has optimized the device hardware by doubling the processing power and boosting data transfer speed by 25%. The newest so-called Snowball Edge Optimized devices features 40 vCPUs and 80 GB of memory, and the processor can run at 3.2 GHz, allowing this device to run more powerful EC2 instances. Also, Jeff Barr, chief evangelist for AWS, wrote in the blog post about the Snowball Edge Updates:
In addition to the 80 TB of storage for data processing and data transfer workloads, there's now 1 TB of SATA SSD storage that is accessible to the EC2 instances that you launch on the device.
Note that users can order through the AWS Snowball Console cluster up to twelve Optimized Storage devices together. With this cluster, they can create a single S3-compatible bucket that can store nearly 1 petabyte of data, in addition to running AWS Lambda functions.
Furthermore, to enhance security for Snowball Edge Devices, Amazon brings support for local IAM. Users can now leverage user-based IAM policies to provide fine-grained control access to services and resources running on the Snowball Edge devices.
Rounding off the updates to Snowball Edge is the support for AWS Systems Manager, a service allowing users to automate frequent maintenance and deployment tasks. They can now write scripts in Python or PowerShell and execute them in AWS OpsHub. Moreover, these scripts can be any of the operations supported on the device.
The public cloud provider is not the only organisation in the Edge Computing space with its Snowball Edge device. Microsoft, for instance, offers Azure Stack appliances, which enterprises can deploy on-premise. Furthermore, Google has the Global Mobile Edge Cloud providing telco companies to run their applications in its main cloud data centers and also on its 100 plus edge locations.
Constellation Research Inc. analyst Holger Mueller told InfoQ:
Edge computing is critical for any next-generation application strategy and infrastructure in enterprises. Being able to use the same software assets on cloud infrastructure and at the edge is a significant factor to build applications faster - resulting in enterprise acceleration. As all hardware platforms, edge platforms need hardware refreshes, and that is what AWS is delivering right now.
AWS Snowball is available in almost all regions. Furthermore, pricing details for AWS Snowball are available on the pricing page.