Recently Couchbase announced the general availability of Couchbase Cloud, a fully managed Database-as-a-Service (DBaaS). The Cloud NoSQL service is currently available on Amazon Web Services (AWS), and Microsoft Azure and Google will follow by the end of the year.
Earlier this year, Couchbase offered the fully managed DBaaS Couchbase Cloud through a managed beta allowing interested customers to try it out. Scott Anderson, senior vice president, Product Management and Business Operations at Couchbase, told InfoQ:
It's been exciting to see the steam Couchbase Cloud has been gaining since we introduced it to the world in February. As evidenced by the oversubscribed beta program, Couchbase Cloud is proving to be a welcomed alternative to organizations' current solutions. The beauty of Couchbase Cloud is that we took the most powerful NoSQL technology in the market and made it available as a fully managed service.
In a recent Couchbase blog post, Anderson wrote about the benefits for customers using the DBaaS service in the cloud. Without any intermediaries, customers can leverage reserve instances and reduce their TCO; for example, AWS advertises over 75% savings when choosing reserved instances instead of on-demand pricing. Furthermore, because of the in-VPC deployment, the data stored in Couchbase remains within the customer's virtual private cloud environment. Hence, the customer can continue to maintain their own security best practices and have full control over their data, its security and sovereignty (where data physically resides).
On AWS, Couchbase Cloud runs on Amazon's Elastic Kubernetes Service (EKS) inside a Virtual Private Cloud (VPC). Moreover, Couchbase Cloud automates the elastic scaling tasks via the Kubernetes operator and provides fine-grained control for mapping workloads to the underlying AWS computing instances. A customer needs to order up compute first in Amazon EC2 before going to Couchbase to order the managed service to run on it. Furthermore, the customer will be billed separately by AWS for infrastructure and Couchbase for the database service – however, Couchbase will streamline this later, having Couchbase Cloud offered and charged through AWS Marketplace.
Couchbase differs from other DBaaS services such as Azure Cosmos DB, Amazon's DynamoDB and MongoDB, because of its Kubernetes architecture. Any Couchbase deployment that uses the Kubernetes operator can be managed by a single control plane, allowing companies to replicate across Couchbase K8s clusters, whether they are in their data center or the public cloud. Moreover, when Couchbase adds support for Azure and Google Cloud Platform (GCP), this would mean unified control across a multi-cloud deployment.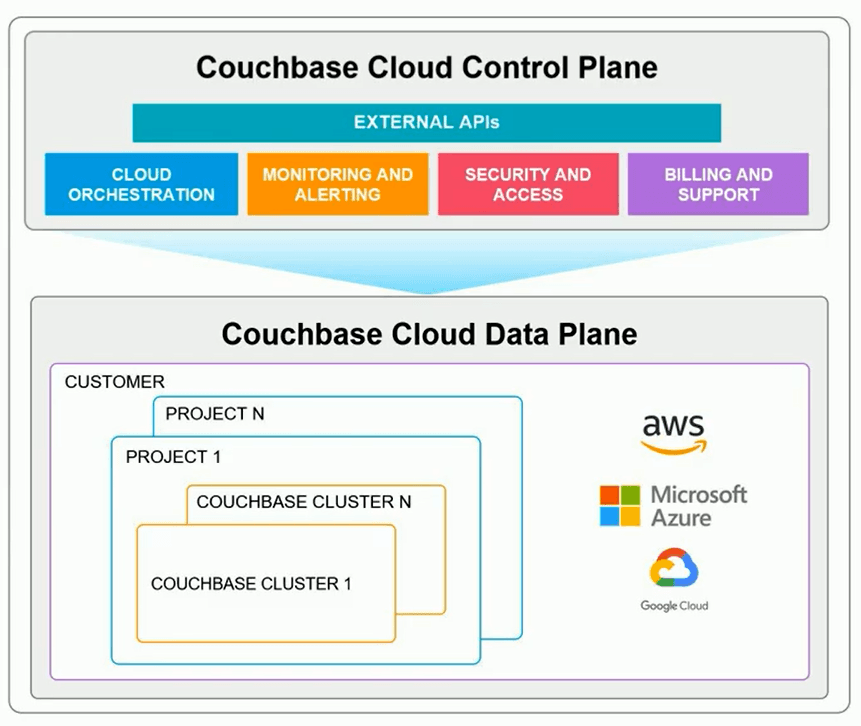 Source: https://www.couchbase.com/products/cloud
Anderson told InfoQ:
Regarding the beta, much of the feedback we received was how easy and quick Couchbase Cloud was to deploy, and price-performance was another thing we often heard. Still, moreover, we consistently heard from the participants that they love the fact we're doing the in-VPC deployment. That's the model of the future -- the ease of use and simplicity of spinning up clusters and making their lives easier. And given the current environment, this is even more critical to help them focus on their app development.
In addition, Jeff Morris, VP Product & Solutions Marketing at Couchbase told infoQ:
Couchbase Cloud arrives just as customers search for new cost-cutting solutions that do not sacrifice performance, security or scale. Couchbase Cloud is great foundation from which to rebuild or migrate old and expensive database applications into adaptable, high-performance, cloud-native ones that grow at the customer's pace of adoption through deployment. There's no better price/performance and cost-control model than Couchbase Cloud that we have seen, yet in the market.
Currently, Couchbase Cloud is offered in two packages, Developer Pro and Enterprise, which provide differentiated service level guarantees for development and testing needs versus business-critical support for production systems. The DBaaS service is available on AWS in North America and EMEA regions with more regions to follow. AWS customers can run Cloudbase Cloud in their AWS account and start with a 30-day trial.