In a recent press release, Oracle announced a fully-managed dedicated cloud region providing a full stack of Oracle's public cloud services, including Oracle Autonomous Database and Cloud applications, that can be installed "on-premise" into a customer's data centers. The region brings all of Oracle's second-generation cloud services starting from $500K USD per month.
Some enterprises are reluctant to move away from their data centers to the public cloud because of massive investments in specific architectures, latency, and governmental data regulations. To meet these enterprises, Oracle offers a fully-managed Oracle Cloud Infrastructure region inside their data center called 'Dedicated Region Cloud@Customer'. Clay Magouyrk, executive vice president of engineering, Oracle Cloud Infrastructure, said in the press release:
Enterprise customers have told us that they want the full experience of a public cloud on-premises, including access to all of Oracle's cloud services, to run their most important workloads. With Oracle Dedicated Region Cloud@Customer, enterprises get all of our second-generation cloud services, including Autonomous Database, in their datacenters.

Source: https://www.oracle.com/corporate/pressrelease/oracle-dedicated-region-cloud-at-customer-070820.html
The Cloud@customer offering includes full management capabilities and access to new features and functions the moment they become available in Oracle's public cloud. Furthermore:
It provides secure isolation of customer data, including all API operations, which remain local to customer data centers and provide the highest levels of security
It is certified to seamlessly run Oracle Cloud applications, including Oracle Fusion Cloud Applications (Cloud ERP, Cloud HCM, Cloud SCM, and Cloud CX, making it a completely integrated cloud experience on-premises, and
Customers only pay for the services they consume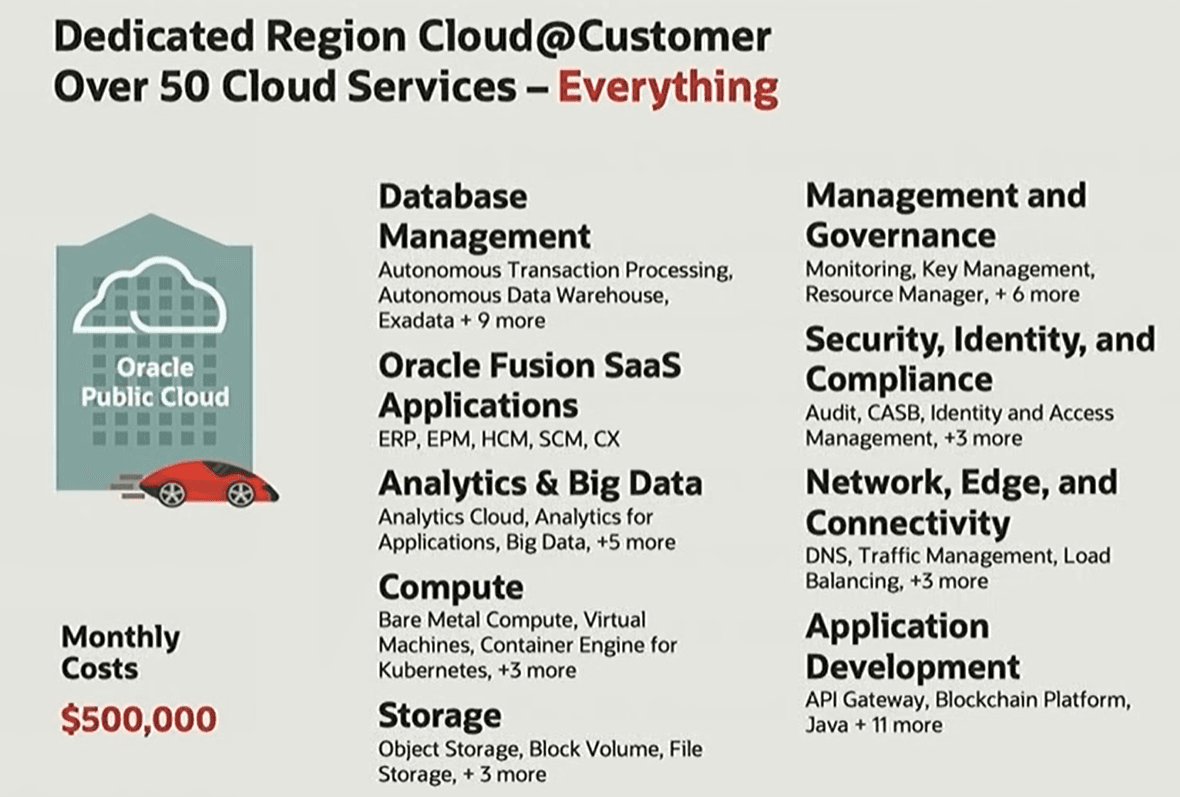 Source (screenshot): https://www.youtube.com/watch?v=4Mv_sfaA8LU
Many of Oracle's competitors, such as Microsoft and Amazon, offer hybrid cloud computing offerings like Azure Stack and AWS Outposts to allow customers to use cloud technology in their datacenters. However, with this approach, customers rely on their hardware, running the cloud providers software. Oracle's strategy is that it asks customers for space in their data centers, subsequently dropping the hard and software and thus providing all the same services as if Oracle owned the data center and handled all maintenance.
Oracle executive chairman, CTO and co-founder Larry Ellison said in an Oracle Live Zoom presentation:
No one, not Amazon, not Microsoft, not Google, nobody gives you a complete public cloud, behind your firewall, dedicated to you. This is a first in the cloud industry.
Customers can get the Cloud@customer offering for a minimum contract commitment of three years at $500K USD per year. More details on pricing are available on the Oracle price list.