In a recent blog post, Google announced the general availability (GA) of Anthos on bare metal, a deployment option to run Anthos on physical servers, deployed on an operating system provided by the customer, without a hypervisor layer. With Anthos on bare metal, customers can leverage their existing hardware, OS, and networking infrastructure investments.
Google released Anthos, a service for hybrid cloud and workload management that runs on the Google Kubernetes Engine (GKE) over a year ago. With Anthos, the company wanted to provide customers with the freedom to deploy, run, and manage their applications on the cloud of their choice, without requiring administrators and developers to learn different environments and APIs. Now with the bare metal option, customers have more choice and flexibility over where to deploy applications in the public cloud, on-prem or at the edge.
According to the blog post, the minimal requirement for customers to run Anthos on bare metal at the edge is two nodes with a minimum of four cores, a2 GB RAM, and 128GB of disk space with no specialized hardware. Furthermore, customers can choose their operating system too, with support for Red Hat Enterprise Linux 8.1/8.2, CentOS 8.1/8.2, and Ubuntu 18.04/20.04 LTS.
Customers can deploy Anthos on bare metal either by a standalone model or multi-cluster model. The first allows customers to manage every cluster independently, which is most suitable for running workloads at the edge - while the second model enables them to manage their workloads as fleets of clusters from a centralized administrative cluster.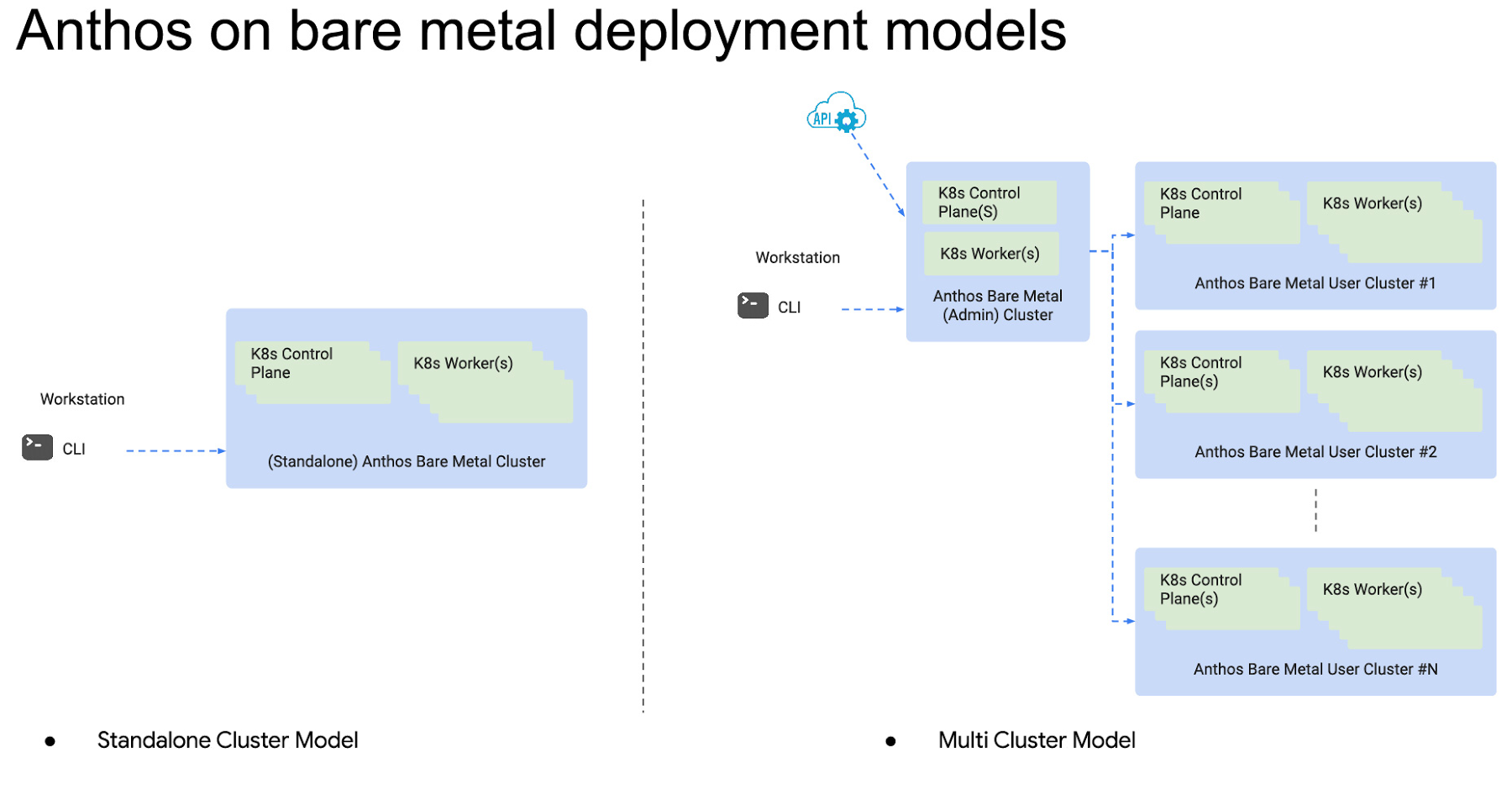 Source: https://cloud.google.com/blog/topics/hybrid-cloud/anthos-on-bare-metal-is-now-ga
In the blog post, the authors Amr Abdelrazik, a product manager for Anthos, and Richard Seroter, director of Outbound Product Management, wrote:
Anthos on bare metal opens up new possibilities for how you run your workloads and where. Some of you want to run Anthos on your existing virtualized infrastructure, but others want to eliminate the dependency on a hypervisor layer to modernize applications while reducing costs. For example, you may consider migrating VM-based apps to containers, and you might decide to run them at the edge on resource-constrained hardware.
Also, Holger Mueller, principal analyst and vice president at Constellation Research Inc., told InfoQ:
The most efficient way to run workloads is on bare metal. It is good to see Google extending the GA of Anthos to Bare Metal, which provides enterprises a way to deploy their next-generation applications where they need to run them. And with bare metal, it matters when it comes to on-premises / localized performance and to ensure data residency/data privacy compliance.
Currently, Google has partnered with various third-party hardware makers to ensure Anthos on bare metal runs without a problem. Some of these partners are Hewlett-Packard Enterprise Co., Intel Corp., NetApp Inc., and Nvidia Corp, who announced the news on their respective blogs.
Lastly, more details of Anthos on bare metal are available on the documentation landing page and pricing details on the pricing page.