Recently AWS announced the availability of the new general-purpose Amazon EC2 M6i instances. The new Amazon EC2 M6i instances deliver up to 15 percent more performance and a better price when compared to the fifth-generation instances and always-on memory encryption using Intel Total Memory Encryption (TME).
Last year the company introduced the sixth generation of EC2 instances powered by AWS-designed Graviton2 processors (Amazon EC2 M6g) and now expands the offering to include x86-based instances benefits for workloads that rely on x86 instructions. These x86-based instances are powered by the latest generation Intel Xeon Scalable processors (codenamed Ice Lake), with a higher all-core Turbo Boost clock speed of 3.5 GHz.
The Amazon EC2 M6i instances offer a balance of memory to vCPU performance with increased scalability. Furthermore, according to the AWS News blog post by Danilo Poccia, the instances are ideal for running general-purpose workloads such as web and application servers, containerized applications, microservices, small data stores - and with the higher bandwidth are also useful for enterprise applications, such as SAP HANA, and high-performance computing (HPC) workloads. Customers can configure from two up to 128 vCPUs, and 8-512 GB of RAM.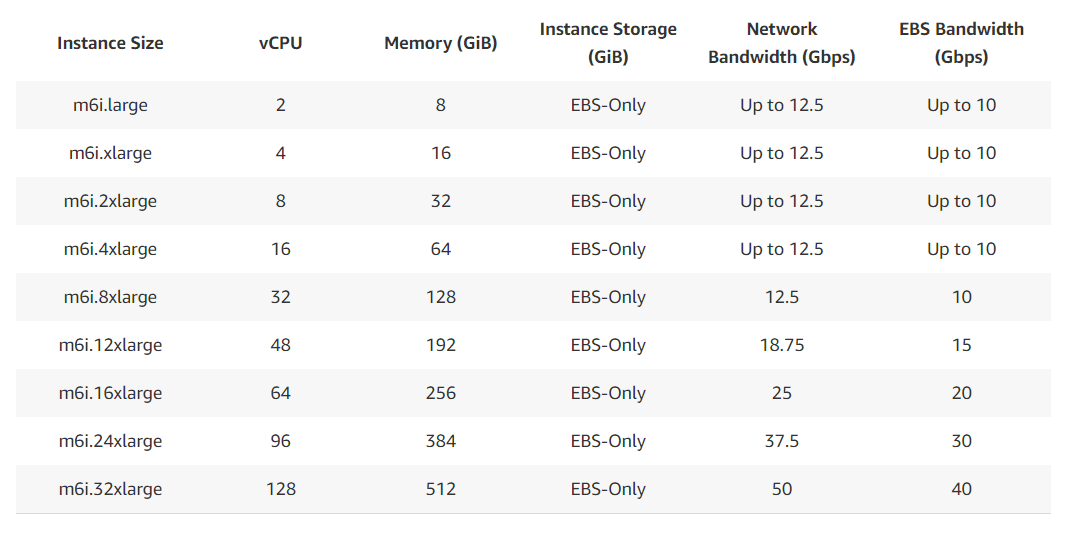 Source: https://aws.amazon.com/ec2/instance-types/
In the blog post, Poccia also mentions:
M6i instances support Elastic Fabric Adapter (EFA) on the m6i.32xlarge size for workloads that benefit from lower network latency, such as HPC and video processing.
Other public cloud providers such as Azure and Google Cloud also offer a wide selection of instance types, varying combinations of storage, CPU, memory, and networking capacity, allowing you to scale your resources to the requirements of your target workload.
For general-purpose workloads, earlier this year Microsoft released the Dv5-series powered by the third-generation Intel Xeon Platinum processor in a hyper-threaded configuration, with a higher all-core Turbo Boost clock speed of 3.5 GHz, Intel Turbo Boost Technology 2.0, Intel Advanced Vector Extensions 512 (Intel AVX-512), and Intel Deep Learning Boost. And virtual machines available on Google Cloud for general purposes (E2, N1, N2) are powered by Intel Cascade Lake and Intel Skylake technology or AMD EPYC Rome platforms (N2D).
Currently, the EC2 M6i instances are available today in six AWS Regions: US East (N. Virginia), US West (Oregon), US East (Ohio), Europe (Ireland), Europe (Frankfurt), and the Asia Pacific (Singapore). Pricing of these instances is according to what customers use, and details are available on the EC2 pricing page.