CNCF has published the latest edition of the State of Cloud Native Development Report. An important finding from the report indicates that the cloud native developer population has grown by 0.3 million during the period from Q1 2020 to Q1 2021. Edge computing has the highest usage rates of containers and Kubernetes, with 63% of edge developers adopting Kubernetes and 76% adopting containers.
SlashData, a research firm commissioned by CNCF, has already published two versions of this report, the first one in May 2020 and the second in August 2020. A comparison study indicates that while cloud native is growing steadily at a rate of 300,000 developers, it is at a slower rate than the previous report, which reported a 1.8 million increase. Of the 6.8 million cloud native developers, 4.6 million use container orchestration tools, 4 million use serverless platforms and 1.8 million use both.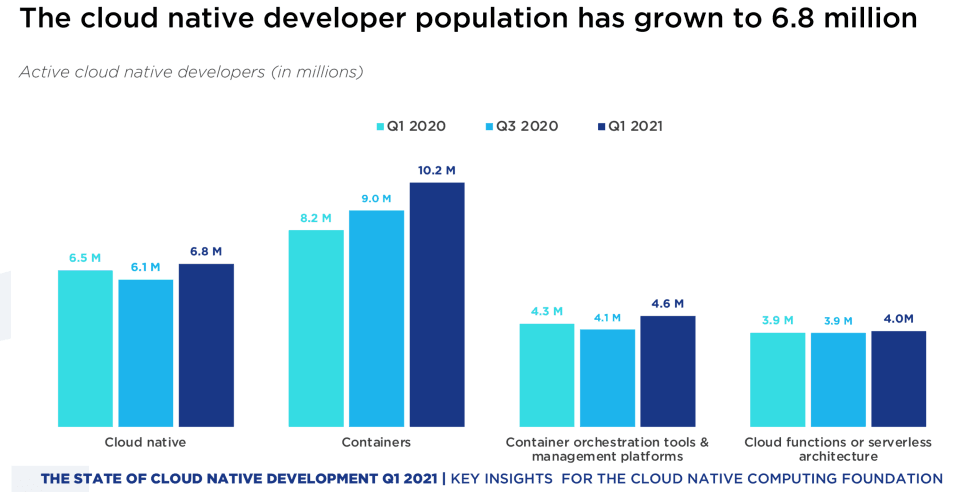 Source: CNCF
With different cloud vendors coming up with new serverless offerings, there is no common approach to building serverless systems as of now. This lack of flexibility for adoption may have caused serverless architecture to see a drop in the number of developers from 27% to 24%. However, 48% of edge developers prefer going serverless compared to 33% of backend developers.
Regarding the serverless solutions, AWS Lambda is preferred by 53% of developers, which may not be surprising considering it was the first serverless product in the market. Google Cloud Run has also started gaining traction, with an eight percentage point increase reported in the last six months.
Large organizations with more than 500 employees appear to adopt both Kubernetes and containers, which is likely driven by project complexity. Across the regions, cloud native computing is most widely adopted in Oceania (56%), North America (47%), and Western Europe (46%).
Building on the previous findings, the latest report states that developers seem not to realize that they are using Kubernetes. While the awareness of Kubernetes has increased, many backend developers remain doubtful about what Kubernetes can do for them. 21% of survey respondents say that they have heard of Kubernetes but are unsure of what it does, and 11% say that they never heard of Kubernetes.
Expanding on the trend with edge developers adopting Kubernetes and containers, the report speculates that usage of containers is reaching or has already reached its peak usage; whereas for Kubernetes, an upward trend is observed, indicating enough room for further adoption.

Source: CNCF
When asked preference about the orchestration solutions, edge developers indicate that they rely on Kubernetes for secure and less complex infrastructure, preferring a private cloud than a public cloud. Edge Developers also reported preferring Google Kubernetes Engine over Amazon Elastic Kubernetes Service as the orchestration solution.
From an evaluation perspective, edge developers indicated negligible rejection rates for Red Hat Advanced Cluster, Google Kubernetes Engine, and IBM Cloud Kubernetes Service.
The State of Cloud Native Development was the result of SlashData's biannual Developer Economics Survey taken by 19,000+ software developers across 155 countries. Our readers can follow this link to download the report.