Recently, Microsoft announced the preview of Azure Purview Workflows, allowing customers to orchestrate then create, update and delete operations, validation, and approval of data entities using repeatable business processes. These workflows are currently in preview and a part of Azure Purview.
Azure Purview is a data governance service from Microsoft that automates the discovery of data and cataloging while minimizing compliance risk and helps customers map all their data, no matter where it resides, to provide an end-to-end view of their data estate. It was first launched in public preview in December 2020 and has been generally available since October 2021. The latest addition to the service is workflows.
Workflows in Azure Purview are automated processes made up of connectors that contain a standard set of pre-established actions and are run when specified operations occur in the customer's data catalog. The actions include generating approval requests or sending a notification, allowing users to automate validation and notification systems across their organization.
There are currently two kinds of workflows available in public preview with data governance and data catalog. The first is scoped at the collection level and the other on glossary level. As part of the preview, Microsoft enabled two workflows - one Self-service data access workflow for hybrid data estate and another with Approval workflow for business glossary. With the latter, users can leverage four available templates (Create glossary terms, Update glossary terms, Delete glossary terms, and Import terms) in the Purview Studio and customize them to their organizational needs. To author the workflows, a user needs Workflow administrator permission.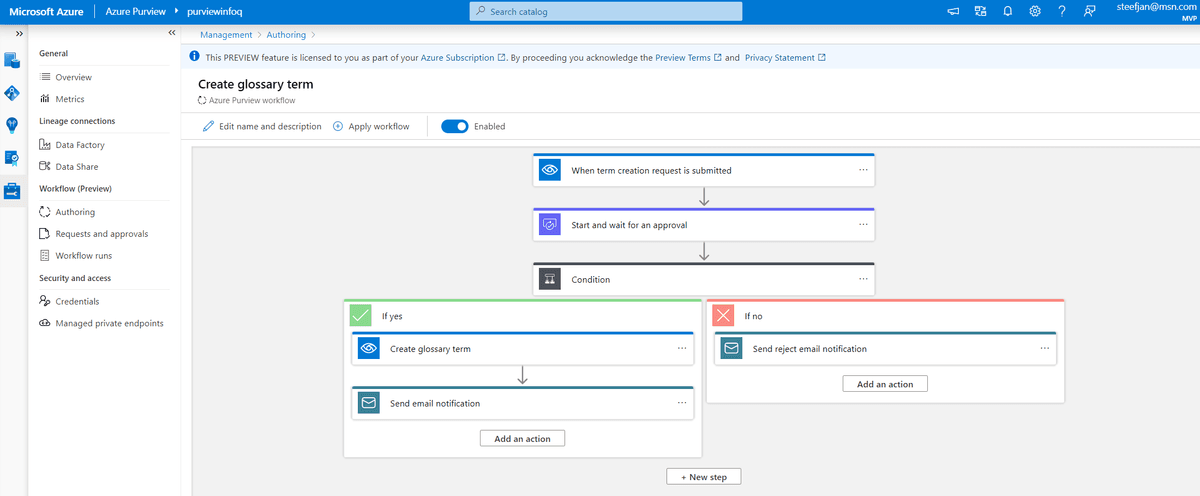 In a tech community blog post, the author Naga Krishna Yenamandra, a senior technical program manager at Microsoft, explains what happens once a business glossary workflow has been created:
Once you have defined a workflow, you can bind it to a glossary hierarchy path. The workflow engine always triggers the workflow directly applied to a glossary path. However, suppose no workflow is directly applied to the glossary path. In that case, the workflow engine travels upward in the hierarchy to find the nearest workflow applied either to the term's parent or even higher levels in the glossary term hierarchy. This allows you to define a default workflow at a higher level and override the same with a different workflow at a lower level in the glossary hierarchy.
In Azure Purview Studio, the user who has assigned an approval action to approve or reject a data access request or a task action to complete a data access request can view them. In addition to viewing these requests in Azure Purview Studio, they receive emails with instructions on how to respond to them.
Azure Purview is available in several Azure regions such as East US, West- and North Europe, Australia East, and Southeast Asia, with more regions to come. The pricing of the service is available on the pricing page and guidance can be found in MS Learn modules and documentation.