Recently, AWS updated its Service Health Dashboard with an improved Interface, better responsiveness, and integration with Personal Health Dashboard – all combined in a new Health Dashboard.
Back in 2008, AWS provided its customers with a Service Health Dashboard (SHD), showing the overall availability of AWS services. Later in 2016, customers were provided with AWS Personal Health Dashboard (PHD) and the AWS Health API to give a more personalized and granular view; and now, a new dashboard to further enhance its usability.
Niko Nakai, senior product manager at AWS, explain in an AWS Cloud Operations and Migrations blog post the reasoning for bringing a new dashboard:
As AWS itself has grown to millions of customers and a far greater number of resources across the world, it's increasingly difficult for the SHD to represent the experience of individual customers with a single aggregated status icon.
In addition, Corey Quinn, a cloud economist at The Duckbill Group, commented in a tweet:
"Time to break your http://stop.lying.cloud nonsense," says @awscloud and launches a brand new status page for us to peruse: http://status.aws.amazon.com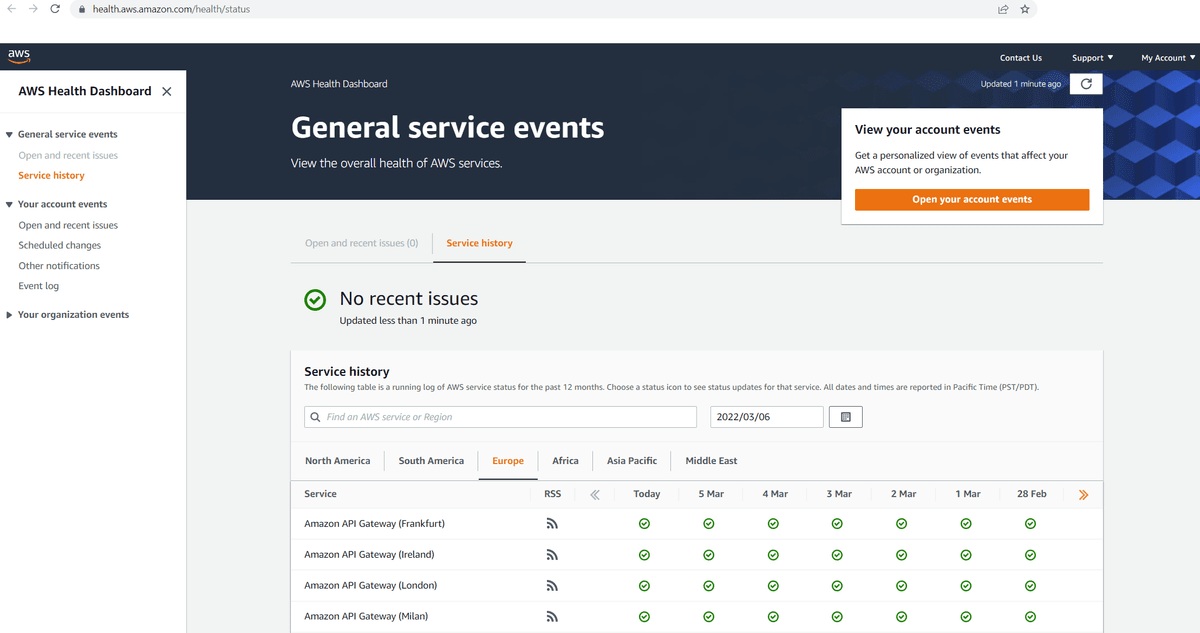 With the new dashboard, the public cloud provider claims a more user-friendly interface, faster page load times, and a more operationally resilient backend. In addition, AWS customers will get quicker to their personalized events because the AWS Health Dashboard takes them to their account events like if they are already signed in. Furthermore, if an event affects multiple AWS services, the AWS Health Dashboard provides more responsive and accurate communication.
Giorgio Bonfiglio, a principal operations fairy at AWS, pointed out one of the significant benefits of the new dashboard in a tweet:
One of the most important changes is how we post during large events: we used to publish updates for every impacting service, making it harder for customers to aggregate and for us to post quickly.
In the new dashboard, we'll publish a single message and tag services to it.
AWS competitors Microsoft and Google also provide health status information on their respective public cloud offerings. For example, Microsoft offers a status page, Azure Service Health accessible through their portal, and a REST API. And also, Google has a single status webpage for its cloud services.
Lastly, Quinn concluded in an extensive lastweekinaws blog post:
I think I can best sum it all up as "status pages are hard," "AWS gets it more right than they do wrong," "AWS PR needs to not only speak up more, but do so intelligently," and "the new status page is a win." We'll know more just as soon as a significant portion of an AWS region falls over.