Fitbit Health Solutions and Google Cloud have recently announced the release of Device Connect for Fitbit, which will provide healthcare and life sciences enterprises with accelerated analytics and insights to help people live healthier lives.
With the solution, the companies hope to remove some barriers preventing healthcare organizations from using Fitbit data for patient monitoring, research, and population health projects. Device Connect for Fitbit includes several pre-built components that aid in making Fitbit data accessible and interoperable such as:
A pre-built patient enrollment and consent app – enabling organizations to provide their users with permissions, transparency, and frictionless experience.
An open-source data connector that provides automated data normalization and integration with Google Cloud BigQuery for advanced analytics.
Furthermore, from BigQuery, users can use AutoML Tables to build advanced models or custom models with Vertex AI.
A pre-built Looker interactive visualization dashboard that can be easily customized for different clinical settings and use cases to provide faster time to insights.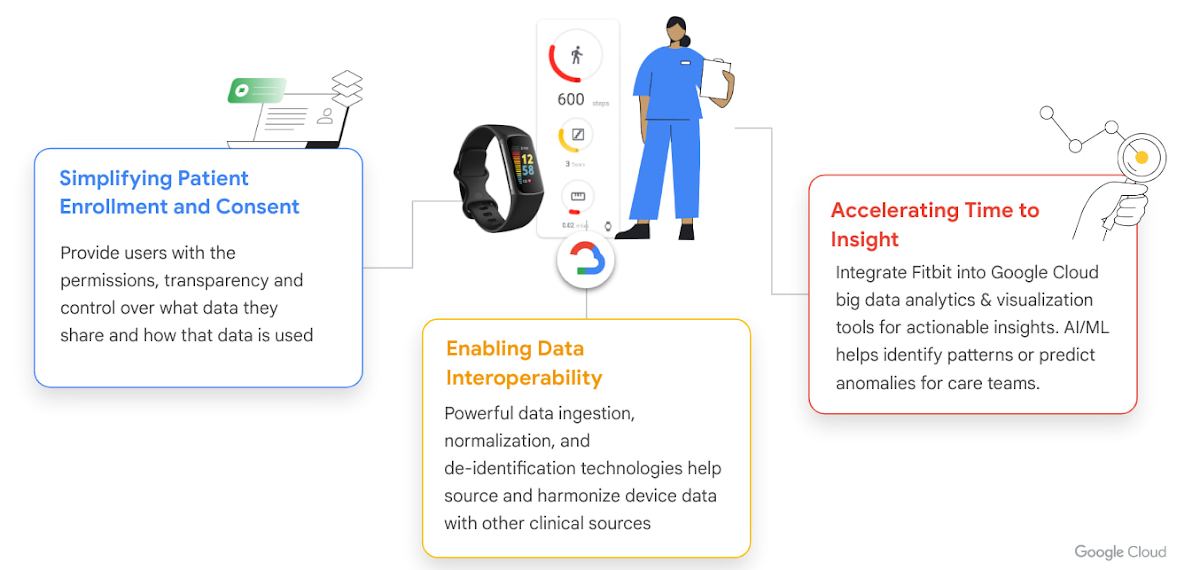 Source: https://cloud.google.com/blog/topics/healthcare-life-sciences/device-connect-for-fitbit-powered-by-google-cloud
Fitbit metrics include activity, sleep, breathing rate, cardio fitness score (Vo2 Max), heart rate variability, weight, nutrition, SP02, and more will be accessible through Device Connect Fitbit. Similar to what Apple Watch provides with Healthcare, which allows users to share data with Apple; however, there's no public cloud offering behind it like Device Connect for Fitbit.
Jane Sarasohn-Kahn, a health economist, advisor, at THINK-Health LLC, tweeted:
Ever-morphing #digitalhealth & #wearabletech for #health, @Google announced "Device Connect for @Fitbit (part of #Google)

"#Healthcare will be able to gain >holistic view of patients outside clinical settings."
A la @Apple HealthKit?
In addition, the authors, Alissa Hsu Lynch, global lead, MedTech Strategy and Solutions at Google Cloud, and Amy Mcdonough, managing director at Fitbit Health Solutions, explain in a Google blog post :
With this solution, healthcare organizations will be increasingly able to gain a more holistic view of their patients outside of clinical care settings. These insights can enhance understanding of patient behaviors and trends while at home, enabling healthcare and life science organizations to better support care teams, researchers, and patients themselves.
Uses cases for Connect for Fitbit vary, such as chronic condition management; for instance, people living with diabetes can benefit from maintaining their blood glucose levels within an acceptable range, or clinical research as these depend on rich patient data.
One of the early customers of the Device Connect for Fitbit service is the Hague's Haga Teaching Hospital in the Netherlands. The solution is to assist the organization in funding a new study on the early detection and prevention of vascular disease. Its cardiologist Ivo van der Bilt said in another Google blog post:
Digital tools and technologies like those provided by Google Cloud and Fitbit open up a world of possibilities for healthcare, and a new era of even more accessible medicine is possible.
Lastly, note that Google's interactions with Fitbit are governed by strict legal requirements, including how Google accesses and manages Fitbit health and wellness data.