Recently Google Cloud announced a significant expansion of its Cloud Interconnect portfolio by unveiling Cross-Cloud Interconnect. The new offering enables organizations to connect any public cloud with Google Cloud securely and efficiently, allowing seamless application deployment across multiple clouds and simplified SaaS networking in a multicloud environment.
Connecting and securing distributed environments has posed challenges for cloud infrastructure teams. Configurations often involve complex setups, dedicated hardware, and time-consuming operational processes. With the Cross-Cloud Interconnect offering, Google aims to simplify these processes by minimizing hardware requirements, reducing overhead, and providing a secure, high-performance network for connecting any public cloud like Microsoft Azure, AWS, and Alibaba with Google Cloud.
The offering is available in 10 Gbps or 100 Gbps options and does not require new hardware. In addition, it has the same features as Cloud Interconnect and is backed with an SLA (99.99%). According to the company, customers with multicloud environments can leverage Cross-Cloud Interconnect to enable the following:
Private and secure connectivity across clouds.
Line-rate performance and high reliability with 99.99% SLA.
Lower TCO without the complexity and cost of managing infrastructure.
Run Applications on multicloud.
Migrate workloads from one cloud to another.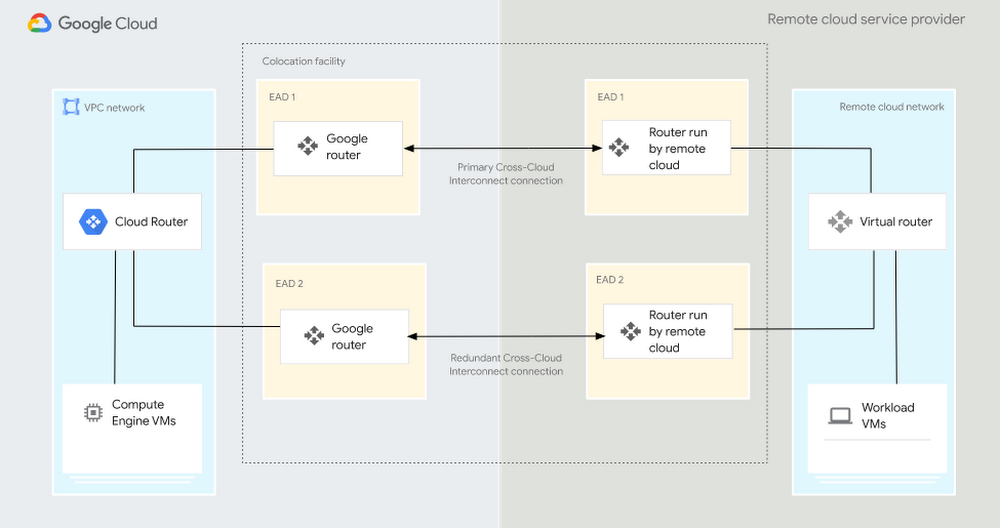 Source: https://cloud.google.com/blog/products/networking/announcing-google-cloud-cross-cloud-interconnect
Alongside the introduction of Cross-Cloud Interconnect, Google Cloud enhanced its Private Service Connect offering. Private Service Connect enables the creation of private and secure connections from virtual private clouds (VPCs) to Google Cloud, partner services, or custom services, simplifying network configuration for published services and SaaS applications. The recent enhancements include support for Cross-Cloud Interconnect, automated service connection policies, and expanded access for on-premises and multi-cloud clients.
In addition to these advancements, Google Cloud has strengthened its Cloud Interconnect capabilities with new encryption options, improved performance, and enhanced network resiliency. Features like MACsec for Cloud Interconnect provide point-to-point line-rate L2 encryption, ensuring secure communications between customers and Google Cloud, and HA VPN over Interconnect provides IPSec encryption to protect communications between a customer's on-prem VPN gateway and the HA VPN gateway in Google Cloud.
In addition, bidirectional forwarding detection expedites the detection of link failures, enabling prompt traffic rerouting in case of path outages, and 9K MTU support (in preview) allows large packet sizes to deliver higher throughput over Interconnect offerings. Moreover, BGP enhancements (in preview) include support for custom-learned routes and increased prefix scale, further optimizing networking operations.
Several cloud providers offer similar services to Google Cloud Interconnect. For example, Azure ExpressRoute provides a private and dedicated connection between an organization's on-premises infrastructure and Azure cloud services. It offers secure and reliable connectivity with high bandwidth and low latency options. Furthermore, it allows connectivity with other clouds. Another example is AWS Direct Connect, which enables organizations to establish a dedicated network connection between their on-premises data centers and AWS, bypassing the public internet.