The
SOA Link
initiative, started by
Infravio
in
May 2006
, aims to ensure interoperability among the participating vendors by defining how they share information via a central registry. For example, vendors of development, testing, runtime and management software all need information about service contracts; the initiative might help them to share this information and be notified when it changes. Today, four companies from the testing/QA area have announced support for SOA Link:
iTKO
, provider of end-to-end SOA testing solutions,
Mindreef
, well known for their SOAPscope diagnostic tool, and
Solstice
, who provide automated testing tools for SOA and
Parasoft
, who provide testing tools for SOA.
SOA Link is very similar to another initiative, the
Governance Interoperability Framework (GIF)
, created by
Systinet
in
April 2005
. Systinet and Infravio compete in the service registry market, both providing products aimed at providing a registry/repository solution for advanced SOA deployments. Systinet was
acquired by Mercury
in January.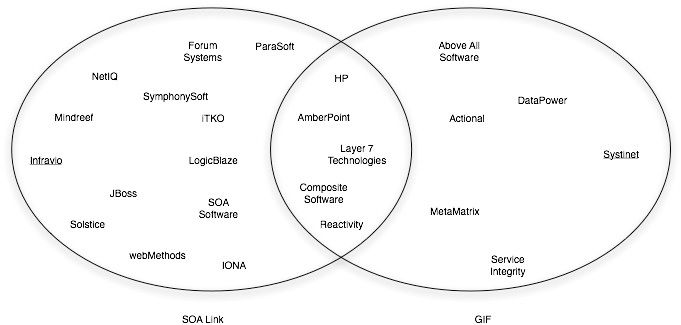 HP
,
Amberpoint
,
Layer 7 Technologies
,
Composite Software
and
Reactivity
participate in both GIF and SOA Link. The need for having two competing initiatives
has been questioned in the past
.