Books
Architecture & Design
Architecture & Design
Follow
2398 Followers
For this edition of The Morning Paper Quarterly Review, Adrian Colyer has chosen a set of papers that illustrate what the data natives are up to: how they embed experimentation, optimisation, and learning into everything they do. If you thought continual delivery was the end game, for data natives this is just the necessary pre-requisite.
Architecture & Design
Architecture & Design
Follow
2398 Followers
In this issue of The Morning Paper Quarterly Review Adrian Colyer looks at how simple testing can avoid catastrophic failures, symbolic reasoning vs. neural networks, how to infer a smartphone password via WiFi signals, how and why Facebook does load testing in production, and automated SLOs in enterprise clusters.
Followers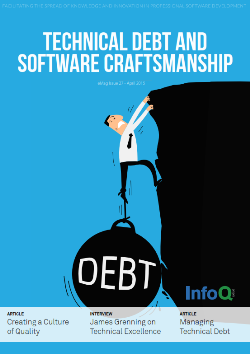 This eMag brings together a number of authors who have addressed the topic on InfoQ and suggests ways to identify, monetize, and tackle technical debt in your products.