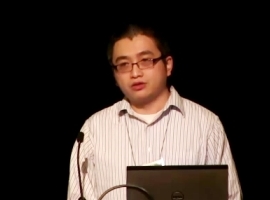 16:50
Followers
The authors show how statistical debugging can be used for diagnosing performance problems, lowing the overhead of run-time performance diagnosis without extending the diagnosis latency.
01:25:43
Followers
The authors share insights from their experience building DSLs for business people.
38:01
Followers
Garrett Eardley explores how Riot Games is using Riak for their stats system, discussing why they chose Riak, the data model and indexes, and strategies for working with eventually consistent data.
49:34
Followers
Ronny Kohavi shares lessons learned, cultural and scaling challenges conducting hundreds of concurrent online controlled experiments at Bing.
54:26
Followers
Bjarte Bogsnes discusses Beyond Budgeting and tackling budgeting issues in traditional management, the Statoil "Ambition to Action" management model with implementation experiences and advice.
31:10
Followers
Stephen Hardisty presents how Etsy delivers products without having project managers, business analysts, or testers.
01:06:24
Followers
Guy Dugas, Angie Duncan, Barb Spurway, Kevin Giles discuss about the roles, skills and competencies of business analysts, challenges and experiences, and how they have delivered value.
47:03
Followers
Jonathan Seidman and Ramesh Venkataramaiah present how they run R on Hadoop in order to perform distributed analysis on large data sets, including some alternatives to their solution.
49:37
Followers
Nathan Marz explain Storm, a distributed fault-tolerant and real-time computational system currently used by Twitter to keep statistics on user clicks for every URL and domain.
54:08
Followers
Manas and Clemens discuss deriving business agility from SOA and BPM, how SOA and BPM enable agility, and pitfalls/recommendations for organizational culture, business and technical architectures.
53:17
Followers
Hilary Mason presents the history of machine learning covering the most significant developments in the area, and showing how bit.ly uses it to discover various statistical information about users.
47:42
Followers
At a recent IIBA New Zealand members event Shane and Pete debated the role of the business analyst on Agile projects. They looked at the importance of analysis on projects and how the role changes.