Presentations
Older
39:19
Culture & Methods
Culture & Methods
Follow
883 Followers
James Ross discusses what concept maps are, how to construct one, what to do and what to avoid when creating one, and how to help a team build a shared mental model depicted in a concept map.
55:23
Followers
Chris Richardson discusses an event-driven microservice architecture, it's benefits and drawbacks and how Spring Boot can help, implementing business logic using domain models written in Scala.
48:55
Followers
Ian Barber discusses the importance of behavior, domains and clarity of the names used when writing software or building systems.
01:07:29
Followers
Udi Dahan takes a look at why different kinds of pub/sub need to be used for specific domains like healthcare, finance, "internet of things", and some kinds of retail.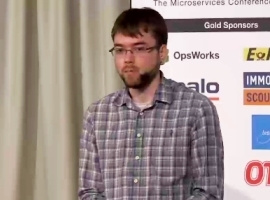 50:28
Followers
Caoilte O'Connor explains how and when the Domain Service Aggregator Archetype can help, using the architectural evolution of "Video on Demand" in a broadcast company as a working example.
42:21
Followers
Mike Barker shares lessons learned at LMAX Exchange: starting from a clean domain model is imperative and understanding the trade-offs between performance and safety/generality/functionality.
34:14
Followers
Volker Pacher, Sam Phillips present key differences between relational databases and graph databases, and how they use the later to model a complex domain and to gain insights into their data.
01:25:43
Followers
The authors share insights from their experience building DSLs for business people.
48:44
Followers
Eric Evans discusses three DDD patterns helping embedding CAP tradeoffs inside the domain model: Aggregates, Domain Events and Bounded Contexts.
01:02:35
Followers
Eric discusses the need for strategic thinking and how early design decisions can affect project and organization trajectories and why they involve much more than mere architecture.
01:07:20
Followers
Eric Evans reviews what he has learned in the 5 years since the publication of Domain Driven Design. He also describes some new patterns and talks about changes of emphasis for existing patterns.

01:00:07
Followers
Business users doing programming? Simonyi and Kolk presents how Intentional Software offers a radical new software approach that separates business knowledge from software engineering knowledge.