Presentations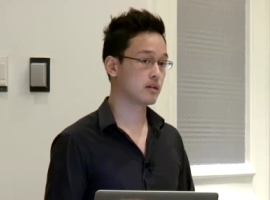 41:09
Followers
Burin Asavesna shares his team's experience building applications with PhoneGap Build.
52:27
Followers
Christophe Coenraets compares hybrid mobile apps with native ones and demonstrates building HTML5 applications with PhoneGap.
46:54
Followers
Alexey Karpik reviews JS libraries – Sencha, JQuery, Jo-, frameworks –Rhomobile, M-Project-, and tools –PhoneGap, MoSync, Appcelerator, Antenna-, discussing how they fare with mobile development.
39:38
Followers
Rob Chipperfield compares several platforms and solutions for building cross-platform mobile applications: Titanium, Sencha, PhoneGap, and Nomad.
59:19
Followers
Christophe Coenraets discusses strategies for creating large JavaScript MVC apps, and using PhoneGap for accessing native device capabilities and for packaging HTML apps.
39:52
Followers
Christopher Judd overviews the capabilities of several solutions for building cross-platform mobile applications: Titanium, Flash Builder, PhoneGap, and Mobile Web.
01:07:01
Followers
Christophe Coenraets presents how PhoneGap helps creating cross-platform HTML and JavaScript applications that access native device functionality.
01:00:40
Followers
Maximiliano Firtman discusses the status of HTML5 and its browser support, introducing cross-platform app creation for the store, including hybrid apps with PhoneGap.
57:15
Followers
Dave Johnson introduces PhoneGap: how to write apps with it, the existing community, an API overview, extending PhoneGap, tooling, libraries, and an argument on web vs. native apps.
01:24:35
Followers
Keith Donald and Roy Clarkson present PhoneGap and demo developing cross-platform mobile applications for iOS and Android.
01:01:48
Followers
James Pearce introduces cross-platform web apps development using HTML5 and web frameworks, such as jQTouch, jQuery Mobile, Sencha Touch, PhoneGap, outlining what makes a good framework.
51:12
Followers
Michael Galpin covers developing mobile web apps, HTML 5, PhoneGap, Appcelerator, Web Sockets, server-side data push, Canvas, CSS3, application cache, video/audio, and mobile platform feature support.