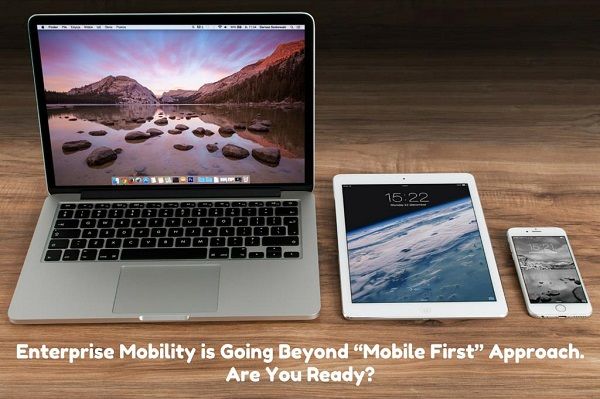 Mobile technology along with bring-your-own device (BYOD) has largely transformed our lives, including the way we work. But enterprise mobility is more than simply providing remote access to users. It is rather a shift in work habits where employees can work remotely leveraging mobile devices and cloud technology to better perform business tasks.
The mobile revolution is changing the way organizations work, manage their operations as well as engage with their employees. As a result, organizations are reconsidering their technologies and techniques to make their traditional organizational cultures and roles more mobile friendly, making 'mobile first' a must have strategy.
What is "mobile first"?
Mobile first implies that a company should think critically about the mobile experience while thinking about its website and other digital means of communications. The focus should be on how seamlessly their customers and employees can interact with the company using their various devices. This means, your mobile strategy should be determined by your users' needs and the way that best serves them.
When it comes to adopting a mobile first approach in the enterprise, it is nothing different from adopting it for your customers. The end-users (i.e. your employees) often behave like children when it comes to adopting technology in the workplace. If they don't understand why they should change, they will get upset and it will become rather challenging to get them to do something they are reluctant to do.
But the good news is that enterprise mobility is in vogue. According to Tech Target, it is "the trend toward a shift in work habits, with more employees working out of the office and using mobile devices and cloud services to perform business tasks". This means, you don't have to force anything upon your employees. However, you need to address certain issues - especially those around usability, your company's security policy, and of course, cost.
Mobility – As We See It Today
The advantages of enterprise mobility are numerous. For example, it allows employees to work remotely, improving their productivity. In addition, it enhances corporate data security and reduces organizational risk with better BYOD security strategies. It is therefore no surprise that today, businesses are taking initiatives to maximize their potential related to mobile and digital technologies. In fact, this has become mandatory as employees, customers and partners now expect to interact with the organizations immediately, regardless of the device, time or place.
While this expectation adds a competitive advantage to enterprises that can fulfil it, the future is likely to become even more connected, thanks to internet of things and M2M (machine-to-machine) communications. This means, businesses now need to go beyond 'mobile first' planning. By this we mean you need to develop a strategy that puts your business at the forefront of mobility.
You need to go beyond just creating mobile applications and services when it comes to deploying mobile technologies. While these efforts were tactical enough to address the need for people to remain connected 24*7 across various devices, they won't suffice to make your business ready for the mobile journey of the future.
Today, we see more and more businesses are investing resources to create a mobile strategy that can successfully transform the enterprise, changing the way they run their business. In fact, businesses of all size and stature, ranging from small to big brands, are getting onto the enterprise mobility bandwagon to improve their ROI by combining mobile with cloud computing, big data and analytics capabilities. Even two tech giants, Apple and IBM have forged a global partnership to bring IBM's big data/analytics to iPhone and iPad in order to transform enterprise mobility.
Let's take a look at this enterprise mobility journey – where we've been and what the future holds for us.
The Massive Mobile Growth
Mobile has become an inevitable part of our life. According to a U.N. Study, six billion out of seven billion people of the world have mobile phones. There has been a rapid shift in internet and media usage patterns and consumption in the recent years due to the trends of mobile-centric social networks, location based services, and mobile video companies etc. Facebook, for example, had around 1.44 billion mobile monthly active users as of the fourth quarter of 2015. All these trends are not only transforming industries but are also enabling new business models. Look at business models of SnapChat or Uber: Their primary channels are mobile apps whereas their desktop offerings are just add-ons. These new business models and the other existing megatrends like the internet of things, cloud, and big data etc. clearly indicate that mobility is becoming the primary way how people interact and get things done.
Investments on mobile technology have dramatically increased over the past few years. The latest IDC report also indicates that mobile technology spending is likely to reach $1.2 trillion by 2019; it was around $901 billion in 2014. The report also confirms that the lion's share of this amount is consumed by smartphones and wireless data. And this is excluding consumer spending.
The study further found that:
Professional service providers and process manufacturing industries will largely invest in mobile technologies, accounting around 17 percent of the total market growth.
Consumer-centric industries including media, retail, personal and consumer service industries are using mobility to connect and engage with their customers with the intention of improving customers' experience and boost loyalty.
This, in turn, also results in larger sales per customer. The study predicted that the consumer-centric industries will show the biggest growth in mobility.
What It Means for Your Business: All these studies along with many others indicate explosive growth in mobility, especially in combination with cloud computing and social media without showing any sign of drop in intensity in the near future. While it provides enormous opportunities to businesses, there are certain challenges as well. And to overcome those challenges businesses need to have a robust mobility strategy in order to be in a better position.
Most importantly, your mobility strategy must be flexible enough to change according to the current trends as mobile is very disruptive by nature. You will find new versions of operating systems going around in the market in every six months or so. Such changes require you to update not only your technology but also your mobile strategy quite frequently.
That said, never fall for an ad-hoc approach which lacks a concrete mobility strategy as businesses that adopted such an approach to enterprise mobility are often subjected to various risk factors, including but not limited to:
Data leakage
Data vulnerabilities
Insecure access
Reliability issues
What you need is a proper road map for mobility such as conducting careful experimentation considering organization size and other factors that define both the business and technical aspects. You need to take a holistic approach instead of just focusing on one individual problem. This, however, requires you to have a mature yet flexible mobility strategy.
Identify Your Mobile Maturity
Since enterprise mobility is a non-negotiable, you need to reach a position where you can provide applications not only to deliver great experience but also work flawlessly to meet (and even exceed) app users' expectations. Failing to do so only means more struggle, both for the enterprise and the app users. It is no longer an option: Enterprise mobility has rather become a critical business requirement where businesses need to embrace various mobility platforms to boost their productivity as well as gain a competitive advantage in the market.
But to do so it is important to understand where you stand in mobile. According to Yankee Group, there are three distinct phases of mobile maturity for enterprises. These are:
Opportunistic: Companies that are still deploying mobility solutions to meet specific use cases individually or experimentally. They lack an enterprise-wide direction and have limited architecture extendibility, supporting those deployments.
Strategic: These are more forward-looking companies deploying mobile applications to address larger subsets of workers, featuring more sophisticated functionality. They use a definite roadmap along with a more policy-driven approach for delivering their pre-defined business outcomes.
Mobile-First: There are just a few companies that have reached this stage of enterprise mobile maturity. Mobility, at this stage, is integrated into the whole organization in order to re-envision business processes and transform business processes, driving innovation in a unified way.
In order to understand your mobile maturity, you also need to first analyse your business as well as identify the obstacles that stop you from reaching your mobility objectives. Is it device management or data security? Or perhaps back-office connectivity, app development or mere cultural hurdles that work as barriers to your enterprise mobile maturity? Identify them and resolve these issues at the earliest.
Let your IT team take care of mobile deployment, application and device management, and security issues while your business needs to drive mobility initiatives. This approach will help you become user-driven, successfully addressing the needs of end users.
Focus on User Convenience & High-Quality User Experience
Around 20 percent of consumer apps are used only once. While the situation is better for enterprise apps where users don't have the liberty of ignoring or deleting an app just because they don't like the experience, there are still chances that they might stop using the app in the long run especially with the availability of a better option.
App developers therefore need to innovate as well as deploy that innovation really fast and people simply demand immediate benefit when it comes to determining their mobile experience.
In addition, there are certain things you need to keep in mind in terms of user experience. First things first, it needs to have a nice look and feel. But most importantly, the app needs to be intuitive and provide appropriate content as and when required. If your mobile application misses any of these, chances are it will be ignored or deleted soon enough.
Here are a few tips to provide a superior experience to your users:
Let them access their apps and data seamlessly and with their personalized settings, irrespective of the device they use. This will allow them to get to work right away without requiring them to change the settings every time.
Provide enterprise-grade devices, especially if your app requires strict security requirements such as multi-device support, secure cross boundary collaboration, file and workspace based security, enterprise app store, and so on.
As mentioned, allow self-service provisioning for additional apps your employees might require by means of an enterprise app store, where people can download SaaS-based enterprise applications like CRM and ERP software solutions, hosted (like Google Docs or remote hosting application from Amazon) or mobile apps with single sign-on.
Your 'allowed BYOD device' functionality must be clearly defined and communicated on an app-by-app basis. For example, define if your employees can use certain functions on their BYOD device like camera, local data storage or printing etc. on some of their apps although your IT team turns turn these features off for other applications.
It must be really simple to share and sync files, regardless of the device. Also make external sharing as simple as sending a link.
As you think about user experience first, your focus should be on providing more than what people expect. When it comes to enterprise mobility, create your mobility strategy keeping collaboration in mind. Also, make sure your people understand that they too need to ensure compliance in order to secure their apps and data, appropriately manage devices, and control network access.
Balance Security with User Experience
As mentioned in the previous section, you need to balance security with user experience. It is true that mobile adaptation is not without risk as you are allowing your employees to carry business data beyond the four walls of your company. Any kind of negligence can therefore jeopardize your security, often leading to data breaches and malicious intrusions.
With enterprise mobility, there is little separation between professional and personal life. Chances are, your employees are using the same device to check their e-mail, send tweets, take and share photos, text, play Candy Crush Saga as well as to collaborate on important business documents. While it is not advisable to lock down everything, there must be certain added security to safeguard your corporate data and apps.
For example, avoid quadruple bypass for your enterprise mobility. This means, you should never allow a BYOD user to access sensitive business data and send data to the cloud on a consumer-grade device as this will bypass the security visibility and control of your IT team. Unfortunately, this is alarmingly common in many enterprises these days. While cloud-based apps can save both your time and money, they can be used in the wrong way as well to manipulate and compromise your sensitive data. You should therefore define your risk tolerance and have a proper security related monitoring system in place.
For example, a lot of employees store files on Dropbox or send them to private mail accounts. Companies need to first understand why people bypass security in their daily work. Does sharing documents on Dropbox make your employees more efficient? If so, consider introducing a company-internal document sharing solution like OwnCloud to help your employees remain efficient without compromising security.
You therefore need to balance security with user experience realistically. And here is how to do it:
Implement robust user authorization and authentication.
Ask for in-depth reporting and analytics on a regular basis regarding your employees' app usage behaviours so that you are aware of any potential threat before it becomes a serious issue
Have a well thought-out policy in place and educate your people regarding the same in order to successfully balance security with user experience as this will help your employees to understand why you need to make certain policies
Secure your corporate data – it is even better to restrict confidential data by adding extra security around it instead of just restricting the use of apps.
While the goal is to provide a superior user experience, never compromise on security. Be due diligent and proactive to extend mobile security to every aspect of data integration, from back-end systems to the cloud and everything in between.
Use APIs to Speed Up Your Innovation
Proper API (application programming interface) management is the key to go beyond mobile apps. To adopt enterprise mobility you need to ensure rapid development across various target devices and channels. This calls for a business driven API-first approach to keep your organization both flexible and agile. It will help you to implement security policies and authentication more seamlessly; thus, helping you to speed up your mobile innovation.
However, there are certain key considerations you need to focus on when embracing API management. These are:
Version management as it is essential to smoothly switch from one version of your API to another
Obtaining API security in its various forms without sacrificing flexibility
Focus on device specific interfaces to improve operational efficiency
Forrester Research too believes that enterprises must think in terms of the APIs for sustaining high-quality customer interaction. It will help businesses to better manage a multi-channel engagement strategy, keeping the end-users in mind while supporting their business objectives.
Bring Enterprise Mobility Together with Cloud and the Internet of Things
What will enterprise mobility look like in the next 3-5 years? With cloud and wearable technologies, enterprise mobility is gradually going beyond 'mobile first' approach, combining all these technologies to provide the ultimate user experience. In fact, the combination of internet of things, cloud and big data is changing the way we use mobile technologies. The experience is becoming more and more natural and intuitive, enabling new use cases. And this is happening across industries. Today, you don't need a wallet to pay anymore, your smartphone can do that even more securely. Your mobile device is not just your phone; it now works as your computer, entertainment centre, calculator, camera, map and much more!
Conclusion
In order to cope with the growing market trends, businesses now need to create a robust mobile strategy bringing together the internet of things, cloud technology, and enterprise mobility. And while you are preparing yourself for such an all-inclusive mobility strategy, don't forget about equally important factors like user experience, security, compliance, and manageability that play significant roles in expanding the potential of enterprise mobility.
About the Author

Jaykishan Panchal is a content marketer at MoveoApps, a mobile apps design and development company. He enjoys writing about Technology, marketing & industry trends. He is tech enthusiast and loves to explore new stuff. You can follow him on Twitter @jaypanchal8.