Key Takeaways
Businesses need to take into account that the future will be driven by a millennial workforce.
Empowering employees to take decisions in the interest of the organization leads to better productivity.
Training and collaboration are essential to keep operations running smoothly.
Encouraging employees to be creative in a way they want has significant payoffs.
Promoting from within is one of the best ways to fuel motivation.
Individuals involved in a startup are tasked with the incredibly fascinating job of building a company culture. While a lot of founders are wrapped up with the process of lifting a business off the ground, creating a powerful set of operational values is essential for keeping an organization going in the long run.
Grooming a values-driven company requires more than a mission statement and a handful of buzzwords on a manuscript. It involves instilling productive mindsets for maintaining workflows and optimism.
Putting these values in motion is what steers your company into the future. The truth is that company cultures are changing. In fact, by 2020, about half of the entire global workforce will be comprised of millennials. In a lot of ways, this generation has rewritten the rulebook as to what core business values actually are. Here are some tips to keep in mind for shaping a high-performing operation.
1. Create an Ownership Mentality
One of the big observations of how company cultures have changed over the last few decades is that top-down management styles are no longer effective.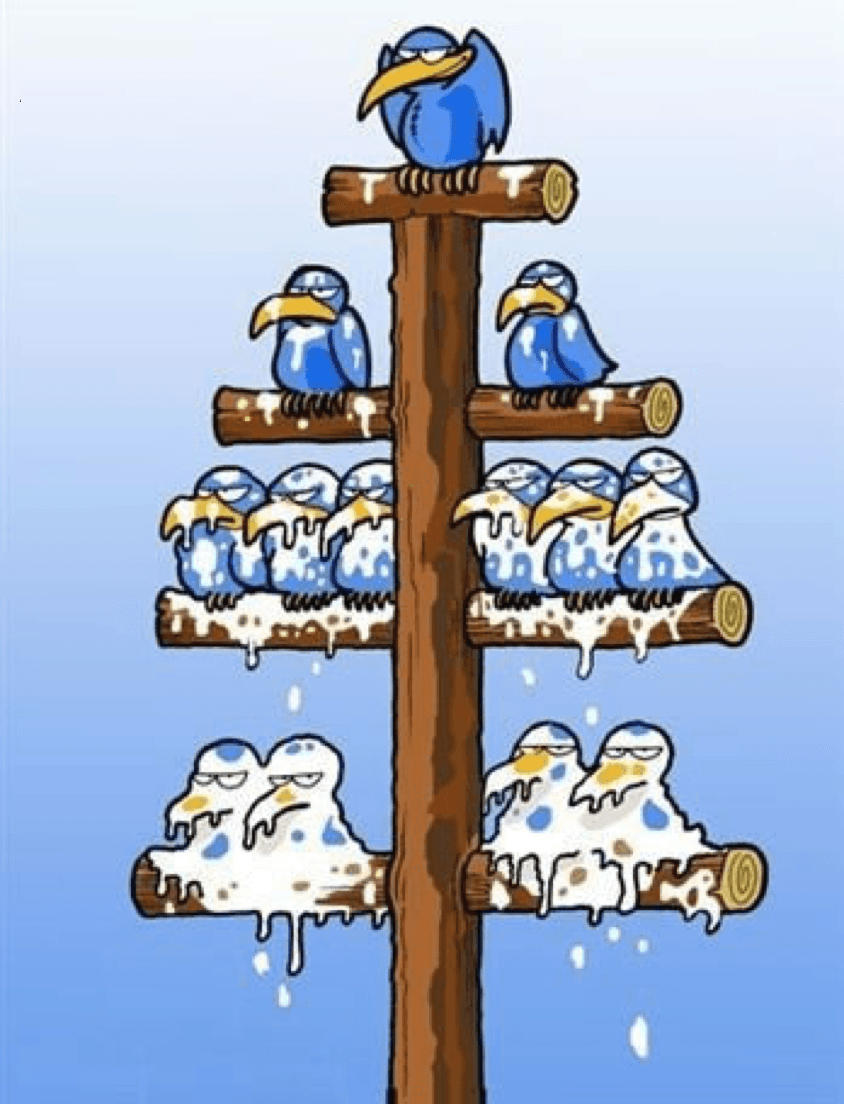 Employees today have a strong need to feel valued in order to do their best work. A great way to accomplish this is by promoting a company-wide sense of ownership. Integrating this concept instills the idea that everyone involved has a significant stake in how projects play out.
For example, Gusto, a company specializing in HR services, prides itself on creating a culture based on an ownership mindset. They strongly believe that "owners" are passionate people who go above and beyond in everything they do. This company is leading the industry in developing internal solutions that bring companies to the next level.
Basically, empowering employees is the key to unlocking a level of emotional intelligence to create a bright future. After all, a business is only as good as the team it employs.
2. Invest in Collaboration
In most businesses, especially during the rapid growth stage, it can take a while before a company finds its bearings in terms of streamlining tasks and communication.
With this in mind, the earlier you place priority on a good project management system, the quicker you will find a rhythm in which tasks are delegated at an optimal rate. Technology has given companies agile and lean resources that CEOs could only dream of 10-15 years ago.
Workzone for example, is a collaboration platform that hits a balance between simplistic to-do list programs like Basecamp and complex project management systems like Microsoft Project. There are approval flows, individual workload views, shared workspaces, Gantt charts, and industry-specific project templates, to identify the most efficient operational strategies for businesses of all backgrounds and sizes.
From the dashboard, you have a complete overview of how tasks are being completed with open communication portals to ensure nothing slips through the cracks.
However, simply buying a good project management software will only take you so far. These tools only give you the means to succeed. The actual execution depends solely on the mindsets and fundamentals of you and your team.
For this reason, it's an extremely critical move to make sure everyone involved in your operation is trained in the field of project management. Make sure your training process involves a quick Project Management Professional (PMP) course – online or otherwise – to get your managers up to speed on proper terminology, management styles, real-world situations, and even some insider tricks of the trade. Employees are your most valuable asset, and adding to their knowledge ultimately adds to your organizational knowledge.
Business will be wise to implement a good system early on to establish core procedures. According to PMI, for every $1 billion invested in the United States, $97 million is lost due to poor project management.
Getting your business on board with these revolutionary programs is necessary to avoid falling victim to this statistic.
3. Encourage Creativity
Regardless of what tasks your employees are faced with, giving them a portion of the day to reflect on what makes them unique is a useful tactic in boosting morale.
Google is famous for their 80/20 rule. This concept means a normal workday entails 80 percent of time dedicated to daily responsibilities. The remaining 20 percent is set aside for employees to step back and think creatively. Believe it or not, some the biggest breakthroughs in Google's history are attributed to this program. Gmail and AdSense were two of the big ones.
The lesson from Google's policy? Creativity drives business success.
Adobe's 2016 State to Create study found that creative companies increase employee productivity by 78 percent and boost happiness by 76 percent.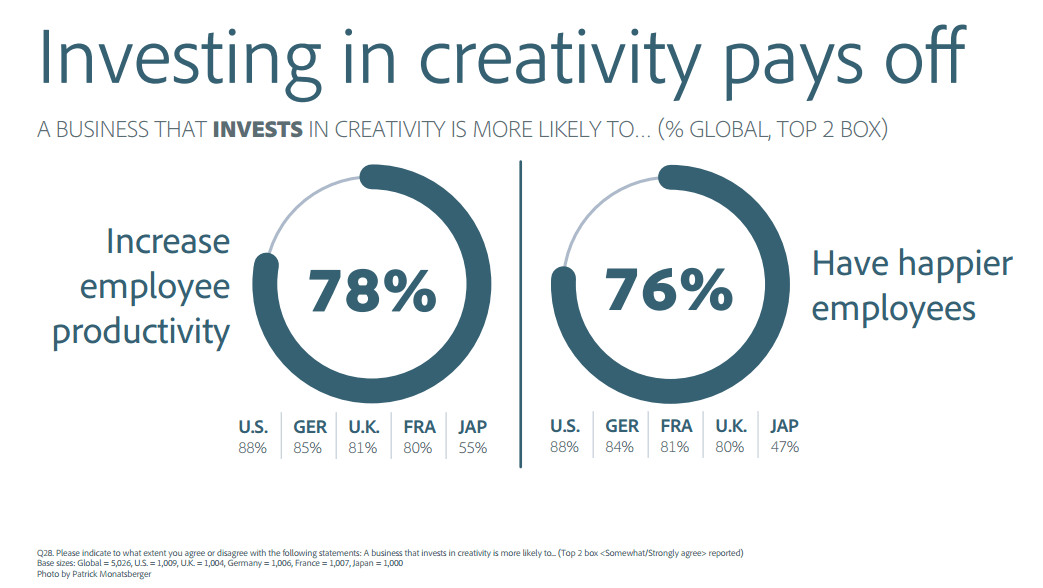 Ultimately, people are looking for meaning in their professional life. Implementing a culture of creativity can bring out the true value of employees, of which might have remained unknown otherwise.
4. Promote from Within
Hiring big names to fill positions is not quite as great as it sounds, unfortunately. While outside hires may look enticing for specific tasks, doing so can mean disillusionment for the current employees who have been working their tails off to advance.
Promoting from within is perhaps the best practice to increase motivation across the board. When you do this, you are creating a valuable "go-getter" mentality that boosts morale and improves retention rate. Practicing this operational value is especially important with millennial workers, of whom are prone to job-hopping. In fact, a study conducted by Glassdoor for Employees found that 46 percent of millennials left their job due to lack of career growth.
It's no secret that the cost of turnover is detrimental to businesses. In terms of financial and cultural development, you should be working to build a community in which employees are inspired to stay for the long haul.
5. Advocate Honest Feedback
People join companies with the desire to grow and develop their professional skills. As a business owner, adopting this mentality is instrumental for continuous growth. One of the most common mistakes upper management executives make is assuming they have all the answers.
When this is the case, not only will it be harder for employees to do their best work, your company won't evolve around the people within in.
A good leader is one that promotes open communication, transparency, and receptiveness to new ideas. This mindset is beneficial in the workplace for many reasons. It gives you an idea of how the company is running, where the weak points are, and most importantly, helps shed light on potential problems before they turn into full-blown disasters.
Buffer is perhaps the most well-known transparent company out there today. The CEO is no stranger to the people on the front lines and regularly meets with them and discusses how things are going and ways to improve the status quo.
A great way to encourage feedback from your employees is with forms. Try sending these out on a regular basis (once or twice per month). The trick here is getting employees to be honest, as some might be afraid of jeopardizing their job security. While there are a number of ways to approach this, you can always have the submissions be anonymous.
Remember, if you don't actually act on the feedback your employees give you, it will all be in vain. Make sure you take ACTION based on their feedback, track your progress, and share the results of those actions with them. Jurgen Appelo, in his book Management 3.0, discusses "Feedback Wraps." Here's an example from the man himself:
At the end of the day, mutual honesty is the key to a successful business operation. Placing a high value on this virtue is imperative for long term success.
6. Keep it Simple
Regardless of the goals and values you and your team strive for, above all else, they need to be easy to understand and practice. Actionable fundamental philosophies are not complex and full of jargon. They are short and sweet. While these should be clearly communicated in the early stages of bringing people onboard, they should be expressed each and every day throughout operations.
Communicate issues
Satisfy clients
Work as a team
Strive to innovate
These are just a handful of straight-to-the-point ideologies to consider instilling. Going beyond the basics, simplicity is an operational value in itself. Looking for ways to make life easier in everything you do in the day-to-day should be a task that never sleeps.
This, however, does not mean to oversimplify the system to the point where the results are compromised. Your corporate philosophies and processes need to strike a healthy balance. In everything you do, keep the SMART acronym in mind.
Specific
Measurable
Achievable
Relevant
Timely
Ultimately, it shouldn't matter how complex your product or service seems on the outside. Your internal system needs to be simple and free of clutter.
Over to You
A strong set of operational values is the heart and soul of any company. The key to ensuring they stick is by making it a point to keep them in action. However, it can be difficult to truly gauge what type of people you are working with and how they can shape the company's efficiency, especially in a startup. This is why you need to be open to input and flexibility to determine a system that works for everyone. The results will spell success both inside and out.
About the Author

Dipti Parmar is an experienced business and marketing consultant. She helps startups, brands and individuals build a stellar online reputation and establish thought leadership in their industry, with innovative content and digital marketing campaigns.