There has been a radical change in the way the Enterprise Information Technology is perceived by the enterprise and the business in recent times. Gone are the days where Business Process Management was just considered for workflows. With the growth of Mobile technology and Social Media, the expectation from the business or the enterprise has made a big leap. The nature of Social Media challenges industries to facilitate a process that can interact with individuals virtually, and assist them with their needs and demands.
This article on "SocialBPM", cites a few problem statements, an approach to address those scenarios, an example depicting how Social Media and BPM can work hand-in-hand for the benefit of customers/vendors, and most importantly the business benefits and RoI (Return on Investment) of Social BPM. This article also provides a snapshot of the current trends among the different BPM products and companies that help to bridge the gap between the customers and the enterprise in a social context.
Introduction
When the Web1.0 generation moved to Web2.0, emails made way for podcasts, websites for RSS feeds, shared workspaces for wikis, instant messaging for mash ups, instant updates for tweets, and the enterprise directory for bookmarks. Technology has leapt forward to make the internet a Happening Social Space. Business Process Management (BPM) is an approach to identifying, defining, executing, controlling, monitoring, improving, optimizing and governing business processes in an organization.
BPM, which was restricted to workflow, has broken barriers to come closer to us, whether it be starting the day with the morning newspaper, travelling by flight on business, the work in the office, the afternoon lunch in a restaurant, the evening shopping at a retail market, or the swiping of the credit card for fine dining — each of these industries depend upon a process. The world has gone Global 'n Social. Customers today demand a speedy response to their requests and want the companies to customize the services to their needs.
Social BPM Defined
Social BPM" is a concept that describes collaboratively designed and iterated processes. The term is synonymous with "socially enabled processes". These socially enabled processes mimic the way that work is performed from an end-user perspective and experienced from a user party perspective to harness the power of continuous collaboration.
Social BPM resides at the intersection of business processes and collaborative activities. The amalgamation of BPM and Social Media supplements human interaction at work by supporting social networking, collaboration and communication. Social Media augments the human actions for providing better visibility at work by supporting activities such as social networking, collaboration and communication. This brings BPM much closer to the end user and the customer (by expediting the responses when they interact with the business via social media channels).
(Click on the image to enlarge it)
Fig. 1. Social BPM resides at the intersection of processes and the collaborative activity
Various Tenets of Social BPM
Transparency - Social BPM eliminates the barrier between BPM decision makers and the users affected by their decisions, creating a forum for communication that companies can leverage to change and improve business processes
Accountability - The direct interaction between the business and the end users bridges the gap between them and the business becomes accountable for customer centricity
Flexibility - Constant collaboration between the business and the end user facilitates business process refinement and improvement meeting the needs of the customers
As Ian Gott has stated in his blogs,
The implementation of Social BPM definitely demands an organizational focus and change. Moreover, as the volume of data via social media can be overwhelming, the business requires a system of filters and distillation to avoid performance-related issues.
Is Social BPM "New"?
No. Social BPM is just an enabler for faster processing and for a better visibility of the business process from an end-user/customer perspective. With the current trend where Social Media has gained so much momentum, BPM just provides the option to reduce the friction between the business and the end user by involving a wider audience in a short span of time. In other words "Social BPM energizes and super-charges BPM"(qt : link)
Is Social BPM a Mandate for every Enterprise?
Not necessarily. Every enterprise must decide whether to adopt Social BPM based on the business objectives it is trying to achieve. Social BPM becomes very handy in situations where the social data needs to be exploited to reap better benefits targeted towards customer centricity. However, in some cases security concerns stop the enterprise from adopting and venturing into the Social BPM arena. So, every firm has to take a call based on the trade-off.
Footprint of Social BPM
Social Media impacts so many areas of a business: internal and external, public relations, marketing, sales, query management, performance quality, customer service, customer experience, complaint management, crisis and disaster management, shareholder communications, employee engagement, and so on. Consequently, it becomes difficult to identify which area should be targeted first. In addition, there is a proliferation of Social Media channels: Facebook, MySpace, Twitter, LinkedIn, YouTube, Google+, foursquare, Socialcast, Yammer, and so on.
This is where organizations must be guided by their business functionality implementations and customer centricity to decide the area to explore and the social channel to exploit.
Prediction for Social BPM
It is predicted that by 2013 mobile phones will overtake PCs as the most common Web access device worldwide and that by 2015 over 80 percent of the handsets sold in mature markets will be smartphones(qt: link).
If any one Social Networking site will be dominant by then, it might also become the source of information for the Insurance and Claims industries. (ref. link)
So, Social Media can actually be seen as "yet another input channel" that pours in all the rich information or data, which can be used to trigger a process flow and bring life to the business functionality.
Social BPM Implementation in Real time
A sample business use-case that can be implemented to achieve user satisfaction through quick response by collaborating with Social Media (Twitter, in this case), is presented here:
(Click on the image to enlarge it)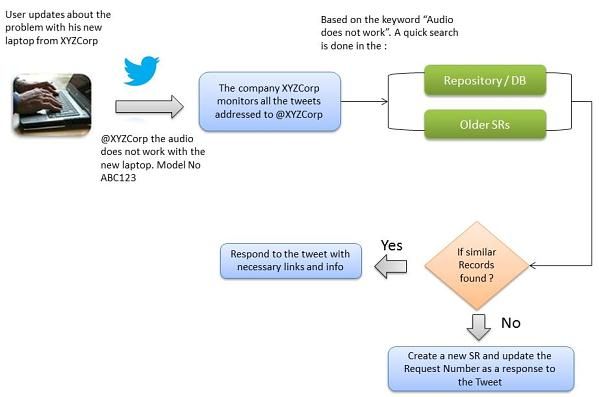 Fig. 2. Twitter can be considered as yet another input channel similar to Phone/Fax/IVRS in a CRM System
Brief Summary of the Use-case:
A user updates the office community about a problem with the new laptop using Twitter: - @XYZCorp The Audio does not work for the ModelNo ABC
The company XYZCorp, which has a batch job or an agent monitoring on any updates/tweets addressed to the company, picks it up.
Next, the automated job does a quick check for any similar issue in the repository or with reference to older service requests.
If any updates or resolutions are found, they can be sent to the user as a re-tweet or by posting a direct message. If no references are found, a new SR can be created for the issue and the user notified by direct message.
The instant reply can act as a cushion in reducing the frustration experienced by the user/customer.
Business Benefits
Consider the case of Twitter as a Social Media Channel, for a BPM implementation. The manual tweeting or the auto-bot mannequin format tweeting can be leveraged to implement business functionality where the business interacts directly or virtually via automated posts or updates.
The following list provides some of the scenarios where automated social updates/tweets can be incorporated:
Sales, marketing strategy, and advertisements for time-bound services (new offers and plans)
Sentiment Analysis – People's reactions and feelings
Newsletters and news feeds of the organization
Most of the news feeds and the company vision or updates that are shared in a Social Media require a number of approval steps. This can actually be facilitated by the BPM+Social Media integration.
Communication of quarterly results to shareholders
Regular and instant posts, rather than having gap and lack of response which might make the followers unhappy
Tasks that can be automated to reduce intensive manual and human interaction, when an automated job triggers the social media connectors. For example: Job Post Updates – Whenever a hiring count and job description is released by the higher management, based on the necessary review and approvals a workflow can be put in place to post the link (using bit.ly for example) as a Twitter update.
Career Counseling and Knowledge Management via ChatBots can be incorporated to bridge the Social Media and BPM Platform
Social data if aptly used and distilled can provide a rich repository of customer information and statistics.
Other business scenarios where Social BPM can be used in an enterprise are:
To provide collaboration between teams, for example, agility within the data and design modeling teams who interact with many people to decide upon the architecture details.
For news or announcement displays through RSS feeds from Twitter
To update followers about the changes to a business process.
Conclusion
SocialBPM is a step towards using social networking technologies to collaborate and achieve customer satisfaction. Collaboration and awareness of what others in a community are doing are some of the benefits of a collision between BPM and Social Media.
About the Author

Pritiman Panda popularly known in the internet space as "thebpmfreak" works as a Technical Architect for one of the MNCs. He has around 7+ years of experience in the IT industry and BPM arena. Pritiman is a technology enthusiast, itch scratching BPM freak and an ardent cartoon network watcher, very much hungry, crazy and freaky about any development in the Middleware World, DevOps, Hadoop and BigData. All the views expressed in the articles are based on his experience and personal thoughts. It does not necessarily reflect the views of his employers or anyone else to be precise. You can contact Pritiman via Twitter: @PritimanPanda, or his blog.
References and nice read articles
Glossary
BPM : Business Process Management
CRM : Customer Relationship Management
RoI : Return On Investment
Appendix: Products in the Market
The products in the market that have brought together Social Media and the BPM/CRM products are: