49:49
Followers
Chris Richardson describes how to implement business logic using a domain model that is based on event sourcing. He compares and contrasts a hybrid OO/FP design with a purely functional approach.
30:24
Web API
Web API
Follow
208 Followers
Mike Amundsen describes a methodology for designing Web APIs (based on the book "RESTful Web APIs") that allows to map key aspects of a business into a usable, scalable, and flexible interface.
01:10:10
Followers
Richard Sheridan discusses the cultural norms that remove fear and encourage experimentation, and the elimination of meetings and the rituals and ceremonies that accompany them.
Followers
Trisha Gee and Todd Montgomery attack the technology industry's sacred cows by exposing the motivations that hide behind them.
53:23
Followers
Nigel Runnels-Moss keynotes no what it means to be a software creator in the 21st century, and what mindset and behavior to adopt in order to evolve and thrive in our new information-packed world.
57:44
Followers
Dave Thomas keynotes on how people approach emerging technologies, many embracing the new in spite of its shortcoming, proposing to find a balance between the new and the old.
50:18
Followers
Tony Quinlan introduces the SenseMaker® method from preparing the ground through gathering experiences and qualitative material to analysis and action planning.
58:25
Followers
Linda Rising reflects on the need for an agile approach to work and life, the penalties of a plan-driven way pushed onto agile development, and the best ways to be happy, healthy and productive.
55:46
Followers
Bret Victor suggests how each of the human activities in which thought is externalized (conversing, presenting, reading, writing, etc) can be redesigned for a dynamic medium.
56:06
Followers
Garrett Smith introduces Drunken Stumble, a development method in two stages: a lean, which represents the goal of the programmer or team, and a stumble, which is a series of automatic "next steps".
27:27
Followers
Mickael Istria showcases a number of extensions to the Eclipse IDE making it easier to import projects (simple or complex) and honoring modularity in the Project Explorer.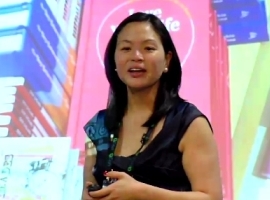 51:11
Culture & Methods
Culture & Methods
Follow
491 Followers
Portia Tung discusses the concept of Hope, trying to help us better understand the relationship with Hope and figure out how to achieve even our most ambitious of goals.