Registration is now open for QCon, the new annual enterprise software development conference happening March 12-16, 2007, in London, UK. Recently, Martin Fowler, Dave Thomas (of the Pragmatic Programmer series), and Amazon.com CTO Werner Vogels have committed to presenting, and all the conference tracks have been added. Registrants can save £230 until Dec 20. Visit qcon at:
qcon.infoq.com
A conference brochure is also available (PDF):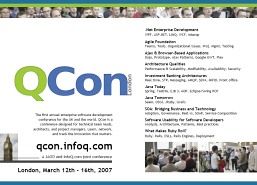 The tracks and topics for the conference will be as follows:
.Net Enterprise Development
WPF, ASP.NET, LINQ, WCF, Interop
Agile Foundations
Teams, Tools, Organizational issues, Proj. Mgmt, Testing
Agile Experts
An open space track
Ajax & Browser-Based Applications
Dojo, Prototype, Ajax Patterns, Google GWT, Flex
Architecture in context of quality attributes
Performance & Scalability, Modfiability, Availability, Security
Investment Banking Architectures
Real time, STP, Messaging, AMQP, SEPA, MiFID, Front office
Java Today
Spring, TestNG, EJB 3, AOP, Eclipse/Swing RCP
Java Tomorrow
Seam, OSGi, JRuby, Grails
SOA: Bridging business and technology
Adoption, Governance, Rest vs. SOAP, Service Composition, Case studies
Software Usability for software developers
Analysis, Architecture, Patterns, Best practices
What makes Ruby Roll?
Ruby, Rails, DSLs, Rails Engines, Deployment
As software developers and architects ourselves, our aim is to create a conference that we ourselves would find oustanding, as attendees. We've lined up industry-leading practioners to address the most current and valuable topics for in community, and complemented this with the best meals and amenities to let you focus on getting as much learning and networking as possible out of this one high-quality conference.