BEA commissioned a study conducted by GCR custom research on the cost benefits of SOA. The survey went out ot 151 "SOA decision makers and influencers" in North America and Europe whose companies have > $1bn in annual revenue and have at least one active SOA pilot program. Some of the interesting statistics from the survey include:
46% of companies intend to deploy 1-50 services within a year, 24% 51-100, and 15% 101-200 services
75% of companies expected 11-40% reuse, 54% expected 21-40% reuse
39% said that justifying SOA is impeding the start or extension of SOA projects, and of those, securing funding and lack of confidence in a big enough ROI were cited as reasons
IT cost savings was primary driver for European firms, whereas North American firms primarily listed business agility / time to market
Almost half of the surveyed organizations had spent over $1M in SOA
40% of the costs listed to justify SOA were for allocated for service infrastructure
ESB was listed as the highest spend: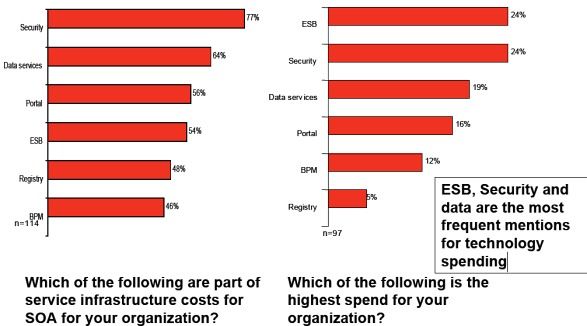 A
summary of the report is available
from BEA (registration required).