The Agile Project Leadership Network APLN, unlike the Agile Alliance, has decided to wade into the certification waters. The APLN has decided to take input from the community as it embarks on defining two different levels of Agile Leadership certification. The APLN has created a yahoo group discussion list where it invited the entire community to participate in this process. They briefly explain why they have chosen to take this route.
To help people in our industry align on what it means to be an agile leader for purposes of learning, training, and hiring, the APLN Board and its Learning & Recognition committee have considered the topic of recognition since our founding. We passed the following resolutions at the 9-10 February 2007 Board Meeting in Salt Lake City, Utah:

"The APLN commits to lead and support the creation, implementation, and evolution of an accreditation program for Agile Project Leaders based on design criteria including the DOI, with a draft proposal published by Aug 15, 2007" and

"The APLN invites others to join in forwarding the Agile Project Leader accreditation program"
The APLN has decided to start with two levels of certification which it has called Foundation and Practitioner levels. The Foundation level will focus on basic skills while the Practitioner level will have a higher level of expertise. None of these ideas have been flushed out yet. The APLN realized that this will be an extremely difficult and error-prone initiative, but they believed certification is a true need.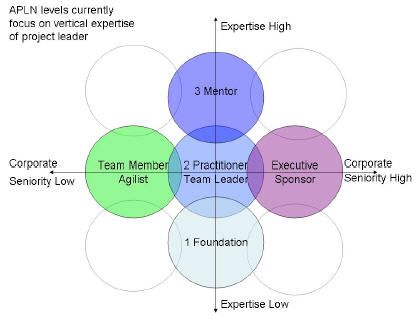 In accordance with our values stated in the Declaration of Interdependence, we believe that any effort at designing a certification program must be done iteratively, and we acknowledge there will be substantial room for improvement.

Successful agile and individual leadership competencies extend beyond IT practices to other domains.
Ours is a commitment to a journey with lots of potholes. We are committed to collaborating on that journey with other interested parties.
With this in mind, we propose to create a starting point that the community can collaboratively iterate.
The APLN has taken a very open approach to its certification strategy. If you have the inclination and time then you can help make Agile Certification an asset to our community by joining the
discussion
and actively participating.