Pete Behring of
TrailRidge Consulting
has published
a global survey on Agile Project Management Tooling
(pdf) a few months ago. The survey's objective was to understand the organisational trends of Agile adoption and the relationship between the take up and the tooling.
The aims of the survey were to identify:
What agile processes are in use today worldwide?

Which commercial and open source tools are used by agile organizations and why?

Is there a correlation between organization size and the types of agile tools they use?

What are the top reasons driving Agile Project Management (APM) tool selection today?
The report presented its findings with significant quantitative results, based on responses from 525 organisations. of which about two thirds were organisations of fewer than 100 employees: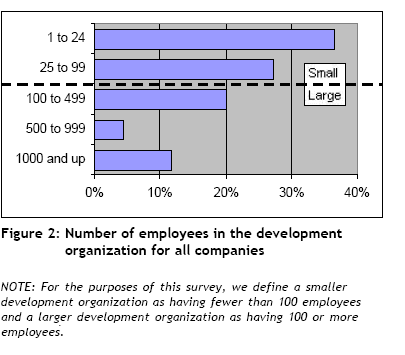 The survey's key findings were:
Agile adoption still appears to be in an early adopters phase according to Geoffrey Moore's definition in "

Crossing the Chasm

";

Scrum is the most prevalent process in use to-day, but is often integrated with other agile practices and methods ;

Larger companies only have a fraction of their development organization staff following agile processes and smaller ones are only just over half-penetrated;

Organizations use a range of tools to manage their agile process, even if they have purchased a dedicated agile project management tool ;

Agile project management tools have overtaken manual approaches across all companies ;

Smaller companies are just as likely (if not more so) to use agile project management tooling than large companies; though some of their reasons differ.
The report also delved into differing requirements between delivery teams and their managers, focusing on test case and defect traceability and upwards reporting, identifying some interesting trends in tools that bridge the gap between delivery and project management with the use of reporting services and API's.

In summary, the report not only clarified the geographic areas of Agile adoption, but also described the characteristics and tools of choice of the Agile organisation.