IBM's 2nd annual IMPACT SOA conference is being held this week and there are over 6000 attendees here. During the morning keynotes, IBM execs re-affirmed the view that the main innovation presented by SOA is business/IT alignment. They presented a business-process centric view of how SOA is an enabler for enterprises to change (agility), as well as their view of Smart SOA, a set of principles / maturity model for SOA based on numerous customer SOA deployments. IBM also invites you to contribute to their view of SOA via their live SOA JAM, an idea sharing site that will be active until this Thursday. This post summarizes various live interviews and the day 1 and 2 morning keynotes and press conferences.

IBM Software Group VP Steve Mills explained where we came from and how SOA is transforming business:
As the pheonomenon of the world wide web kicked off in '94 and we solved the problem of people connecting to apps and to people on a golobal scale, what emerged was set of concepts about open architecture, of navigating over 30 milllion web servers...calling services to get something done in the context of what you're trying to do. Around 2004 SOA comes around. But we've been doing integration for a long time. Something is new, and I would argue that something is: About business, not technology. The alignment of business and IT, the connection of them and the use of IT as transformational technology in the context of business process and business flow, drives significant incremental value around investments in IT... It's a powerful idea and one delivering near term via cost savings an long term through business flexibility.

We've gone form automating in vertical slices (throughout the 20th century, where we used packaged/custom apps for vertical lines of business' with very manual links between systems, to a 21st century approach where apps are a source of content for processes. Allowing dynamic deployment of services at runtime.
This view of SOA as being about enabling end-to-end business processes was an ongoing theme around the conferences. IBM sees this as a paradigm shift for enterprise executives - rather than have individual lines of business manage their own IT systems with point-to-point or no integration between systems, instead have them expose their apps as sources for wider business processes, often united by an ESB. Also seek to replace multiple implementations with similar business processes across departments with one service that the whole company is mandated to use. IBM calls the consolidation of departments around unified services controlled by central IT "turning the enterprise on its side"
IBM invited a number of brand name customers to the stage telling similar stories about implementing new business-critical processes across a variety of heterogenous IT systems. One not-so mission critical system, but one which got the point across well was Harley Davidson, which implemented a ride planner application that allows you to plan a trip across the US and book hotels, get GPS locations, pre-purchase Harley Davidson gear for pickup laong the way, search for and add gas station stops, etc. Harley CIO Jim Haney explained:
SOA is not about technology. It's about how you put the pieces together that sets you apart. Its about defining the process that creates good customer experience.
Jim compared the traditional approach to application design vs. the new SOA-style appraoch using the trip mapping applicatoin. Tradititionally – they would create a mapping app, "focused on a single transaction" - mapping. Additional servies a user may want such as hotel reservations, searches for interesting events/sites along the way, would be left to other IT systems or separate apps.
But with an SOA type mind set, they focus on the 'customer lens', not the 'IT lens', focussing on the process 'plan a motorcycle ride', and not indidivual transactions. Jim explained:
This requires cultural change: focus beyond systems and applications. How does the customer complete a process from start to finish? Go from thinking in terms of sysems, applications, to thinking in terms of what a customer does to complete a process.
InfoQ spoke to Sandy Carter, VP of SOA Marketing who talked about IBM's Smart SOA view/maturity model and gave a view of where they see enterprises in this spectrum: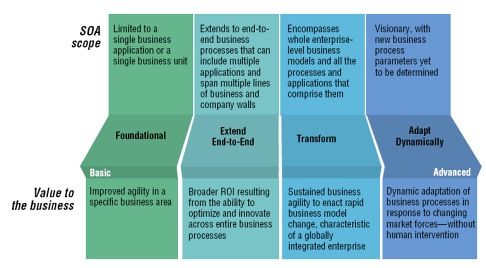 According to Sandy:
61% of companies are in the foundational stage, implementing SOA within specific departments or lines of business.
30% are in 'Extend End-to-End', in which cross-dept business processes have been implemented. Sandy gave an example of IBM itself: "There were19 different supply chains in IBM. When you turn the organization on it side, there is just one supply chain that everyone plugs in to." Sandy also mentioned a european government which has numerous different agencies implementing their own version of passport handling, the government implemented one passport handling service and made all existing departments use that service.
Less than 8% are in the transformational stage, in which serious agility is achieved due to the ability to quickly change existing running processes in light of changing market requirements. Sandy gave an example of an insurance company in the UK that is looking at changing their business model: instead of charging a fixed rate per month, they want to charge you for every day you drive and how far you drive. IBM VP of Development Craig Hayman called this "hot deployment of changes in policies to existing running enterprise processes.", and is a feature of IBM's BPM Suite.
3% are adapting dynamically. In this mode an enterprise can configure event handling and related policies that can modify existing processes dynamically at runtime.
A number of IBM executives mentioned that this final area of events+policy will be a focus for IBM this year. At Impact, a new product called WebSphere Business Events, which allows business owners to define patterns and filters and fire off new processes as a result.
Another interesting customer story was Health Care services corp, which is the 4th largest health plan in the US. A number of different subsets of their business are done by many different groups in with different IT systems, ie: eligibility, benefit inquiry, claim status, etc. In transitioning to SOA, they built an enterprise-wide eligibility services. Now 10 different applicaitons in the system are using the one eligibility service. Austin Waldron from the company explained:
it hasn't been an easy transition, these app owners used to do everything themselves...this moves pieces of IT away from individual app owners and into a centralized architecture group...the governance- making sure that all the different parts of the organizatoin recognize the service oriented approach and use it instead of doing their own thing is a very very big deal.
This transition of services from individual departments to central IT was called 'turning the organization on its side' by many IBM execs. Here you take the various 'ilities' of concern in individual applications and you have to ensure the same robustness for the entire process end to end. Steve Mills called this "process integrity", saying it "puts a lot of stress on the environment, needing features for compensation, remediation, rollback", etc. Steve said this is a differentiator for IBM compared to others in their space.
Also during the day 2 keynotes, IBM presented 5 SOA best practices, distilled from 6000+ customer deployments and 250 case studies:
Linking business and IT from the beginning. Set the business vision first and see how IT can support it.
Develop an architecture with a vision for the future. Not just one that will satisfy one process or one LOB, but something that can work over time.
Skills and culture, governance.
Scalabilty and process integrity – how do you plan for the spikes?
How do you maintain this end-to-end operational visibility?
SOA spending was said by analysts to double in 2008, as more and more departments are being brought into enterprise SOAs. This year's IBM Impact also marked the 10 year anniversary of Websphere, 15 year anniversary of IBM MQ, and the 40 year anniversary of CICs.