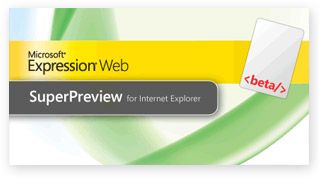 Expression Web SuperPreview allows developers to render web pages in different browsers simultaneously to detect layout issues. SuperPreview will be available as a standalone version as well as integrated into Expression Web. The standalone version will be made available for free and a trial version is available for download today, named Expression Web SuperPreview for Windows Internet Explorer.
About the same time as this new product was made available, Microsoft published an article describing the product and the motivation for creating it:
Today's browser wars make the late 90's look like a minor skirmish. In addition to Firefox and IE, we've got multi-platform versions of Safari, Opera, Chrome, and a wealth of mobile phone browsers. In addition, there are multiple versions of all these browsers, many of which have different rendering idiosyncrasies (I'm talkin' about you, IE6/7/8).
They continue by listing common problems web developers have today:
Most browsers can't have multiple versions installed side-by-side. The newest version replaces older versions. So, you can't have IE6 and IE7 on the same machine (unless you're using virtual machines or unstable registry hacks).
Many browsers support both Mac and Windows. Devs want to test in (at least) Mac Safari, which doesn't render the same as Safari on Windows.
The ergonomics of browser testing is awkward. Many devs load their site on a staging server and have a battery of machines running different browsers. They have to manually load a page in each machine and then walk to each individual machine to compare the different monitors.
SuperPreview promise to help web developers tackling these problems created by the industry by supporting the most common browsers available today.
In an interview at MIX 2009, Erik Saltwell, Group Program Manager on Expression Web, explains how SuperPreview works:
We look at your box and if you have a browser installed locally we give you an in-app experience of seeing that browser and being able to play with the rendering of that browser. For those cases where you want to look at browsers you don't have installed, we are actually building out a cloud service where people can get renderings even of browsers they don't have, like Safari on the Mac.
SuperPreview support multiple display modes. One possible view is the side-by-side view as seen in the screenshot below. In addition a transparent overlay is also supported, allowing developers to accurately see where elements on a page are off.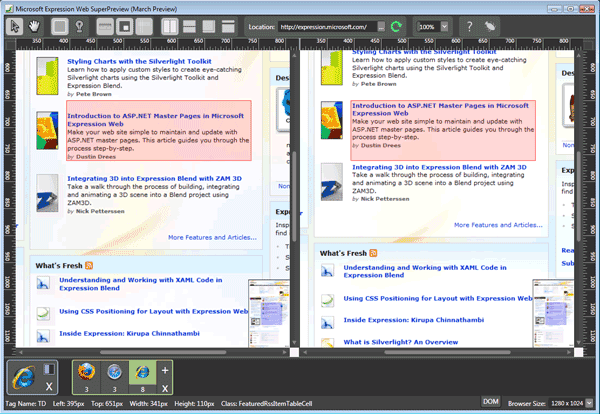 The preview version available today only works with IE 6, 7 and 8. IE6 is not available on Windows 7, IE7 only works if previously installed and IE8 only if its installed on the system. This version of the product will expire October 1, 2009.