The Agile community is developing consensus around three important areas of practice: requirements gathering, agile coaching, and open space formats for group learning. At the recent Scrum Gathering, these topics were prominent topics of discussion on Day 1, Day 2, and Day 3 of the event.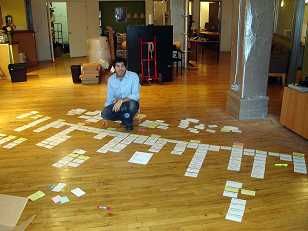 The first item of note is the very interesting talk given by Jeff Patton on 'User Story Mapping' at the Scrum Gathering recently in Orlando. This is a sense-making technique, where a facilitator guides a group into a sense-making exercise. The exercise requires a large wall (or floor space) and an ample supply of sticky notes.
The notes contain the bare minimum notes to recall a function or feature. Upon prompting by the facilitator, participants call out features, and function, and connections. The faciliator writes the note, and sticks it on the wall. A rows-and-columns arrangement emerges. Sometimes a row goes all the way around a wall. There are also examples and further details available online.
Once you have identified the notes, the facilitator sticks them on the wall in a rows-and-columns arrangement that naturally emerges. Once the notes are posted, participants come up and move them around as they make sense of the emerging application "in the large". Participants stand back and ponder the developing organization of the notes, connected via proximity to each other.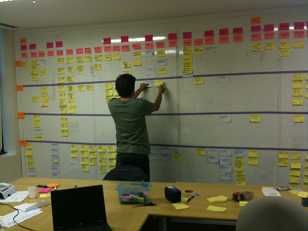 The emergence or organization and sense-making that develops via the User Story Mapping technique is striking. The facilitator does well to stop "well short" of supplying any advice or definitions of what is evolving, as the participants move the notes into self-styled rows and columns of organization.
The important thing to note here is that the resulting 'User Story Map' is a boundary object. A boundary object is a shared physical object that has unique and distinct meaning for each constituency that views or manipulates it. Thus a boundary object provides a kind of intersection where different points of view converge. As such, boundary objects facilitate sense-making across groups, teams, tribes, divisions, and organizations.
Another topic which is gathering some attention lately is that of Agile Coaching. Attention is now drawn to the importance of an Agile Coach, and some even consider coaching to be a cornerstone of an effective Agile practice and not merely something to bootstrap new Agile teams. Additionally, an Agile Coach can be of great benefit for those who have some experience, but are struggling with issues in their Agile implementations.
At the Scrum Gathering Open Space event in Orlando, Lyssa Adkins, author of the forthcoming Coaching Agile Teams from Addison Wesley, led out with a session on Agile Coaching Circles. Here the experienced and highly facilitative 'master' coach creates a space where a group of coaches share insights and experience.
Those who have experience with delivering coaching often mention the large amount of emotional energy that is discharged during coaching sessions. Especially during coach-faciliated retrospectives, the requirement that the coach relate to the group's emotional state can require substantial emotional investment.
And the truth is that few if any people can relate to that experience. Having access to other coaches in a facilitated circle is at once remarkable and refreshing. Now coaches have a place where they can leverage the experience of others, recharge emotionally, and accelerate learning.
The concept of coaching circles is an interesting one, and Lyssa Adkins is helping to drive adoption of this concept as one of the originators of the idea.
The last noteworthy item from Scrum Gathering concerns Open Space Technology. The Scrum Gathering in Orlando provided a unique experience in Open Space when it hosted an Open Space event facilitated by Harrison Owen, arguably the "Father of Open Space Technology". Open Space is mainstream, and those who know how to leverage it (via facilitation skills) are in a great spot to influence culture and transformation inside the organizations that employ them.
Businesses are increasingly valuing facilitated meetings to keep them on-task and productive. As Agile goes mainstream, with it comes a strong preference for facilitated meetings and facilitated group-level decision making. Proven facilitation skills are now in demand.
These are interesting times for organizations. We in the collective Agile space are in a spot to greatly influence culture inside teams as well as modern "tribes" and corporations. The Scrum Gathering recently held in Orlando provided a great opportunity to gain the skills necessary to become truly influential.