CBDI talks about the history and evolution of the CBDI-SAE reference framework in the September 2010 Journal Report. CBDI-SAE reference framework has evolved in the in the past few years by embracing Event Driven Architecture (EDA), Real time Business Intelligence (BI) and Cloud architectural patterns and process principles based on continuous improvement.
History
CBDI claims to go beyond traditional EA frameworks with the CBDI-SAE reference framework by addressing cross-domain issues as well as providing the right level of detail to EA practitioners. It goes beyond ontologies and processes provided by traditional EA frameworks by including accelerators and components that extend existing environments and standards, deliverable templates, reference architecture and policy examples, work breakdown structure (WBS), estimating guidelines and full lifecycle practices. A structured approach to managing frequent changes without compromising on the quality of the design and architecture is documented for large-scale, highly complex applications.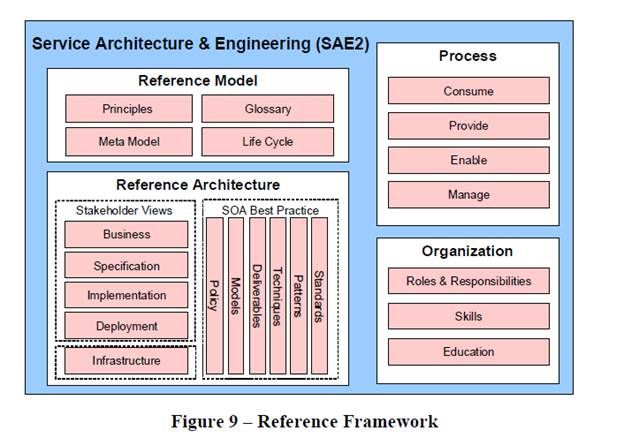 Evolution
The scope is being expanded to include newer architectural patterns and modern process principles. Guidance for using event driven architectures (EDA) in SOA is included in version 3 of the CBDI-SAE and service-oriented business intelligence was covered in an October 2005 journal report. In the CBDI Journal April 2010 edition Lawrence Wilkes covers taxonomies, policy types and techniques to improve governance for cloud-based services in the report titled "Service Portfolio Planning and Architecture for Cloud Services".
The process principles now include modernizing, twin-track, evolutionary, contract-based, platform neutral, agile and structured, repeatable, traceable. The report delves into a detailed discussion of each of these principles.
The modernizing principle referred to as Continuous Business Transformation was the central concept to Zapthink 2020. The contract-based principle has been central to CBDI-SAE with the introduction of the specification concept and a distinguishing feature from other meta-models. The twin track patterns provide strategies to separate lifecycles of shared services versus solution specific services. The diagram below reflects a work breakdown structure (WBS) depicting phases and project approach for an agile modernization project.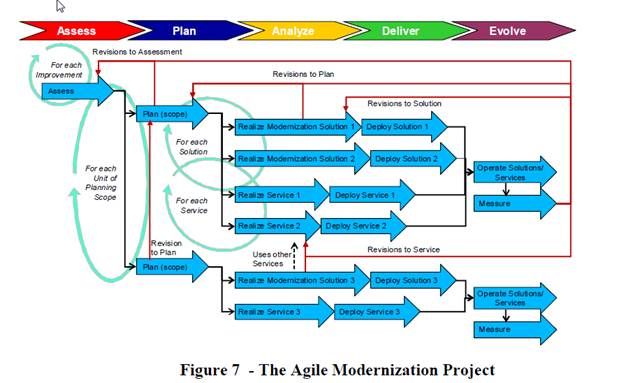 The process outlined in the agile modernization project can be mapped to an ITIL service lifecycle which in turn can be governed and controlled by a set of governance criteria and deliverables. The relationships are reflected in the diagram below: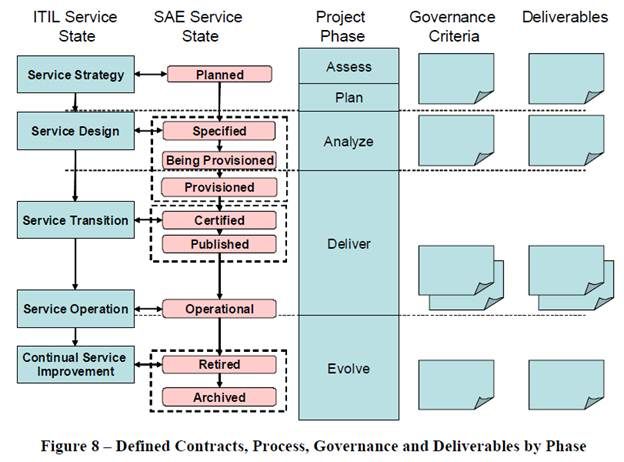 The author lists various artifacts that should be generated to corroborate the agile process to ensure it is structured, repeatable and traceable.