The public had its first glimpse of Windows 8 when Microsoft demonstrated it on June 1 at the D9 conference in Taipei.
Windows 8, as claimed by Mike Anguilo, corporate vice president of Windows Planning, Hardware and PC Ecosystem, is designed ground up to work with "touch only" tablets and also devices with keyboard and mouse. So one would see the same operating system Windows 8 installed on touch devices such as tablets as well as on conventional devices such as laptops and PCs.
There are several interesting features in Windows 8. In her article Previewing 'Windows 8' Julie Larson-Green, VP, Windows experience highlights few of the aspects of Windows 8 that was demonstrated:
Fast launching of apps from a tile-based Start screen, which replaces the Windows Start menu with a customizable, scalable full-screen view of apps
Live tiles with notifications, showing always up-to-date information from your apps
Fluid, natural switching between running apps
Convenient ability to snap and resize an app to the side of the screen, so you can really multitask using the capabilities of Windows
Web-connected and Web-powered apps built using HTML5 and JavaScript that have access to the full power of the PC
Fully touch-optimized browsing, with all the power of hardware-accelerated Internet Explorer 10
In addition Windows 8 will have
App to App data sharing
Ergonomic keyboard on the touch screens to allow thumb typing (image below)
Chromeless apps - the apps take up every pixel on the UI screen and are devoid of title bars, system tray or scroll window
"Always on connected mode" - an enhanced power sleep mode which will allow applications to remain connected to the net while the device is in sleep mode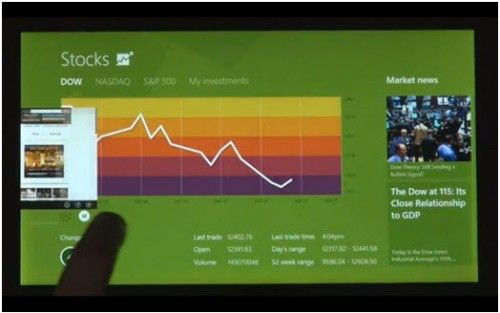 Dragging an app from the edge of the screen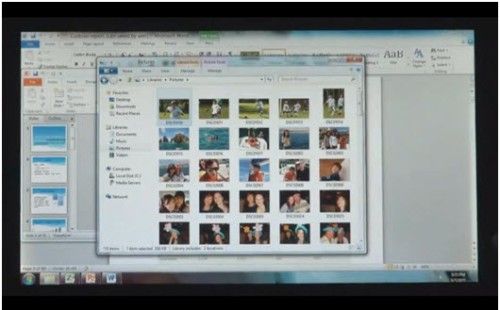 Desktop mode - Accessing files in Windows 8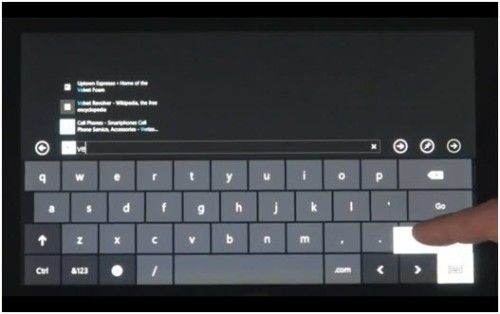 Normal keypad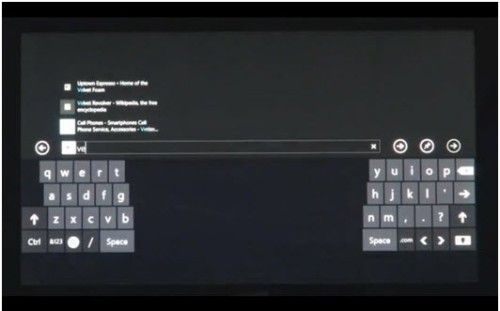 Ergonomic keyboard which allows thumb typing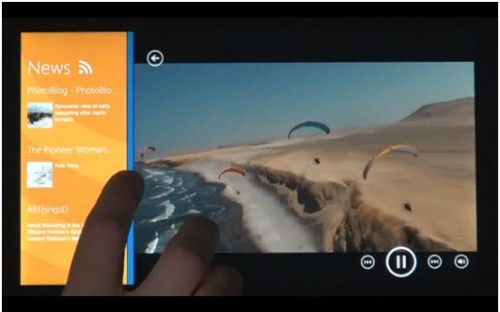 Snap feature that allows the user to work on apps side by side
The new look Windows 8 sports an UI that looks very similar to Windows 7's Metro UI. The first thing you see when you start a Windows 8 PC is the new start screen - a mosaic of tiles. The icons are replaced by tiles, making it easier for users to have more information without actually opening the applications. In the video blog, Jensen Harris, Director of PM, Windows User Experience says "tiles are better than icons since they have little more space for the app to show its personality, like the weather app can show you the temperature without you having to open it" .The screen can be personalized according to the users need. Microsoft also detailed minimum resolutions for its new UI. While 1366x768 would be the optimum resolution for the devices, 1024x768 would be the absolute minimum. A lower resolution would only support Windows 8 in desktop mode.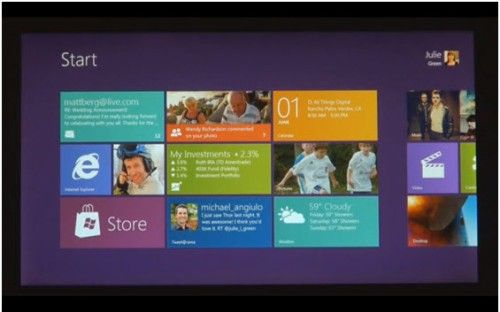 Start screen
In the demo Microsoft acknowledged the growing significance of ARM based devices in the market, and on expected lines showcased Windows 8 running on ARM powered machines. However, Microsoft has not shed much light on ARM version's capability or presence of x86 emulator. Apps that run on Windows 7 PC would be expected to work on Windows 8 PCs without any trouble, but there are apprehensions about the compatibility of earlier apps with Windows 8 tablets running on ARM processors. Texas Instruments (multicore OMAP4470 processor) and Qualcomm (Snapdragon MSM8960) have both announced ARM processors for Windows, this after Microsoft specifically said that the ARM - based systems would be designed by partners NVIDIA, Qualcomm, and Texas Instruments. Mark Kurlyandchik from Daily Tech has more information on the ARM processors. For Intel and AMD powered PC's the system requirements will not be more than what is required for Windows 7.
Microsoft also revealed some hardware details for its partners. Mike Anguilo in the slide "Windows 8 Touch Considerations" spoke about bezel size recommendation on Windows 8 touch devices, this recommendation would ensure that the tablet computers are comfortable to hold and would not inadvertently activate the screen. Also Windows 8 would have better UEFI engagement making system boot secure and faster, OEM 3.0 support and enhanced sensor integration.
Though not much information was given on the software development front, ability to develop applications using HTML5 and JavaScript opens up immense opportunities for millions of web developers to work with Windows platform. Perhaps the most remarkable part of the story is that Microsoft failed to mention about Silverlight and WPF as development tools, this has attracted strong reactions from .net developers.
For more details about Windows 8, especially information that would interest the developers we will have to wait till September for the BUILD conference, registration for which has already begun.