With Visual Studio 11 Beta (VS11) Microsoft demonstrated major changes to the user interface that attracted a lot of attention from developers. The issue remains the most highly voted item on the Visual Studio UserVoice site.
In response to this tremendous user feedback from the VS11 Beta, Microsoft has announced further changes to the user interface for VS11 that will be part of the upcoming Release Candidate. The resulting changes would seem to combine elements of VS2010, VS11 Beta, and the Metro look of Windows 8.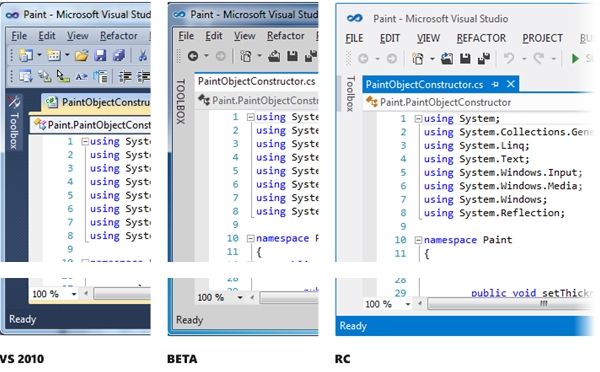 InfoQ was able to contact a Microsoft spokesperson to discuss these changes in further detail:
InfoQ: VS11 RC continues the use of capitalized titles which continues to draw attention on the UserVoice site. Why is it still being used for the menu bar titles?
Microsoft: The post-beta changes are designed to address core areas of feedback and maintain alignment with our primary design objectives for the release, in addition to more closely following Microsoft's evolving design conventions. With the new UI changes, we focused on addressing the main areas of concern voiced by developers from survey results, observational research and our engagement as a member of the community.
InfoQ: Toolbar icons were colorized (pictographic) in VS2010 compared to the monochrome glyphs in VS11 Beta. Now it seems with VS11 RC there is a combination of the two with the glyphs partially colorized. Listening to user feedback is admirable, but why not just revert to what was used in VS2010?
Microsoft: The enhancements to the Visual Studio UI reflect the developer community's core areas of feedback, maintain the productivity improvements, and more closely follow Microsoft's evolving design conventions. We refreshed the UI to make Visual Studio's core functionality easier for developers to use by reducing complexity and simplifying common tasks. Among the improvements, we added "energy" by lightening the environment, colorized the status bar to communicate IDE state changes, and used accent colors for greater contrast.
InfoQ: Are the UI changes now finalized for VS11, or will additional changes be made (or possible) based on user feedback?
Microsoft: Although it's too soon to comment on what will be in the final product, we are eager for developers to download and use RC when it becomes available. As with any product, we will continue to talk with developers and listen to the community to help create the strongest tools available in the industry today.