Oracle recently announced a new migration tool, which provides an ability to quickly migrate data and applications from Microsoft SQL Server to MySQL with less time and effort. The migration tool which has been integrated into MySQL Workbench, allows visual design, development and administration of MySQL databases with an advanced logging and security mechanism.
The tool ships with a wizard specially designed to configure and manage a complex migration process. In order to get start with the tool, you should provide relevant parameters such as hostname, username, port number and password of both the database source and the destination target. The wizard will then automatically connect to the source database, check target database connection and retrieve schema list from source database.
(Click on the image to enlarge it)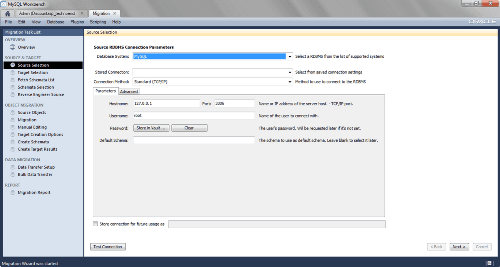 As you can see from the above figure, the tool provides an ability to select objects to migrate, assign source to target mappings, edit migration scripts and create the target schema. Moreover, developers will be able to map source, target data, set up data transfer and assign post data transfer events with the help of object migration feature included with the tool.
"The migration tool reduces database total cost of ownership by up to 90% which may prove attractive to IT decision makers, especially in light of the new per core licensing of Microsoft SQL Server 2012. It also enables SQL Server developers to quickly convert existing applications to utilize MySQL not only on Windows but also on Linux and other platforms," says Tomas Ulin, vice president of MySQL Engineering, Oracle.
Along with the migration tool, Oracle also unveiled a new MySQL for Excel application plug-in which enables developers to seamlessly access, manipulate (Import/Export) MySQL data within Microsoft Excel, without requiring prior MySQL technical knowledge in addition to a new MySQL Notifier application, which enables developers to easily monitor, start and stop their MySQL database instances just like what Microsoft provides with SQL Server.
The above mentioned tools will be featured during the upcoming MySQL Connect Conference to be held in San Francisco on September 29 and 30, 2012.