In Windows 8.0 there was a major emphasis on cross-application consistency. A cornerstone of this is the "Charms" feature, a way to expose common tasks the same way for every application. An example of this is the Search Contract, which allowed Windows Store applications (i.e. apps) to announce that they were searchable.
In Windows 8.1, apps lose their ability to participate in out of app search. Instead users only get the default system search results and, optionally, search results from Bing. For some applications this won't be a big deal, either they don't rely on search or have their own search box in the UI.
For others such as the official Wikipedia app, this change significantly degrades the user experience. In-app searching is still possible, but the feature is somewhat hidden. After opening the search charm and selecting some text, the user then has to click on the "Everywhere" text and select the currently running application from the bottom of the list. In this case, "Wikipedia".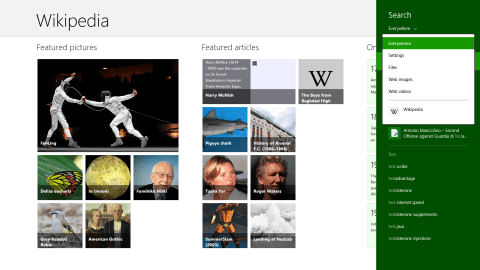 The user has to be careful to not press the "Enter" key before selecting the application. If they do, the user leaves the application and either the first item in the results or the default search results open full screen. Once outside of the application, the option to search inside the previous application is no longer available.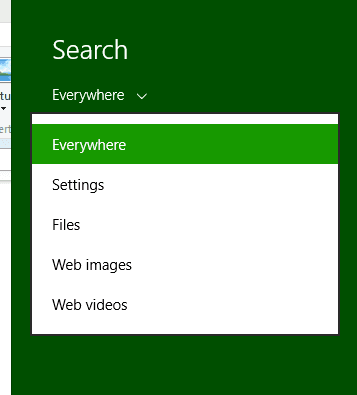 The universal search feature may decide to show an application-specific result. This behavior is inconsistent, the results don't always appear, and often requires scrolling to the right to see the app-specific result.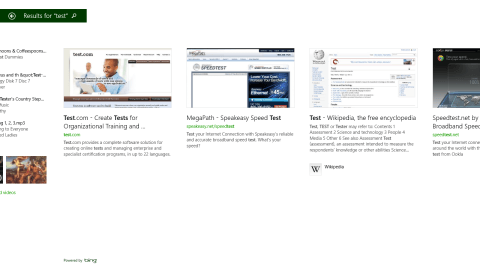 Companies with the developer bandwidth to update their applications can of course retroactively add search boxes, redesigning their UI as needed. With a market that is already questioning Microsoft's commitment to third party developers, this seems to be a rather risky decision.
Further compounding the issue is what Microsoft is replacing app-based searching with. Instead of deep searching in popular applications like Wikipedia, users will instead be presented with advertisements. David Pann explains,
Bing Ads will be an integral part of this new Windows 8.1 Smart Search experience. Now, with a single campaign setup, advertisers can connect with consumers across Bing, Yahoo! and the new Windows Search with highly relevant ads for their search queries. In addition, Bing Ads will include web previews of websites and the latest features like site links, location and call extensions, making it easier for consumers to complete tasks and for advertisers to drive qualified leads.
Correction: A previous version of this article incorrectly stated that in-app searching using the search charm was no longer possible.