DXperience 13.2 will ship with a new icon library which developers can make use of with DevExpress ASP.NET controls using IconID property. For instance, if you need to include an icon with the navigation bar control you can use Items.Image.IconID property. As soon as you select IconID property, an editor dialog is displayed using which you can choose an icon.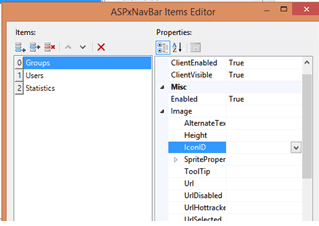 According to official sources, the icons included with the library are inherited from ImageProperties class and are available in 16x16 and 32x32 formats in both color and gray scale formats.

Moreover, the release will also include a new Moderno theme which make use of advanced CSS3 techniques to draw many of the elements. The theme is also fully compatible with touch based mobile devices since it has bigger padding sizes.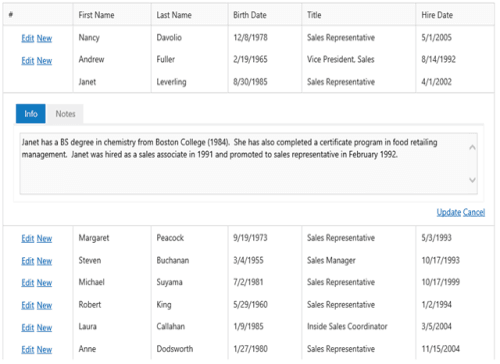 The forthcoming release will include three new themes for WinForms in addition to Visual Studio Color Theme support across all control designers, which provides an enhanced design time experience. This new capability will enable developers to modify skin settings of the designer to match with the color theme of Visual Studio. It will also ship with smart tag support for all controls including WinForms Data Editors Library such as BarCodeControl, ButtonEdit, CalcEdit, CheckButton and ComboBoxEdit.
DXperience 13.2 will include a new ribbon control with support for data binding, responsive layout and rich client side events in addition to templates. The new ASP.NET Spreadsheet control which ships with the upcoming release provides an ability to automatically generate UI including an automated formula calculation engine, built-in spreadsheet functions,
cell references and cell formatting. The control will also have features such as charting, pictures and worksheet management.

The Grid control provides support for batch edit, which enables developers to modify a batch of records on the client side and send it to the server in one request. The new release include a new Token Box control which enables users to select values from a predefined list and legend checkboxes which provides an ability for end users to toggle the visibility of various chart elements. On the other hand, the chart control renders data based on chart size and zoom level.
DXperience 13.2 will have a new color picker control which enables users to select custom colors via its dropdown by maintaining the collection in cookies. It also will have a new MVC extension with support for data binding, help text rendering, tab, group box containers including seamless integration with DevExpress data editors. The Grid lookup extension available with 13.2 provides support for multiple record selection, item templates and advanced filtering options. It will also include a new rating extension with support for read-only mode in addition to customizable titles for each extension item and item images including support for SharePoint 2013.