RightScale, a service provider across multiple clouds, has published the results of their annual State of Cloud 2014 survey conducted in February of this year. This article highlights some of the most significant findings.
According to this survey, cloud computing has pervaded the software industry since 94% of the respondents are using it or experimenting with it, out of which 29% use a public cloud, 58% a hybrid one and 7% a private solution.
As expected, Amazon AWS leads as the dominant public cloud provider with 54% of the users followed by Rackspace and Google App Engine. The following chart shows the Top 9 public IaaS and PaaS clouds combined, the totals surpassing 100% because there were respondents that used multiple solutions.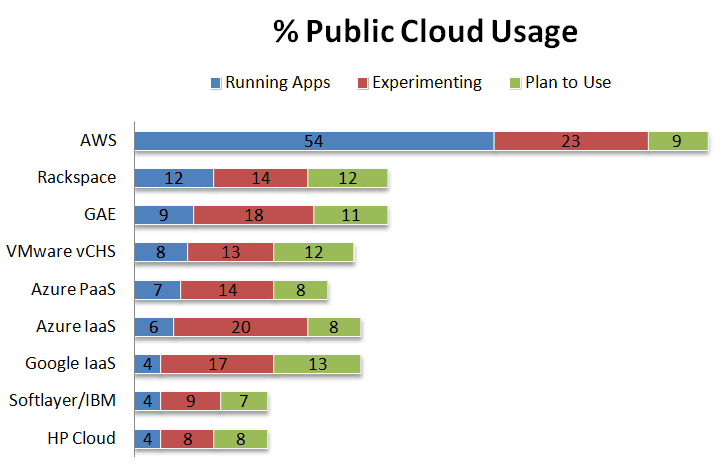 When the numbers are broken down for enterprise and SMB users, VMware and Azure fare better in the enterprise while Rackspace and GAE among SMBs. AWS remains the leader with 49%-Enterprise and 56%-SMBs.
Regarding private clouds, VMware and OpenStack lead the pack. The survey remarked that although "VMware or Microsoft [virtualizing solutions] don't meet all of the requirements of cloud computing, many survey respondents currently view these environments as a private cloud, and so we gave respondents an option to identify them as private cloud technologies."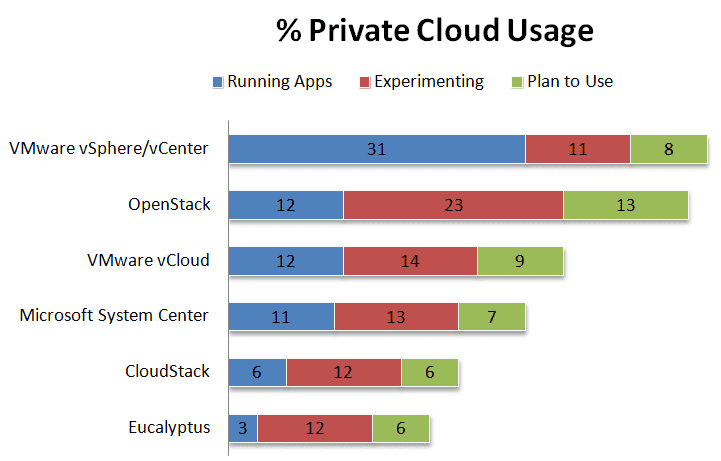 OpenStack has almost doubled compared to last year, while VMware vCloud, CloudStack and Eucalyptus have regressed by 20-30% respectively.
The configuration management tools space is shared between Puppet and Chef which have switched places during the last year as shown in the next table:
| | | |
| --- | --- | --- |
| | Puppet | Chef |
| 2013 | 25% | 19% |
| 2014 | 21% | 26% |
Survey methodology: RightScale interviewed 1068 technical executives, managers or practitioners representing organizations of various sizes across multiple industries. 28% represented RightScale users while 72% were not their users. 254 were enterprise respondents with more than 1,000 employees, while 814 were SMBs, having less than 1,000 employees. The error margin was 3.2%.