With Raising the game - The IBM Business Tech Trends Study (PDF) IBM has evaluated the current adoption landscape of 4 key technologies in the enterprise: Big Data & Analytics, Cloud, Mobile and Social, comparing today's adoption with 2012's and Pacesetters against Dabblers.
According to the study, Pacesetters are those who consider that "these technologies are critical to their business success and adopt them ahead of rivals." Followers see these technologies as strategically important but "generally trail Pacesetters in adoption," while Dabblers are "behind, or at best, on par with competitors in terms of adoption, and their use of these technologies tends to be less strategic."
Following are some of the key findings of IBM's study:
70% of enterprises are using Big Data & Analytics, Cloud, Mobile and Social as shown by the actual deployment figures in the next graphic: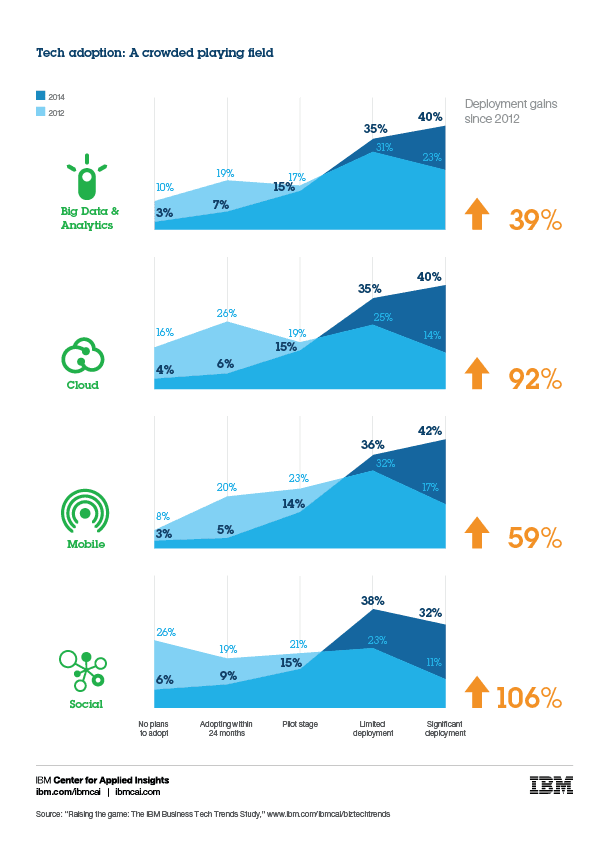 Almost 75% of enterprise decision makers consider these technologies as strategically important to their organizations, up from 66% in 2012
75% of enterprises want to increase their investments in Big Data & Analytics, Cloud, Mobile and 66% intend to spend more on Social
90% of Pacesetters consider they have a competitive advantage because of these technologies, compared to 70% of Followers and 40% of Dabblers
8 in 10 Pacesetters use Citizen Developers (general public). Compared to Dabblers, Pacesetters are 2 times more likely to use Citizen developers for training, and 2.6 times to "engage Start-ups for steering IT direction"
7 in 10 Pacesetters consider Analytics as an integral part in the decision making process
60% of Pacesetters plan to increase their investment in Analytics by more than 10% in the next 2 years compared to 29% of Dabblers
80% of Pacesetters also intend to increase use of Social and Mobile Analytics over the next 2 years
When it comes to Cloud Computing, 57% of Pacesetters use Big Data on the Cloud (6x more than Dabblers), 53% use Social on the Cloud (7x), and 55% use Mobile on the Cloud (4x).
Based on this study, we can safely say that the 4 technologies -Big Data & Analytics, Cloud, Mobile and Social- are no longer just buzzwords but key ingredients of enterprise software development and IT.
For this study, IBM has surveyed 1,447 enterprise decision makers: 21% C-level executives, while the rest are vice presidents, directors and managers in IT (40%) and business (39%), covering 15 industries in 13 countries. About half of the enterprises surveyed have more than 1,000 employees.