Amazon has added corporate directory services called AWS Directory Service to its growing portfolio of cloud services. Applications that need Active Directory or a LDAP compatible directory can use this service.
Many enterprises rely on Active Directory (AD) developed by Microsoft as the central repository for storing user identities, access control lists, policies and application configurations. When these applications move to cloud, customers need to setup and configure an AD server and join it to an existing corporate domain. This will add the cost and management overhead of dealing with a new server in the cloud. With AWS Directory Service, customers can subscribe to a managed AD service that is maintained by Amazon. Both cloud-native applications and legacy applications migrated to the cloud can take advantage of this service.
AWS Directory Services is available as a stand-alone service or as an extension of an existing Active Directory. Simple AD is the stand-alone version that runs a Samba-based directory service in the AWS cloud. AD Connector acts as a gateway that connects to an existing AD through either a VPN or a MPLS network. Both types are available in small and large sizes that vary in the number of supported objects. Since it is a managed service, AWS provides automated daily snapshot backups that can be restored when needed.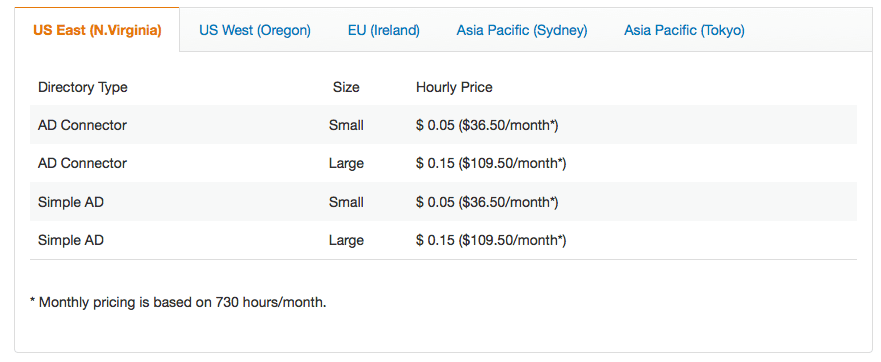 According to an official blog post by Jeff Barr, chief evangelist at Amazon, AWS Directory Services is available immediately in US East (Northern Virginia), US West (Oregon), Asia Pacific (Sydney), Asia Pacific (Tokyo), and Europe (Ireland) Regions.
Earlier this year, Amazon has added Amazon WorkSpaces and Amazon Zocalo services that target enterprise customers. Amazon WorkSpaces deliver Desktop as a Service (DaaS) by offering Windows 7 based workstations on subscription. Amazon Zocalo is a file share-and-sync service like Dropbox and Box for AWS users. With the introduction of AWS Directory Service, both these services can be integrated with it for central identity management. This service also integrates with AWS Identity and Access Management (IAM) to extend the policies that control various AWS resources. AWS Directory Service will provide a customer-specific URL for the AWS Management Console which users can use to sign in with their existing corporate credentials.
The only other platform that offers AD on cloud is Microsoft Azure. Azure Active Directory is a logical extension of on-premises AD to bring single-sign-on capability to cloud applications. The key differentiating factor of this is the integration with third party services like Salesforce.com, Box and Office 365.