Starting today, close to one million students in the United Kingdom will begin receiving the BBC micro:bit, a highly flexible, programmable embedded device that was created with the objective of "helping this generation to be the coders, programmers and digital pioneers of the future," according to Tony Hall, BBC's Director-General.
The micro:bit is being delivered freely to all British students in the grades for 11 and 12 year olds (including home-schooled students). The students will own the devices, bring them home, and use them for whatever purpose they like. Teachers are also receiving a micro:bit, along with suggestions on how to use the device in class.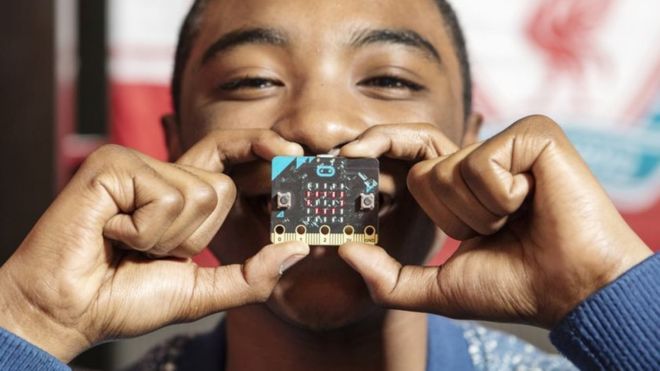 The micro:bit invites comparison with the Raspberry Pi. Electronics Weekly writer Steve Bush distinguishes the two "very roughly" by saying the "micro:bit is the educational equivalent of an embedded computer," while the "Raspberry Pi is the educational equivalent of a desk-top computer." For example, the Raspberry Pi can directly connect with a keyboard, mouse, and monitor. The micro:bit, however, has no such hardware interfaces; it must be connected to a host PC (which could be a Raspberry Pi) or phone in order for it to be programmed.
The BBC micro:bit site offers young developers four distinctive editors for creating micro:bit code:
Code Kingdoms JavaScript: an environment for graphical 'drag and drop' and text-based programming, "perfect for beginners, experts and transitioning from blocks to typing."
Microsoft Block Editor: "a graphical, drag and drop code editor, where coding blocks snap together."
Microsoft Touch Develop: "a flexible, text-based programming language, which comes with a BBC micro:bit library of commands installed."
Python: which the site describes as "an easy-to-learn programming language for everyone, from kids to teachers to professional software engineers."
The editors page includes links for starting a new project with each editor, and links to documentation about the editor. Here's an example from the Microsoft Touch Develop editor tutorial: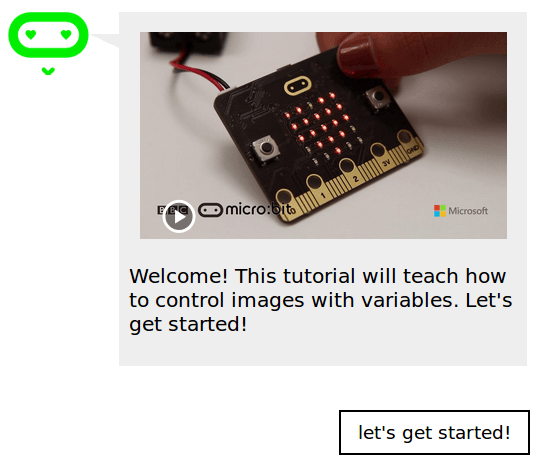 The BBC described the plan for micro:bit's future:
Following the nationwide rollout, the BBC micro:bit hardware and much of the software will be open-sourced, and BBC micro:bits will be available to buy from a range of retailers.
Sinead Rocks, Head of BBC Learning, said:
The BBC micro:bit has seemingly limitless potential, especially when paired with other hardware, and we can't wait to see what students will do with it. They've already come up with all kinds of ideas during testing and at events around the country -- some ideas help solve some of life's daily challenges, some could have business potential, and others are just great fun.
The BBC micro:bit is the result of "a groundbreaking partnership on an unprecedented scale" including ARM, Barclays, element14, Lancaster University, Microsoft, Nordic Semiconductor, NXP Semiconductor, Samsung, Technology Will Save Us, Welcome Trust, and other organizations.