On March 30th, 2016 Microsoft announced the release of their BizTalk Server 2016 Community Technical Preview 1 (CTP). This release is one of Microsoft's milestones they highlighted in their recent Integration Roadmap. In addition to the BizTalk Server CTP, Microsoft has also released an initial CTP for its Host Integration Server offering.
BizTalk Server is used by organizations looking to perform Enterprise Application Integration (EAI), business to business (B2B) integration including EDI protocols and building loosely coupled interfaces.
In BizTalk Server 2016 CTP 1 Customers can expect the following features:
Platform alignment with the latest versions of Visual Studio 2015, Windows Server 2016, SQL Server 2016 and Office 2016.
Production support for running BizTalk Server on Azure IaaS Virtual Machines
SQL Server AlwaysOn Availability Groups providing High Availability support for both on-premises and Azure IaaS workloads.
SHA-2 hash function support.
Improvements to Ordered Delivery messaging scenarios.
Adapter and Accelerator updates for SAP, SFTP, WCF relay bindings and BizTalk Accelerators for HL7.
For customers looking to move their production interfaces to the cloud, SQL Server AlwaysOn Availability groups will help accomplish that. In previous versions of BizTalk Server, achieving High Availability in the cloud proved to be difficult as a result of Microsoft Distributed Transaction Coordinator (MSDTC) and Windows Clustering dependencies. SQL Server AlwaysOn Availability Groups "support a failover environment for a discrete set of user databases, known as availability databases that fail over together."
In addition to the updates previously mentioned, Microsoft has made some updates to BizTalk Administration Console. BizTalk360, a Microsoft Gold Partner, recently blogged about some of these updates. One of these changes is related to configuring underlying BizTalk Hosts/Host Instances within your environment. A Host acts as a logical container for processing BizTalk artifacts. Hosts then get projected onto BizTalk servers as Host Instances (Windows Services). Saravana Kumar, CTO of BizTalk360, describes the limitations in previous versions of BizTalk Server: "In a BizTalk environment, generally, you'll have multiple hosts and host instances. From time to time, you may want to ensure some settings across multiple host/host instances are identical. In the previous versions of BizTalk server the only way you can do it was by manually changing the configuration one at a time. This is a painful process for a BizTalk administrator, especially when you are working on things like fine tuning the throttling settings."
With BizTalk Server 2016 CTP 1, administrators can now highlight several Hosts within their environment and apply throttling and performance settings in a consistent manner across multiple hosts.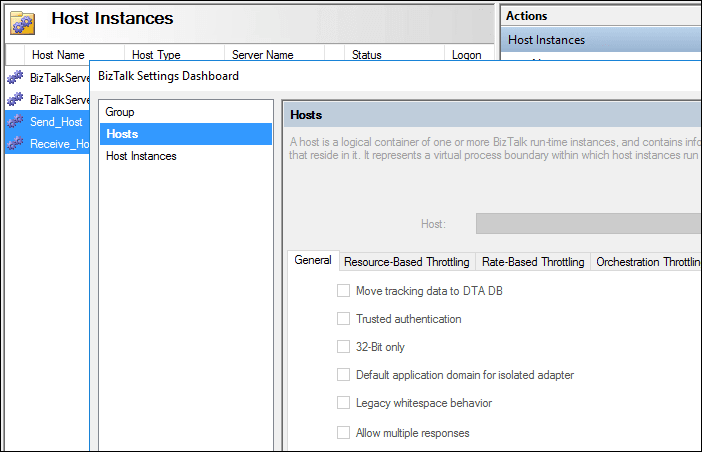 Image Source: http://blogs.biztalk360.com/biztalk-server-2016-admin-console-improvements/
According to Microsoft's Integration Roadmap, Microsoft is targeting the RTM version of BizTalk Server 2016 in Q4 of 2016. For customers looking to join the Community Technical Preview 1, they can nominate their organization via the Microsoft Connect website.
InfoQ will be covering the upcoming Integrate 2016 Event in London, where Program Managers from integration related Product Groups at Microsoft will be presenting including BizTalk Server, Azure Logic Apps, Azure Service Bus Messaging and Azure API Management groups.