Kevin Miyashiro , Founder of Agile Gurus and TeraSys Technologies, recently wrote an article on Agility Readiness Canvas (ARC), which is a business agility transformation system, developed at The Agile Gurus to help organizations succeed with their agile transformations.
Miyashiro described following points as part of the Agile Readiness Canvas:
Common language (no industry jargon!)
A set of processes that guide execution
Tools to measure results and reprioritize
The ARC system starts by assessing the business as it exists today to form a business baseline described by Kevin. Based on the findings of this baseline assessment, a list of prioritized change projects is created. These change projects are also known as Business Sprints. As the Business Sprints are executed, the outcomes of each Business Sprint are measured. On a regular basis, a Business Reassessment is performed to assess how the Business Sprints have impacted the overall business.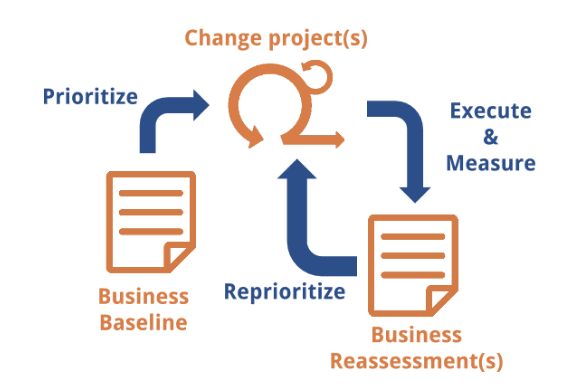 Miyashiro mentioned that once the current state of agile assessment is complete, the results are displayed on the ARC dashboard, a web-based tool that contains all of the information related to the ARC assessment, as shown below: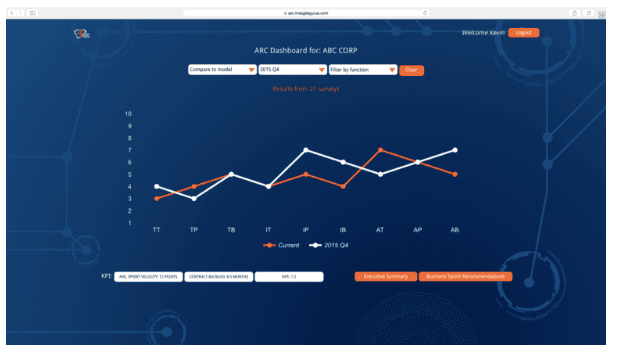 Miyashiro mentioned the benefit of the canvas for an Agile Coach as:
By understanding the ARC system and process, you will be in a great position to inform and influence their decision process to transforming the business' other functional areas, thereby making your success as an agile coach much more likely!
InfoQ interviewed Miyashiro about the canvas.
InfoQ: Could you please explain who in an organization is expected to participate in the creation of the canvas and when they can initiate this?
Miyashiro: The canvas is intended to primarily inform upper management as they are usually the ones leading the change effort. However, it is crucial that the entire business environment provide inputs to give a full 360 degree viewpoint. Otherwise, the canvas can give misleading results because of data blind spots. So, ideally, all employees and all departments, should participate in the survey portion of data gathering. Also, it is very important to collect survey inputs from customers, partners, and vendors, as people outside the walls of the business tend to have a very different view than those actively working in the business.

The canvas can be initiated anytime, but typically we recommend only analyzing the information once a quarter. Once an assessment is complete, it takes a few months of short change sprints to induce any meaningful change in the business, so initiating another assessment before 3 months have passed will usually not give much new insight.
InfoQ: What are the benefits of using the canvas?
Miyashiro: The primary benefit of the canvas is the holistic look it provides decision makers. Many organizations are "experimenting with experimenting," which means they are trying to do small change projects versus investing in well-planned, long-term change initiatives. This emergent attitude of experimentation is great, but we have found that a lot of teams tend to think, "hey, it's an experiment, let's just try something and see what happens." By default, an experiment will always result in something, but it's important to know whether that something was desirable, or even valuable.
InfoQ: What types of organizations can benefit from by using the canvas?
Miyashiro: We often refer to agility in the context of business agility, but agility is becoming mission critical for many other organizations: schools, non-profits. Essentially, any organization that is breaking new ground every year needs to be more agile.

That being said, the organizations that we're finding need the most help right now are those that are being disrupted by technology, and cloud-based software in particular. Cloud-based applications, especially those that offer third-party integrations with other software tools, can make a team of 10 employees faster and more agile than a low-tech team of 100 employees, which can drive the larger, more entrenched competitor out of business in less than a year.
A short introduction to Business Agility Canvas is also available on YouTube.