Microsoft recently announced the General Availability (GA) of Microsoft Flow, a cloud-based automation platform that provides workflow and connectivity capabilities across many popular online and on-premises services. Microsoft previously announced a preview of Microsoft Flow in April 2016 and since then over 117,000 people from 61,000 organizations in 139 countries have used the service. At launch, Microsoft Flow supports 42 languages across six regions and has a 99.9% SLA.
The Microsoft Flow service, which is often compared to IFTTT, provides connectivity and automation across many online services. Stephen Siciliano, principal group pm manager at Microsoft, describes the problem Microsoft Flow is trying to solve as:
Over the past decade, we've seen an unprecedented explosion in the use of the cloud. Today, you can do just about anything via the web, from ordering a car to submitting an expense report, from your personal life to your work life. These cloud solutions have a myriad of advantages – they are easy to sign up for, fast to use, and work well on mobile devices. However, one difficulty is each service operates in its own silo - if you have to do something that requires using more than one service, it will be challenging to get data from one of them to the other.
Microsoft Flow solves these connectivity challenges by providing an automation platform which allows organizations to wire-up different services including Office 365, Dynamics 365, Yammer, Instapaper, Pinterest, Slack and Salesforce. In addition to these online services, Microsoft Flow can also connect to on-premises platforms including SharePoint Server and SQL Server. This connectivity takes place through the Microsoft on-premises data gateway. This is the same gateway that facilitates communication between other Microsoft cloud-based services like Azure Logic Apps, PowerApps and Power Bi.
Microsoft Flow workflows can be authored in a number of tools, including modern web browsers and mobile apps on Android and iOS. In order to reduce development time, Microsoft has provided a set of templates that allow customers to accelerate their delivery times. Some of these templates include:
SharePoint Approvals
Google Calendar to Office 365 Calendar synchronization
Receive push notifications when an email from a VIP is received
Translate non-English emails
Share new Instagram photos to Twitter
Post on Slack about new Jira issues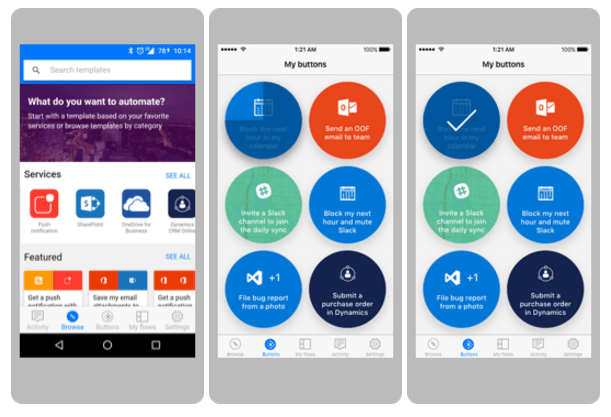 Image Source: https://flow.microsoft.com/en-us/blog/announcing-ga/
Microsoft Flow is intended to be used by business users, or citizen developers as a way to automate common tasks and business processes. For some organizations, providing tools that allow for connectivity to SaaS applications being hosted outside the organization, may create security concerns. In order to address enterprise concerns, Microsoft has provided the Microsoft Flow Admin Center. Sunay Vaishnav, program manager at Microsoft, describes the Flow Admin Center in the following way:
It allows you to create environments, manage permissions and set up Data Loss Prevention (DLP) policies. This allows admins to define which services specific business data can be shared with. For example, an organization that uses Flow may not want its business data that's stored in SharePoint to be automatically published to its Twitter feed.

Image Source: https://flow.microsoft.com/en-us/blog/intro-flow-admin-center/
Microsoft Flow is available in both free and paid service plans. The free plan has some restrictions on the number of executions per month, frequency of flow execution and the connectors available. Paid subscriptions allow for more executions per month, frequency of flow execution, and premium connectors like Salesforce and on-premises connectivity. Office 365 and Dynamics 365 subscription plans also offer Microsoft Flow entitlement. Please see the Microsoft Flow pricing page for more details.