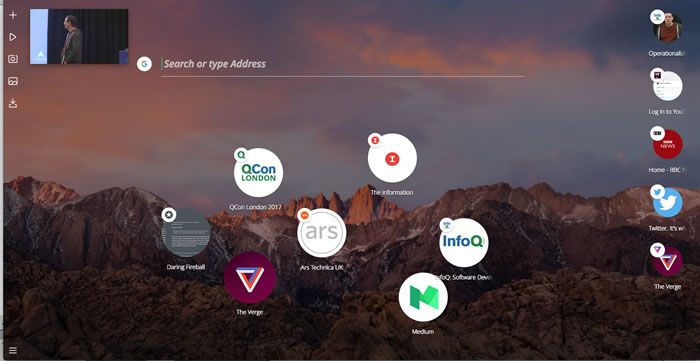 Opera, the Norwegian browser maker acquired last year by a Chinese investment consortium, has introduced a new experimental browser called Opera Neon.
Neon is intended as an exploration of browser design alternatives. Krystian Kolondra, SVP of engineering at Opera, describes Neon as "..a concept browser – an experimental browser that envisions the future of web browsers similar to the way concept cars predict the future of automobiles."
Kolondra argues that after two decades browsers have become rather stale and are tied to a document-centric model that doesn't reflect the way people interact online today. Neon's changes are largely cosmetic - under the hood it uses the same Blink rendering engine forked from WebKit and currently used by Google Chrome, Opera, and Amazon Silk - but it is visually appealing:
It is also, however, quite confusing. It launches into a start page that copies your desktop wallpaper, giving you a window that looks like your desktop, but isn't. In place of your desktop files and apps are circular bookmarks, or bubble tabs, and a vertical right hand tab bar that functions as a visual tab list. Kolondra describes these as intelligent since, "Like gravity, frequently used tabs will float to the top, while less important tabs will sink to the bottom."
Meanwhile, on the left hand side is a set of tools including a video pop-out that lets you play videos whilst you browse other pages, and a snap-to gallery that can crop any part of a web page and save it to the gallery for later. However, of all the new capabilities added to Neon perhaps the most obviously useful is side by side browsing of two pages.
The browser isn't intended as a replacement for your main browser, but it is fun to see Opera experimenting with new concepts. It's available to try out on macOS and Windows.