Here's what's happening at QCon's annual flagship conference in the heart of the Bay Area, November 5-7.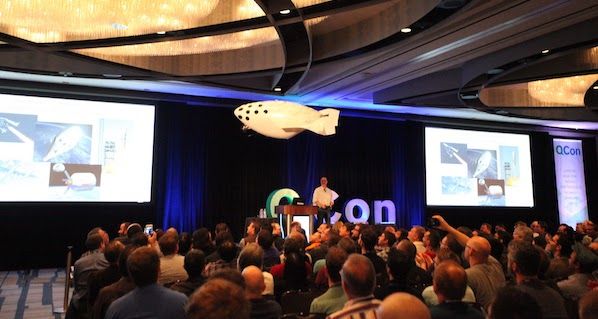 Full Disclosure: Along with six incredible committee members and eighteen track hosts who guide each of the conference's vertical topics, I get the honor of curating the all-star talk lineup, so I fully admit to a certain degree of confirmation bias in this post.
QCon, the series of global software conferences organized by InfoQ, is returning to the Bay Area for the 12th annual event, November 5th - 7th, and we're expecting around 1,600 senior individual contributors and architects to join us. As in years past, the conference runs over three days with two bonus workshop days.
[click on the image to enlarge it]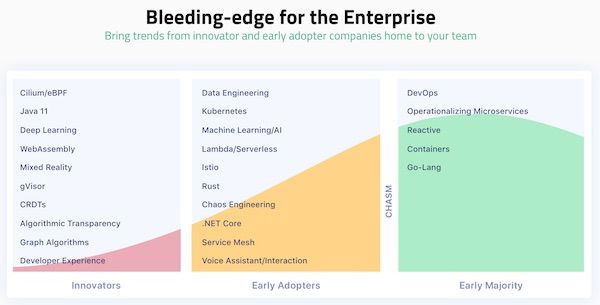 QCon San Francisco covers the latest innovator and early adopter trends that individual contributors and architects want to know about today. Each year we tag the content you'll actually find at the conference and then place it on the technology adoption curve. This year's QCon San Francisco technology adoption curve includes talks covering the latest in:
New this year at QCon San Francisco is our closing keynote. Designed as a partner-friendly event, the conference will welcome QCon attendees, their partners, and colleagues to the final talk of the conference. Featuring Dr Kortney Ziegler (who co-founded Appolition.us in order to help incarcerated people without the means to make bail return to their families), a film called STILL BLACK: a portrait of black transmen, and Trans*H4ck, discussing finding your purpose (your why) in the things you build. Using his story as an example of finding purpose, Dr. Ziegler challenges the audience to find their own purpose and recognize that we can all be purposeful changemakers in the communities that matter most to each of us.
Dr Ziegler joins an incredible keynote lineup that starts off with Jez Humble and Nicole Forsgren who (along with Gene Kim) wrote both Accelerate: The Science of Lean Software and DevOps and the recently released 2018 State of DevOps Report. The Accelerate book recently made it to the InfoQ's recommended reading list, and was also suggested by Camille Fournier on the InfoQ Podcast.
Day two of the conference starts with the one and only Grady Booch (Co-Creator of UML & Chief Scientist for Software Engineering at IBM Research) examining what AI is and is not, how it came to be, and where it's headed. Last (and certainly not least), day three of the conference features Hilary Parker from the R community and Stitch Fix on the effective use of data in Using Data Effectively: Beyond Art and Science.
While the conference is still a few days away, we're seeing attendees build their online schedules. Some of the talks generating the most traffic include:
In total, there are 18 individually curated merit-based tracks, four vendor-content tracks, as well as open spaces/AMA/panels covering everything from Production Readiness: Building Resilient Systems to 21st Century Languages and from Developer Experience: Level up your Engineering Effectiveness to Bare Knuckle Performance. The conference is loaded with everything senior developers and architects want to know about modern software development. You can view the full schedule online.
This year's workshops have been extremely popular and include training from Vaughn Vernon on Domain Driven Design, Kirk Pepperdine on Java Performance, Leadership training from Sarah Hagan of the Bill and Melinda Gates Foundation, and many more. In all, there are 18 workshops designed for senior developers and architects on Thursday and Friday.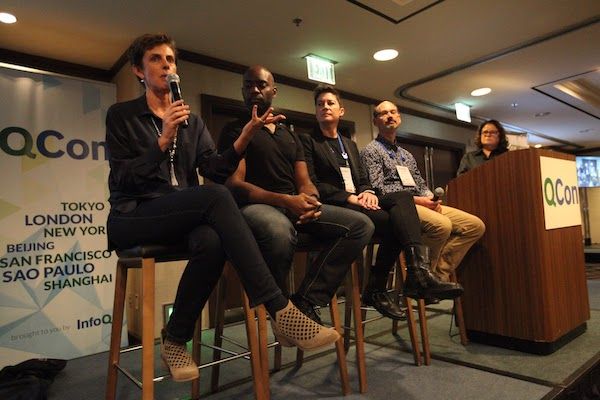 Two unofficial events are also happening during QConSF this year. These events, while not part of the official schedule of the conference, are happening during the time QCon is running. You can find more information about the events and any new events that might be added on QCon San Francisco Unofficial Events page. Registration is required for both events.
The Women and Allies Breakfast Co-Sponsored by Netflix is happening on Tuesday morning before the morning keynote. Designed as an opportunity for women and allies at the conference along with some members of the local community to engage and network before the event, this year's breakfast features a short ten-minute talk from Courtney Hemphill (Partner & Tech Lead @CarbonFive) who will discuss her path into tech. Courtney is also the track host for the Future of Human Computer Interaction track. The event is made possible by Netflix and a team of supporting sponsors made up of WeWork, PayPal, and Google.
The second unofficial event features a conversation with Andrew Yang called If AI threatens 1/3 of jobs - why UBI is part of the solution. Yang is a candidate for President in the 2020 US elections. Hosted by QCon co-founder and CEO Floyd Marinescu, the talk is an opportunity to talk to software developers about the future of work and the need for Universal Basic Income. The conversation with Yang also takes place on Tuesday morning and is open to QCon attendees.
QCon San Francisco is an event dedicated to diversity and inclusion in tech. This year's event features 35% women and people from marginalized gender identities speaking at the conference. In addition, the conference makes available a family room, prayer room, quiet area, gender neutral bathroom, and more. You can find out more information about our efforts to continually improve the inclusivity of the conference on our FAQ page.
There is just over a week left if you want to reserve your spot at this incredible event. I hope you can join us!