Public cloud providers are opening more data center geographic "regions" every year. Before the end of 2018, Amazon have announced the availability of another new region, the fifth region in Europe, and the official name is Europe (Stockholm), and the API name is eu-north-1.
The new region in Stockholm joins the existing EU regions in Europe (Ireland), Europe (London), Europe (Frankfurt), and Europe (Paris). The new region in Stockholm has three availability zones, which increases the total to 15 in Europe. Furthermore, this region adds to the existing infrastructure AWS already has in the Nordics, which includes three Edge Network Locations in Sweden, and one each in Finland, Denmark and Norway.
Various customers in the Nordics are using services from Amazon, and a new region will lower end-user latency - Andy Jassy, chief executive officer, Amazon Web Services, said:
Tens of thousands of Nordic customers have been using AWS from regions around the world, but many have shared that they also wanted an AWS Region in the Nordics so they can easily operate their most latency-sensitive workloads for end-users in the Nordics while meeting any data sovereignty requirements. We're excited to deliver our AWS Stockholm Region today to meet these customer requests.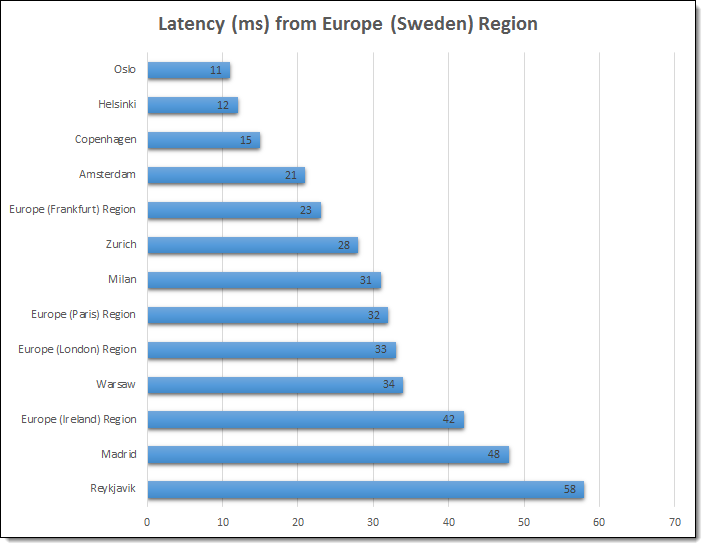 Source: https://aws.amazon.com/blogs/aws/now-open-aws-europe-stockholm-region/
In a blog post about the announcement, Jeff Barr, chief evangelist for AWS, mentions a few customers in the Nordics:
Volvo Connected Solutions Group – AWS is their preferred cloud solution provider; allowing them to connect over 800,000 Volvo trucks, buses, construction equipment, and Penta engines.
Den Norske Bank – This financial services customer is using AWS to provide a modern banking experience for their customers.
Finnish Rail – They are moving their website and travel applications to AWS in order to allow their developers to quickly experiment, build, test, and deliver personalized services for each of their customers.
Increasing the number of regions demonstrates that AWS is continuing to expand, and it is no different from their competitors. For instance, IBM in 2018 increased their number of availability zones and so did Alibaba. Microsoft bumped up their regions to 54, and Google now has 18.
Regions and availability zones of the five biggest cloud providers by market share

| | | |
| --- | --- | --- |
| Cloud Provider | Regions | Availability Zones |
| Amazon | 20 | 60 |
| Microsoft | 54 | 15 |
| Google | 18 | 55 |
| IBM | 6 | 18 |
| Alibaba | 19 | 52 |
The AWS Cloud has now 20 geographic regions in the world with 60 availability zones, and Amazon is currently working on 12 more availability zones in four more AWS Regions in Bahrain, Cape Town, Hong Kong SAR, and Milan. Lastly, all the AWS services are GDPR compliant.