Google has recently launched AI Platform, an end-to-end platform for developers and data scientists to build, test, and deploy machine learning models, at the Google Cloud Next 2019 conference held in San Francisco between April 9-11, 2019. The platform, launched in beta, brings together a host of products and services, both existing and new, to help businesses solve complex challenges using AI in a way that is easier and collaborative.
Andrew Moore, vice president of Engineering, Cloud AI, Google Cloud, described to reporters ahead of the announcement about the way the Google team sees this product being used:
The AI Platform is the place where if you're taking this terrifying journey from a germ of an idea of how you can use AI in your enterprise all the way through launch of a safe, reliable deployment, the AI Platform helps you move between each of those stages in a safe way. So you can start with exploratory data analysis, start to build models using a data scientist, decide you want to use a specific model, and then essentially with one click be able to deploy it in our Google Cloud or in other clouds, or on-premises running on top of Kubernetes.
The platform supports both batch and streaming data ingestion. Google's cloud storage or Big Query can be used to store the training data, and the built-in data-labeling service can be used for labeling. Platform users can then use existing classification, object recognition, or entity-extraction models, or import the labeled data to AutoML to train a custom model.
AI Hub, a secure hosted repository of AI content for enterprises, can be used to explore and deploy algorithms, models, and even entire AI pipelines, which Google claims will foster collaboration among machine learning developers and users. Users can also leverage Kubeflow Pipelines to compose and manage end-to-end machine learning workflows that can be shared with other users and deployed on GCP or on-premises.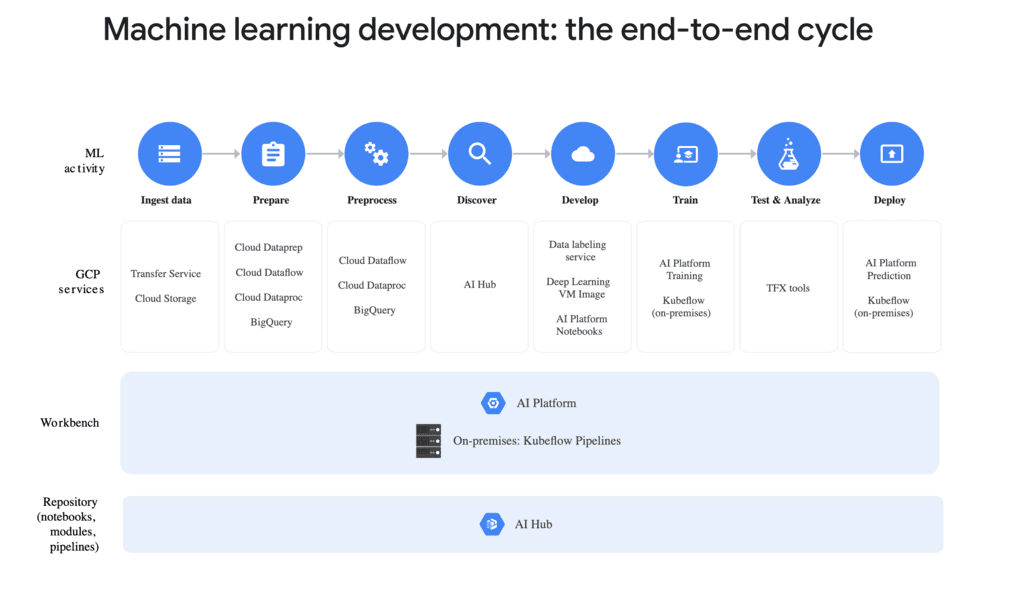 Source: https://cloud.google.com/ai-platform/
In addition to the AI Platform, Google also made several other important machine learning (ML) related announcements. Cloud AutoML, a suite of products that enables developers to train high-quality custom models with minimal machine learning expertise, has been updated with features, such as AutoML Tables, which enables users to easily create models on structured tabular datasets with zero code, and AutoML Video, which enables users to train custom video classification models specific to their business needs. Most of the updates to Cloud AutoML are available in beta phase.
Google also announced Document Understanding AI, which can help an organization improve decision-making by using ML to classify, extract, and enrich data from scanned and digital documents. Contact Center AI, announced last year at the Google Cloud Next '18, has been launched in beta. The suite of AI solutions aims to leverage the best of Google AI and popular contact center software to help businesses improve the customer service experience by resolving customer issues more quickly and helpfully.
The AI Platform launch has caused developers, data scientists, and enthusiasts in the AI space to take notice. Several of them have taken to forums like Twitter, Reddit, and HackerNews in an attempt to understand the utility of the platform, as well as the implications of the launch. According to a Reddit user time_flask, "...the launch serves as a good move to sell the platform to businesses and keeping them in the ecosystem. More often than not a company is going to be far more willing to spend resources on a single platform than have to deal with integration and all the extra contracts and deals that entails."
More information on AI Platform can be found on the Google Cloud website. To know more about other announcements involving ML and AI made at the Google Cloud Next '19 conference, here is the complete list.